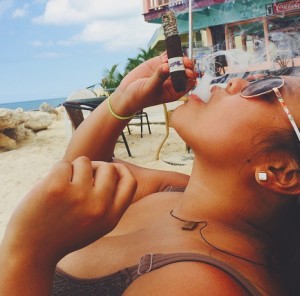 Meet April Dawn Santos, a sizzlin' 28-year-old sister-of-the-leaf (#SOTL) from Staten Island, New York. April, who in earlier times was a professional singer, is now a registered nurse who smokes cigars three to four times per week. She is a cultured, well-traveled and nostalgic wanderlust who considers herself a 'vintage old soul.'
"Anyone can tell you I cannot sit still for a really long time," expressed April. "I like traveling and reading about different places to learn about the way people live their lives and their culture. It is humbling and makes you grateful for what you are blessed with."
April also considers herself a bit of a museum junkie. She feels like she is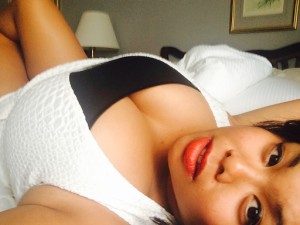 walking through history every time she steps into a chamber of time. She ogles postmodern art and ancient artifacts as a means of connecting to a life outside of her own.
"You always gotta appreciate the past since it paved the way for the present, right?" April reminisced.
This sexy #SOTL has been smoking cigars for just over a year but has already developed a palate that rivals that of many seasoned veterans.  Her passage into the enchanted world of cigars began while vacationing on the romantic island of St. Lucia. She was offered a cigar but was hesitant. However, the hesitation was like watching a tantalizing temptress disrobe in front of a virgin – a bashful encounter with plenty of curiosity building. So, of course the temptation got to the best of her.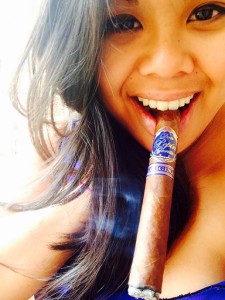 "My first cigar was a Drew Estate Java Latte," April revealed. "It was good but I became curious of what a non-infused cigar was like."
Like an anxious school girl, this smokin' beauty didn't balk at an opportunity to expand beyond her initial experience. When she finally strayed from her inaugural rendezvous with an infused stick, it took the flavors of, an estimated, 30 different cigars before April was able to find her beau.
"When I finally put my lips on a My Father Jaime Garcia I said 'I am in love' and now here I am," April exposed.
Like many smokers, April has a few 'go-to' sticks that she tends to rely on to satisfy her insatiable palate. Her list includes: Tatuaje Regios Reserva, Tatuaje La Riqueza,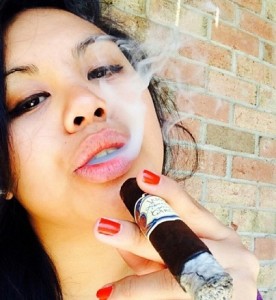 Illusione Rothchildes, Caldwell Cigars Eastern Standard and Drew Estate Papas Fritas. It is clear that April has become quite the aficionada and appreciates quality cigars.
"I can't describe how cigars taste the way others normally describe cigars like cedar and wood," April said. "But when I first smoked a TAA2012 , I compared it to eating sweet plantain chips. So ever since then, I've been able to describe cigars by food. The Caldwell Eastern Standard- Marble House tastes like a marshmallow that's been freshly placed in hot cocoa. I know it's weird but it works and I love it."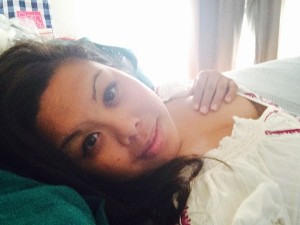 Many smokers pair their cigars with booze but April prefers soda or chai tea; however, Scotch is not totally out of the question.
"I love soda, especially root beer. Cigars go well with soda but my ultimate favorite pairing is a dirty chai – it's a chai tea latte with a shot of espresso. If I want to be fancy, I will take a glass of Balvenie Doublewood, please," April told Ultimatecigarparty.com.
Sex appeal is something that is hard to ignore and April's allure is undeniable. The image of smoke rolling off her lips is both sensual and sultry. Her adorable face and lusty lips accentuate her rockin' body perfectly.  She certainly knows how to take cigar smoking to a whole new level; however, her bashful humility would tell you differently.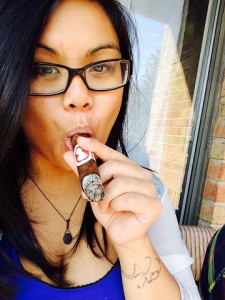 "I don't think I am sexy. I smoke cigars for what the lifestyle entails," April stated. "I do think women who smoke cigars are sexy. Cigar smoking is defined as more of a masculine entity so if a woman can be in a man's world, hold her ground and do it with class, then that is definitely sexy."
There is no doubt that April deserves to be this week's Sizzlin' Sunday Cigar Babe. She is a beautiful gal with a nostalgic personality and an unyielding love for the leaf. Her appreciation for the past empowers her to appreciate life's grandeur.
"I love the fact that smoking a cigar forces a person to sit down, take a breather and enjoy the moment in itself," April asserted.  "You meet so many great people who turn into family. It's a community where you meet all walks of life and it just so happens that it started with a single stick."