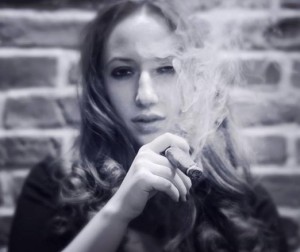 Meet Anamaria, a dazzling 25-year-old dame from Bucharest, Romania. This Sizzlin' sister-of-the-leaf (#SOTL), who has been smoking cigars for more than three years , is the president of the all-women's cigar club in Romania called, VVVomen Cigar & Pipe Club.
"I started to smoke cigars three years ago," said Anamaria. "My best friend taught me all about them."
Since then, Anamaria has tried more than 100 different cigar brands including her favorites Padron, Davidoff, and CAO Brazilia.
"I can not say that I am a 'true cigar smoker'," she noted. "But, I feel very lucky to have the opportunity to try a large variety of very good premium cigars that are very flavorful."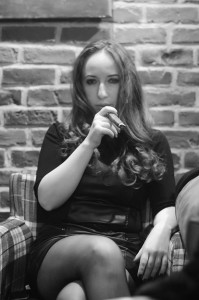 The VVVomen Cigar & Pipe Club that Anamaria runs has 1200 members and the men's version of the club, Veni Vidi Victum, has almost 2500 members. Those interested in the group can check out the club on Facebook, Trabucuri.  The clubs host and organize different events every month where they feature specific food, drink and cigar pairings. Anamaria is also the Facebook group administrator for Facebook-Cigar Community where they have almost 2000 active members.
"My favorite drink to pair my cigars with is Zacapa. It is my favorite drink," she boasted.
Outside of cigars, Anamaria has an active lifestyle where she is heavily involved in politics. She also enjoys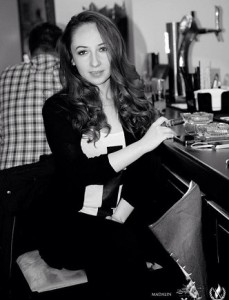 studying law, reading and listening to music.
"My interests are politics, law, books, and music but my biggest passion is cigars," Anamaria noted. "Every weekend I get out with my friends and smoke in cigar lounges or different restaurants. In Romania we can smoke everywhere.
There is no doubt that Anamaria brings plenty of sex appeal to the cigar industry with her seductive look, beautiful face and zest for cigars.
"I think that smoking cigars and knowing a lot about them makes me more attractive and a more interesting woman in a man's world," Anamaria revealed.