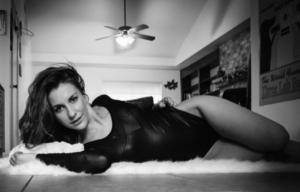 Meet Alec, a Sizzlin' sister-of-the-leaf (#SOTL) from Houston, Texas. Alec works at Serious Cigars in Houston where she has fallen head-over-heels in love with cigars.
Alec has been smoking cigars for three years and has developed quite a palate over that short span. Her list of 'favorites' includes some high-priced sticks.
"I have a couple of favorites, Arturo Fuente Hemmingway Series Between the Lines, Gurkha Cellar Reserve, La Flor Dominicana's Chapter One, Avo Movement and the limited Cohiba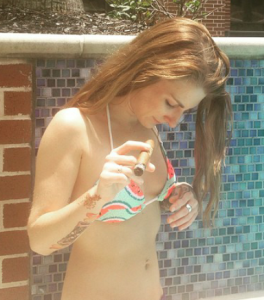 Behike," said Alec.
Like most cigar smokers, this smokin' beauty loves to pair her cigars with a drink. She finds herself sipping on coffee, wine or Sprite when smoking.
There is no doubt that Alec is dripping with sex appeal. She certainly adds a little spice to the otherwise male dominated cigar lounges with her adorable face, heavenly eyes and knowledge of the leaf. But she is rather humble when it comes to admitting her opulence.
"I feel cigar knowledge is more impressive than sex appeal," she admitted. "It may be harder to educate oneself rather than showing some skin but nothing is more awesome than to be able to converse with one another in detail about cigars."
When she is not either working or hanging out at one of the three Serious Cigars lounges in Houston, Texas, Alec is spending time with her two cats or advancing her love for astrology.