Meet Rosie McKane, a sizzlin' 25-year-old sister-of-the-leaf (#SOTL) from San Antonio, Texas. This mother of two is not just a pretty face pinned to the wall of some testosterone-filled cigar shop. Rosie is the devilish dame nestled in the corner of the lounge, sunken in an over-sized arm chair with her lips locked around a premium cigar.
 Rosie has been smoking cigars for the past eight years, but her infatuation for the leaf started long before that.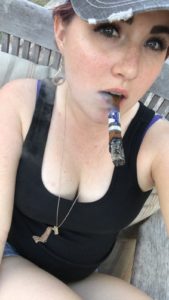 "I blame it all on my dad who has been an avid cigar smoker for longer than I can remember," explained Rosie. "He definitely influences me in my cigar choices. I was a snob right out of the gate."
Rosie, who is a former sales clerk at Club Humidor in San Antonio, used to smoke three cigars a day. However, free time has eluded her since the birth of her two children, forcing her to cut back to three to five per week.
"I have two kids who take up the majority of my time, but when I do get free time you can find me at my local Brick-and-mortar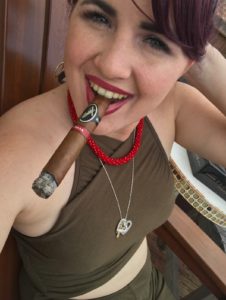 cigar lounge burning a few and having a great time," she said.
 Like most cigar smokers, Rosie doesn't have a favorite cigar brand; however, there are a few that she keeps in her regular rotation.
 "A few of my go-to cigars include, but are not limited to, RomaCraft Neanderthal, Protocol lancer, La Jugada Prieto and La Careme by Crowned Heads," Rosie revealed. "I tend to lean towards a thinner ring gauge, the largest I will smoke is probably 56."
 This smokin' beauty loves to drink while puffing on her stogie. Her poison of choice is usually beer or rum; however, she has been known to sneak a glass of Cabernet from time to time.
 There is no doubt that Rosie McKane brings much needed sex appeal to an otherwise male-dominated industry. Her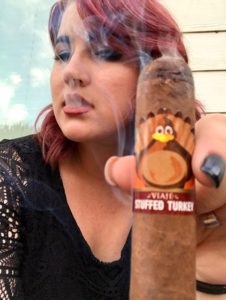 adorable face is a welcomed treat in any cigar lounge. However, Rosie thinks that she is just 'one of the gals.'
 "In a male dominated industry, it is hard not to be sexualized as a woman. I thoroughly enjoy smoking cigars and I love the culture, which I think is bad ass," she stated. "Something like cigar smoking should not be limited to men, after all, women are known for having more refined palates."
 She went on to say, "I am not the sexiest girl in the industry by any means but I do think I bring something a little different in that when I'm smoking cigars, I am usually working on my truck, my yard, or firing up the BBQ pit."
Rosie can easily be deemed the quintessential woman. She hunts, fishes, smokes cigars, drinks beer, works on trucks, and loves sports. There is no doubt that Rosie McKane deserves to be this week's Sizzlin' Sunday Cigar Girl.