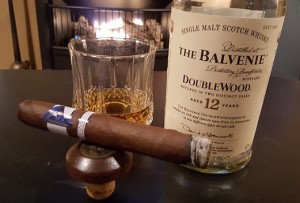 Protocol is the inaugural release by my dear friends and social media icons, Juan Cancel and Bill Ives. Together, they formed the Cubariqueño Cigar Company, which is a play on their Cuban and Puerto Rican heritage. The initial production of 5,000 cigars sold out at the 2015 International Premium Cigar and Pipe Retailers tradeshow (IPCPR) in New Orleans. They are now plowing through their second batch of 10,000 sticks.
To be honest, my initial pre-judgement of this cigar was, "Wow, I am going to fry my palate." Why? Because the filler blend is entirely made up of Nicaraguan ligero tobaccos. Boy, I couldn't be more wrong. This cigar is chock full of flavor with a nice balance of flavor and strength. Like Juan Cancel says, "Quadruple ligero sounds super strong but it is well balanced with great flavor."
The night started as the kind of evening that makes life worth living, good food, fine Scotch and a premium cigar. It promised a welcomed respite from the hustle and bustle of the Christmas season. Needless to say, I was looking forward to some amorous activities to quell my stress, so I nestled up in front of the fire in my man cave and let the world turn to languid plumes of smoke.
Usually when I open my humidor I am uncertain of which stick I will smoke. I usually let the ladies choose me, but tonight was different. I knew I wanted the Protocol. I have smoked her before so I knew she was the only bae in the cat house that would satisfy me tonight. I reached in among all the other jealous Latinas and scooped up my mistress for the night.
Protocol was already disrobed and ready to play. Her dark brown nude flesh was slightly toothy with a light coat of oil shimmering from her Ecuadorian Habano Oscuro leaf. Her small veins were noticeable, her seams were prominent and her body was rustic. Boy was she impressive. Her lavish appearance was accessorized perfectly with a contemporary band of overlapping P's in blue and gray.  Her 6 x 52 body enveloped a Nicaraguan Habano binder and a filler blend consisting of quadruple ligero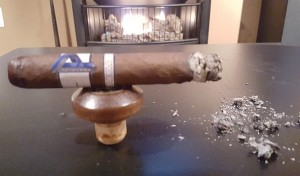 from the Esteli and Jalapa regions of Nicaragua. She released an intoxicating perfume of chocolate that was noticeable on her body and foot.  I don't have a foot fetish by any means but this Nicaraguan heartthrob was so attractive and smelled so yummy that I was more than willing to sniff her foot.
Enough of this admiration. I needed to taste Protocol so I whipped out my cutter, snipped her cap and massaged her aromatic foot with soft butane.  Enough foreplay.
I leaned in for the first kiss immediately upon firing up this titillating temptress. I was greeted in typical Nicaraguan fashion – a tongue full of flavor.  I love those Nicaraguan dames who exhibit so much flavor right from the get-go. It turns up the heat that much more and really gets me excited for the amorous activities ahead. She definitely wasn't as spicy as I anticipated but there was a little bit of spice in the opening of our tryst. The first third was dominated by notes of chocolate and dark roasted coffee with a natural sweetness and roasted nuts, perhaps almonds. As I worked my way through the first third of Protocol's irresistible body, I found her to be of medium strength and full of flavor. Her flavor profile definitely took shape as the first third came to a close.
The second third of our nocturnal affair maintained that same coffee and chocolate dominance from the opening but was joined by notes of earth and dark fruit. Perhaps the fruit was where I was getting the sweetness. That same almond flavor was present as was the slight spice from the initial kiss. A tasty flavor profile certainly makes for memorable moments especially when your mouth spends so much time locked around her body. The earth notes certainly made a nice, smooth transition into the profile here in the second third.
Protocol was a low maintenance mistress who provided her man with a very enjoyable experience. The draw on this paramour was perfect, not too loose like she was giving herself away, but not too tight either where I had to work overtime to taste her flavors. Her burn was cool and consistent creating a char line that was straight for most of the night but started to curve a bit toward the end. She released billowing screams of thick white smoke that was rich and palpable. The ash on this Latina was 'rumptious' and light charcoal in color.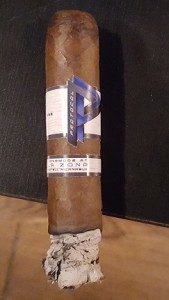 I was very impressed with how balanced Protocol was as the final third approached. The strength did not overpower the flavor profile at all as I continued to work down her body into the final approach.
I was already drunk from her flavors but she continued to feed me amorous bites of delicious chocolate and dark roasted coffee as our nocturnal romance entered its final stage. The spice was a bit more noticeable at this point while the almonds and dried fruit remained in the profile. The final third is definitely where Protocol's quadruple ligero character was most decadent. She was strong, robust and very flavorful. So much so that it was heartbreaking when I had to lay her down for eternal sleep. I gave her one final kiss, savored her flavors and ogled her carcass of ash resting in the ashtray. Thank God I have two more full boxes waiting to be exploited.
Even though my experience with Protocol is over, I have not stopped thinking about her. She really did captivate me with her flawless construction and balanced, tasty flavor profile. Her full strength was certainly prominent during the second half but she was full of flavor from start to finish. Protocol was complex, had a nice cool burn and needed very little maintenance. She was certainly a pleasure to entertain, and she kept me company for more than an hour of smoke time.  Don't let the quadruple ligero scare you because she packs more flavor than strength; however, the strength is evident. I highly recommend this cigar to seasoned smokers who enjoy a full-strength, full-bodied cigar that is very tasty and memorable.
Statistics: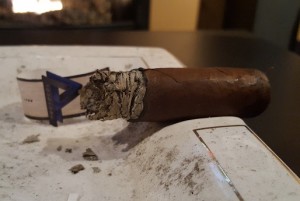 Made at La Zona Factory in Nicaragua
Wrapper: Ecuadorian Habano Oscuro
Binder: Nicaraguan Habano
Filler: Quadruple Ligero from Esteli and Jalapa Nicaragua
Price: $9.89