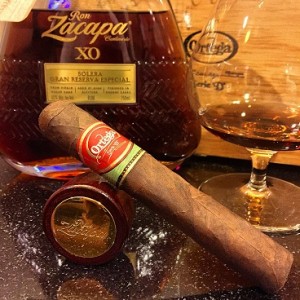 Review by Juan Cancel
I am about to light up a 1 ½ – year-old Ortega Serie D #20 Maduro cigar by Eddie Ortega.
I have praised this cigar's glory over 100 times before, but for those of you who missed my short write-ups on social media, I have submitted a lengthy, more formal write-up for Ultimatecigarparty.com. Let me begin by telling you that this cigar is fantastic – absolutely mind blowing.
The Ortega Serie 'D' Maduro #20 cigar is an elegant 6×60 slightly box-pressed stick that is covered in an oily, dark, rich Mexican San Andreas wrapper. Its binder and filler are Nicaraguan, from the Jalapa and Estelí growing regions. The pre-light aroma is an intoxicating perfume of sweet raisin while the cold draw provides that same sweet raisin taste with hints of port wine and chocolate. A delectable combination that smells good enough to eat. At the onset, I would say the strength of this cigar is at the upper end of medium, almost full.
The opening dance with this Nicaraguan heart throb is breathtaking. The Mexican San Adreas wrapper imparts sweet aromatic notes of earth and chocolate to the flavor profile with sweet earthy cocoa dominating the first third. I also pick up subtle cedar notes on the palate. The retro hale offers strong black pepper notes that definitely ramp up the smoking experience.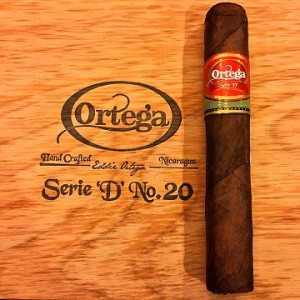 This dame does not disappoint at the halfway point. The sweet earthy chocolate aroma has intensified and is very enjoyable. The subtle cedar flavors have subsided and the strength on the retro hale has also subsided substantially. However, the retro hale remains peppery but not as powerful but just as pleasurable.  Nuttiness has really kicked in on the aroma.
The final third of my nocturnal romance with Ortega Serie 'D' Maduro #20 is amazing. The cocoa and sweet earthy notes have remained constant throughout the smoking experience and the final third of this cigar mellows out nicely. This tantalizing temptress leaves me with a smooth and creamy coating on my palate while the chocolaty, earthy, and nutty flavors continue to captivate me.
The construction on this Latina is as flawless as a supermodel. Her tightly wrapped body produced a perfect draw and has led to an almost pure white ash throughout the course of the smoking experience. She was elegant and decadent from start to finish and has satisfied me with an extremely pleasurable flavor profile. The worst part of this cigar is that it has to end. What a great experience. I absolutely love this cigar and it never disappoints – great job Eddie Ortega.  I call this cigar the working man's Padrón! Unbelievable from start to finish! It is one of the finest cigars that I have ever smoked. Eddie Ortega has a lifelong winner here! With age, these cigars only get better.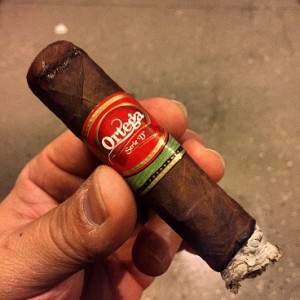 I pared this smoke with my favorite rum, Ron Zacapa Centenario XO Solera Gran Reserva Especial. The name and drink are a mouth full. This is the higher end selection from the Ron Zacapa line with an MSRP of about $120. The bottle is beautiful and the rum is delicious. This divine Guatemalan rum is made from virgin sugar cane, aged at a high altitude and finished in cognac casks. The end result offers slightly sweet molasses flavors with warm hints of caramel and raisin. This rum is meant to be sipped and enjoyed. It is extremely smooth on the palate.
This sophisticated rum is aged between 6-25 years in a Solera System consisting of barrels which previously held robust bourbon, delicate sherries, fine Pedro Ximenez wines, and cognac. The Ron Zacapa XO compliments the Ortega Serie D Maduro perfectly. They are a match made in heaven!
Ron Zacapa Centenario XO Solera Gran Reserva Especial and an Ortega Serie 'D' Maduro #20 with the Mexican San Andreas wrapper is a combination that I would take any time! Both the cigar and rum are available at Berkeley Wine & Humidor, both on line and walk in. Berkeley Humidor also accepts the New Jersey Cigar Club Discount Card. 
Our  Overall Rating: 92
Overall rating is the average of  three independent reviewers with over 56 years of combined smoking experience.
Review Panel
Bill Ives: 89
Juan Cancel: 94
Old Ash: 93