Sean Williams, owner of El Primer Mundo, and Eddie Ortega, founder of Ortega Cigars are set to release a joint project called Larceny. Ultimatecigarparty.com spoke with Williams and Ortega earlier this evening and they are both extremely excited about the venture.
"We were kicking around some ideas and we wanted to do something to have fun with and that is what this project is. We are having a little fun," said Williams.
Williams and Ortega were bouncing ideas off of each other for a while about a "special project" they wanted to do. The end result was this unique idea that is sure to cause "copycat" schemes in the future. The premise is a pun on industry copycats who often steal ideas from other brands and pawn them off as their own original creations.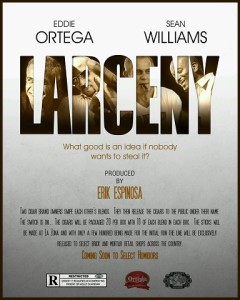 Larceny is a limited release binary project to be sold in 20 count boxes with 10 cigars blended by Ortega (EPM Larceny) and the other 10 blended by Williams (Ortega Larceny).  While both Williams and Ortega are not ready to disclose the exact blends just yet, Williams told Ultimatecigarparty.com to expect "mostly Nicaraguan tobaccos primarily from Jalapa and Estelí."
The cigars will be produced at Erik Espinosa's factory, La Zona, marking the first time that Eddie Ortega and Erik Espinosa have collaborated since they parted ways after their partnership, EO Brands ended in 2012.
The expectant release date is late spring 2015, possibly May.