EASTON, Pa., November 6, 2017 – Famous Smoke Shop, the largest American-owned distributor of discounted premium cigars online, has announced the addition of Huntsman and Truce Connecticut Reserve cigars to their portfolio. Made in collaboration with Ernesto "Nestor" Plasencia, these new premium cigars are made at Plasencia's Nicaragua factory and are available exclusively at Famous Smoke Shop, in-store and online. These exciting new additions were created by Famous employees, down to the name and blend.
Huntsman Cigars are the product of Jim Charnley, director of purchasing and merchandising. This new cigar features a mild-medium bodied blend that's meant for scotch pairing. The new cigar features a Nicaraguan Habano wrapper that's plied over a sweet Mexican San Andres binder and based on a zesty core of Honduran, Nicaraguan and Brazilian long filler. "I took inspiration for the brand from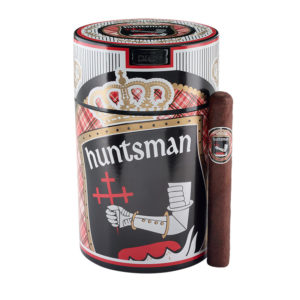 my family's Scottish heritage, working with our design team to utilizing our tartan and parts of the clan crest in the design," says Charnley.
Of the first to sample this cigar was Gary Korb, editor of Cigar Advisor Magazine. Korb found the Huntsman to be "a well-balanced and rich cigar with earthy, woody and peppery flavors."
Truce Connecticut Reserve is the brainchild of Michael Klingerman, buyer of Famous Exclusives. Medium in body, Truce symbolizes the middle ground we turn toward in times of turmoil. On the Truce, Klingerman believes, "In the era of such polarizing political views and opinions, we need a cigar that all can smoke and enjoy."
Truce Connecticut Reserve is a mild-medium bodied blend of Honduran and Brazilian Mata Fina fillers, wrapped in an Esteli-grown Nicaraguan Habano binder and capped off with a velvety Honduran Connecticut wrapper – truly a pinnacle in complexity. Truce Connecticut Reserve is a tribute to qualities we all look for in the middle – "smooth and creamy yet carries enough body to complement any occasion or libation," says Klingerman.
John Pullo, managing editor of Cigar Advisor Magazine, found the Truce Connecticut Reserve "offers subtle flavors, but has enough of a spark that will get your attention from time to time. I actually found this to be a very relaxing smoke."
These hot new cigars are available at Famous Smoke Shop in exclusive 20-count humidor jars, a cigar storage system introduced in 2016 – and known now for their ease of use, stylish look and eco-friendliness. For smokers who like variety, the Huntsman and Truce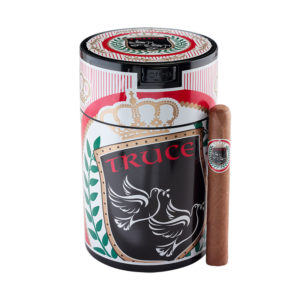 Connecticut Reserve are both available in classic sizes of Churchill, Robusto and Toro.
Huntsman
Churchill 7 x 50: $5.75 MSRP per cigar or $115 per jar
Robusto 5 x 50: $5.25 MSRP per cigar or $105 per jar
Toro 6 x 50: $5.50 MSRP per cigar or $110 per jar
Truce Connecticut Reserve
Churchill 7 x 50: $5.75 MSRP per cigar or $115 per jar
Robusto 5 x 50: $5.25 MSRP per cigar or $105 per jar
Toro 6 x 50: $5.50 MSRP per cigar or $110 per jar
About Famous Smoke Shop 
Famous Smoke Shop is the nation's #1 discount retailer of premium cigars online, offering one of the largest selections of handmade cigars, machine-made cigars, cigar humidors and accessories. Famous offers the web's lowest prices on a wide selection of cigar brands including Acid, Davidoff, Macanudo, Romeo y Julieta, Ashton, Padron, Oliva and Perdomo cigars, and many more. Famous offers their customers the best prices on all premium cigars as well as friendly and knowledgeable customer service.