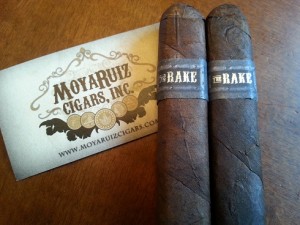 A full-flavored, complex blend with Nicaraguan fillers comprised of four ligeros – a very appealing cigar for those who enjoy a little strength and a lot of flavor.
I was introduced to The Rake when her father, Danny Moya, sent her over to me for a little pre-release engagement last week. When she arrived at my doorstep, I was immediately taken back by her beauty – what a sexy little, rustic Latina. I hope she didn't mind me staring so hard.
After a couple of days rest in my Daniel Marshall humidor, I decided to take her out on this beautiful afternoon here in NJ. She looked just as beautiful as she did the day I met her. While I walked her out to my patio, we engaged in a little small talk where she informed me about the history behind her unique name. It turns out that The Rake is a poker term that describes the fee taken by the card room for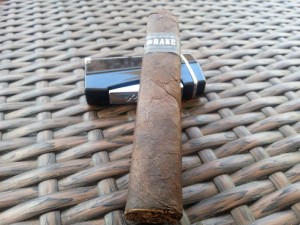 operating the poker game. This was not totally surprising to me since her father, Mr. Moya named her sibling "La Jugada", which is a term used in Dominoes.
The Rake was dressed in a stunning Connecticut Broadleaf wrapper that was extremely dark and rich in color. Her naked flesh was rugged and raw, a toothy texture that said "I am ready to play." Her firm, 5 x 52, body boasted seductive curves that rounded the edges of her soft box-pressed figure to perfection. Her chic black and gray band accessorized her nude leaf beautifully with "The Rake" tattooed across the front in bold modern font. The design of her band was inspired by the peep hole found in a door of an underground gambling room at a speakeasy.
The well-constructed body of this heartthrob conceals a highly combustible Corojo binder that envelopes four different Nicaraguan Ligero fillers, including two from Estelí and two from Jalapa. The powerful filler blend adds a bit of mystique and eroticism to her already lusty appeal. Her wrapper leaf emitted an intoxicating perfume of dark chocolate and earth with more pungent scents of that same dark chocolate that emanated from her foot.
I could no longer control my urges, so I whipped out my cutter, firmly clipped her cap and gently massaged her foot with warm butane to prime her for action. Our pre-light foreplay must have made her a little frisky because our opening dance was incredible.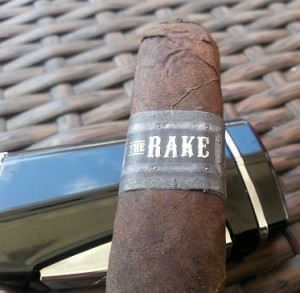 From our initial meeting, I knew this Latina was going to be a real crowd pleaser, and our opening kiss affirmed that. The primary flavors behind her passion were bold and satisfying. I picked up strong notes of espresso and earth with a blanketing offering of the dark chocolate that I picked up when I sniffed her foot. As the first third continued to progress, she started to release some spice from her Nicaraguan core. The blend of The Rake already impressed me. She offered rich flavors that were upfront and pungent and her strength level at this point was a solid medium, but boy was she full of flavor.
As if she wasn't randy enough, her passion and flavors really started to ramp up as we continued on into the second third of our tryst. As I continued to explore her deep, rich flavors, this exotic beauty started to pour on the charm and bedazzle the pants off of me. She continued to offer a dominant flavor profile of sweet, rich and espresso that coupled perfectly with subtle sweetness that began to give her kisses a 'WOW' factor. What was extra special about this tender heartthrob was her long lasting finish that laced my lips with a peppery spice that started to appear in the profile. I also started to notice her strength slowly creeping up to a medium-full by the end of the second third.
Every time I inhaled her innocence she let out a scream of smoke that echoed throughout my cigar cave like you wouldn't believe. She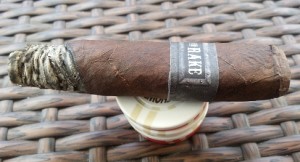 emitted massive clouds of thick, white amorous smoke that wafted through the air like an endless ride on the Love Train. Her burn was a little funky, but that is very common with broadleaf wrappers because of the high oil content. Plus, with all of this broad's lusty offerings, who cares about a little wavy char line. She knew how to satisfy her man, trust me. Her ash was large, firm and dark charcoal in color. Her draw was perfect.
As you probably imagined by now, I did not want this rendezvous to end – EVER. Her flavors were extraordinary and extremely satisfying. Our final third together will never be forgotten. Each 'goodnight' kiss lingered and neither of us wanted to depart from the company of one another. Her flavor profile continued to impress. Her dark chocolate and earth base remained dominant and the sweet undertones continued to satisfy me. However, she did become a bit spicier here in the twilight of our date. I continued giving her little smooches until I could no longer grip what was left of her once flawless body.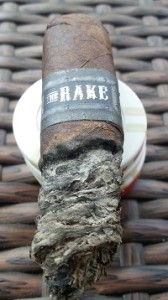 This exotic creation from MoyaRuiz Cigars is incredible and not a moment goes by that I don't think about the time we shared together in my cigar cave. She is an extremely flavorful smoke with a memorable, complex profile that is blended to perfection. The Rake is strong, but not overpowering by any means, with just the right amount of sweetness to balance her out.
The box press was a great addition to this size, and it added that much more to her grandeur. The construction was flawless and the smoke output was considerable. She remained flavorful from the opening kiss to the final goodnight smooch. Her strength continued to increase throughout the experience until finally reaching full strength during the home stretch. I highly recommend this cigar to anyone who enjoys a tasty, flavorful smoke that isn't too spicy and doesn't challenge your ability to handle a Nicotine overload.
I paired The Rake with Jack Daniels Single Barrel bourbon. The two were made for each other. The sweet flavors of the bourbon was a perfect marriage to the sweet/spicy flavor profile of the cigar.
Specs:
Made by MoyaRuiz Cigars at La Zona Factory
Wrapper: Connecticut Broadleaf
Binder: Corojo
Filler: Nicaraguan (Estelí and Jalapa)
Strength: Medium – Full
Price: $10.50
Release Date: June 27, 2015
Contest Rules:
Win a 5 – pack of "The Rake" before they are available to the public
Read the story above in its entirety and leave a comment that is unique to the review in the comments section below.
The contest runs Today through Thursday 6/25/15 and the winner will be picked at random. Winner will be notified through email and announced on social media on Saturday. Valid to residents of continental US only.