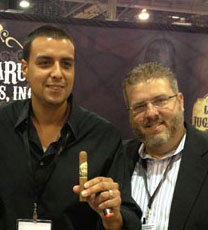 MoyaRuiz Cigars is a brand born of a child's love for his grandfather and an appreciation for the rich culture and tradition of his country. The boutique cigar company boasts unique blends and creative branding to showcase its founders' prideful Cuban heritage and to pay homage to the 'Mother Land'.
Danny Moya, co-owner of MoyaRuiz Cigars, was 13 years old when he started smoking cigars and he has not looked back since. The inquisitive youngster grew up in the plumes of his grandfather and great-grandfather's cigar smoke, two gentlemen who farmed the famed Pinar del Rio region of Cuba. Moya learned the trade first hand and used his tutelage to form his own brand in December of 2012.
"I was very close with my grandfather and it was not often that you wouldn't see a cigar in his mouth," said Moya. "I always enjoyed the aroma of a cigar. I nagged him for years [to try a cigar] until finally he gave in and I've been enjoying them ever since. I wanted to make my grandfather proud."
La Jugada, which translates to "the play" or "the move" in reference to the game of Dominoes, was the company's first release. It references the brand owners, Danny Moya and Nelson Ruiz's love for sports and competition. Dominoes is as prevalent in the Cuban culture as tobacco, so La Jugada is an appropriate name for a release that has made an impactful splash in the industry.
MoyaRuiz Cigars has established itself as a cigar brand that simply does not compromise on quality or flavor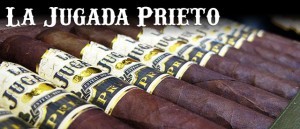 with its three distinct blends.  The original blend is the Prieto, which is cloaked in a Mexican San Andreas wrapper with a Nicaraguan binder and filler.  It offers a tasty flavor profile of dark, rich cocoa and heavy espresso with sweet cream – characteristics reminiscent of a classic Cafe Cubano.
"This first blend, the Prieto, our maduro, we nailed on the money," said Moya.

The company's second blend is the Habano, which is described on the company's website as a "full-forced onslaught of unrelenting flavor." The Habano is the company's best-selling blend. It is a full-strength, full-flavored cigar that offers an effortless draw and voluminous smoke output. It has an Ecuadorian Habano wrapper, proprietary double binder and Nicaraguan fillers. The profile is unique, complex and bold.
The latest line, which was made available to the public at the 2014 IPCPR Trade Show, is the company's first Limited Edition (LE) release. It is the JugadaNunchuck, two cigars connected together on the heads to resemble the deadly weapon.
"What sets us apart is that we can make creative projects," said Moya. "And because of the Nunchuck we had an incredible show (IPCPR)."
The JugadaNunchuck is a full-bodied, full-flavored Nicaraguan Puro. It uses a dark Habano oscuro wrapper that conceals a bold Nicaraguan binder and filler.
"We use different combinations of tobacco from Nicaragua," Moya explained. "I really prefer Nicaraguan tobacco. All of our blends are completely different. We don't want anything to taste the same."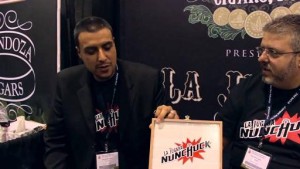 MoyaRuiz cigars are made at Erik Espinosa's, La Zona factory in Esteli, Nicaragua. The factory is run by a father and son team that has more than 50 years of experience in the cigar business. Machito, the elder, used to run the H. Upmann factory in Cuba and his son, Carlito was one of the best rollers in Cuba before he left. All of the cigars made in La Zona are done following traditional Cuban methods.
"The filler tobaccos are rolled (Entubado) not bunched to allow maximum airflow," said Moya. "All the heads of the cigars are mounted (triple cap) for presentation. There's not a lot of factories outside of Cuba that do this."
There are so many great cigars on the market today, so why should cigar smokers choose La Jugada?
"For the quality, construction and value," said Moya. "We are working very hard to give smokers what they expect from a boutique cigar. Our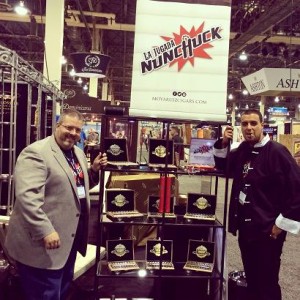 blends are carefully selected and we want to give them the proper exposure in the marketplace."
MoyaRuiz is currently working on an exciting new release. The current line, La Jugada is based on traditional design and marketing with its Spanish name and intricate band. However, the new line coming out will have an English name and pay tribute to another game the owners love, poker.
Like most cigar manufacturers, MoyaRuiz would like to "leave our mark on this industry," but that is easier said than done. However, based on the company's success, it appears that MoyaRuiz Cigars is doing just that. The buzz is out and the brand has been well received by many of today's smokers.
Moya's grandfather would be more than proud of his little protégé who, at one time, was just a shadow to the patriarch, chasing clouds of smoke wafting in the gentle breeze of the Caribbean nation.