Freyja – sweet and emotional, strong and powerful, spicy and mysterious – a goddess in every sense of the word.
The history behind Emma Viktorsson's first ever blend, Freyja, is a captivating tale of emotion, strength and love.
"I am Swedish born and for my cigar I felt drawn to show my real actual roots – Sweden and Scandinavia," explained Viktorsson. "I have always been intrigued by the Vikings. I studied and learned as much as I could with the help of Danilo Popovski, a dear family friend."
In Norse Mythology Freyja was chief of the Valkyries, a Viking goddess of beauty, love, fertility and war. She was No. 4 on the list of the main gods and the No.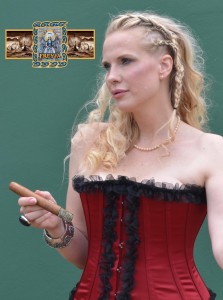 1 goddess. She is the owner of the necklace Brisingamen, rides a chariot pulled by two cats, keeps the boar Hildisvíni by her side, possesses a cloak of falcon feathers and by her husband Óðr, is the mother of two daughters.
Contrary to popular belief, the Vikings were not cruel people.  Their physical strength was immeasurable, but they did not wear helmets and bore small axes, opposed to the oversized weaponry seen on television. They fought for food, land, treasures, power and industrial advancements – common reasons to quarrel during their time of existence (AD 700 – AD 1160s).
Freyja was a very beautiful and emotional woman. She had many lovers but held one, Od, closer to her heart than any other. History tells us that Freyja cried uncontrollably when Od was killed, and when her tears hit the ground, they turned to gold and the tears that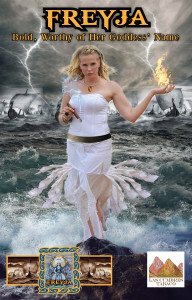 fell into the sea turned to amber. Today, amber can be found in Scandinavia from the cold Baltic Sea and on the Dominican Republic – the birthplace of the Freyja cigar.
In all Germanic languages, including English, most days of the week derive from Viking gods. Tuesday is Týrs day (son of No. 1 god, Odin), Wednesday is Odin/Woden's day (No. 1, main god), Thursday is Thor's day (another son of Odin), and Friday is Freyja's day. It so happens that the news of Freyja's release was announced on Friday, May 29 by Las Cumbres Tabaco.
Freyja's blend is reminiscent of its homonymous goddess to the core. She is sweet, yet strong and powerful with a little bit of spice and mystery added to her persona.
Look for Freyja to hit the shelves in late July, 2015.
Available Vitolas:
Sessrúmnir Corona Larga – 5 3/4 X 42 ($7.00 MSRP)
Valhalla Robusto: 5 1/2 x 50 ($7.85 MSRP)
Thor's Toro: 6 x 54 ($9.00 MSRP)
Valkyrie Pyramid: 6 1/2 x 52 ($10.00 MSRP)
Each of the vitola names refers to different aspects of Freyja:
Valkyrie is a host of female figures who were believed to select the outcome of a battle. Half of the dead warriors were said to be taken to Frejya's heavenly hall, Sessrúmnir, while the other half were taken to the god Odin's hall,Valhalla.