Emma Viktorsson, the Swedish-born co-founder of Las Cumbres Tabaco and wife of Jose Blanco, has been learning about the cigar industry ever since she was 8 years old. Today, she is celebrating the release of her very own blend, Freyja.
Freyja, the Chief of Valkyries was the Viking Goddess of beauty, love, fertility and war, is a cigar born of Emma Viktorsson's fascination for Viking and Norse Mythology and respect for tobacco and premium cigars. It was blended by her without influence from husband and master blender, Jose Blanco.
"Last year some people asked me seriously about doing something… My mind started thinking about it so I researched the market of what´s out there, and I decided that yes, I can and I´m ready, but I will blend it. I took advice from the factory, but without the influence of Jose, because I wanted to see my own style," explained Viktorsson.
Freyja is a cigar of mostly Dominican tobacco (grown on La Canela farm) with a touch of Nicaraguan and Mexican. It is wrapped in a Dominican Criollo '98 leaf with a Mexican San Andreas binder and Dominican Piloto Cubano, Dominican Criollo ´98, and Nicaraguan Esteli Viso fillers.
"I wanted a Dominican wrapper and decided on the Criollo '98. It is a fantastic wrapper with five years of age," explained Viktorsson. "I love Mexican San Andreas but didn't want it as the wrapper so I had the crazy idea of making it the binder. Tabacalara Palma has never done this before but this was part of the blend that I never budged from and they loved the idea."
Freyja is a full-bodied cigar that is medium to full in strength with plenty of sweetness and a touch of spice with a slight feel of cream from the four to five years of age on the Dominican tobaccos. The finish is of soft sweetness that leaves a satisfying tingling on the lips.
"There is a sweetness all throughout but the types of sweet notes change," explained Viktorsson. "I feel some sugarcane or just some very natural sweet quality, a little bit of bitter chocolate sweetness in the second half, that´s when some comfortable non-pungent earth kicks in. In the final third I feel the sweetness of dried, dark fruit like prunes, not citrus."
She went on to say, "Meanwhile, there is a slight spice that just sticks there, never strong, never gone… always stimulating the mouth and the lips. The finish to me is a soft sweetness, not pungent, spice or just simple stimulation on the lips, it tingles."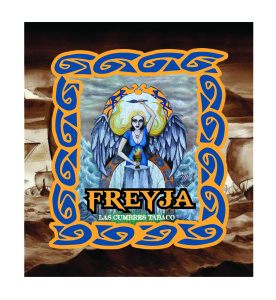 Like Senorial, the logo (brand, band and boxes) is an original, handcrafted piece of art inspired by Viktorsson's admiration for the Vikings.
"I used a painter dear to me, a family friend from Macedonia, Jana Jovanova. She is an amazing young painter. We have her art at home too," boasted Viktorsson. "I sent her ideas of Freyja and what represents her most, but I told her, 'add your touch and paint 100% with your style.'"
Viktorsson's interest in cigars began when she was a budding youngster listening in on most of her father's conversations of business during very important dinner meetings.  Her father, Ake, was part of the International Management Team for Swedish Match, responsible for Eastern and Central Europe and Commonwealth of Independent States (CIS). She traveled with him worldwide and became fascinated with all things cigars.
After graduating from École Supérieure Libre de Sciences Commerciales Appliquées University in Paris, France in 2005 with a degree in International Business, Viktorsson began working for Swedish Match's premium cigar division (General Cigar). Swedish Match acquired General Cigar Company that same year. This is when Viktorsson became a full-time student of tobacco and cigars where she was schooled in all aspects of the industry from seed to shelf including the business division.
Viktorsson was earning a tremendous amount of respect within General Cigar Company, (GCC) so much that in 2008, Daniel Nuñez and Modesta Fondeur sent her to the company's factory in Santiago, Dominican Republic. She spent several months there mastering the processes from leave selection and fermentation to aging and quality control. She even learned bunching and rolling.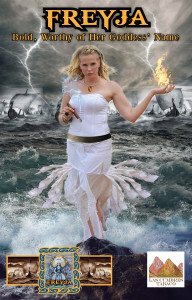 Viktorsson advanced within the company, becoming the Marketing Manager of East Europe Premium Imported Long Filler Cigars.
"I had nine countries, but I expanded all over CIS and so on, assisting with other tobacco products, too," Viktorsson explained.
That led to the biggest change in Emma Viktorsson's life. She met Jose Blanco.
"I left Swedish Match in late 2010 to join Jose Blanco on a personal level," she said. "It was an easy choice. I miss my old clients and the dynamics of that job, the countries, etc. but it was an easy choice."
Within a few months, Blanco and Viktorsson moved to Nicaragua where Blanco was hired as the Vice President for Joya de Nicaragua.
"I was not an employee per se, but I was kind of 'part of the package,'" noted Viktorsson.
She joined all meetings, gave her opinions and helped find distributers in countries with whom she used to do business. Viktorsson was also part of the tasting panel during the blending of the world-famous CyB blend.
"I smoked the pure grades, gave my opinions and filled the anonymous tasting sheets, but I got pregnant just before the final CyB blend was decided. But, I knew which blend it was," boasted Viktorsson.
Shortly after, Blanco left Joya de Nicaragua destined for retirement. But, in April of 2014, Las Cumbres Tabaco was born and Viktorsson began getting her hands dirty in the soil.  She was part of the tasting panel of Senorial and Senorial 65th Anniversary and now is the blender and creator of Freyja.
Freyja wasn't even a twinkle in Viktorsson's eye when she began eavesdropping as an inquisitive child. But, her curiosity has taken her on a trans-global voyage deep into the enchanted world of tobacco and premium cigars. Freyja has unearthed Sweden's best kept secret – Emma Viktorsson – and Las Cumbres Tabaco is set to reap the benefits.
Freyja will be unveiled at the 2015 IPCPR Trade Show in New Orleans this July and shipments to shops slated to begin immediately afterward.