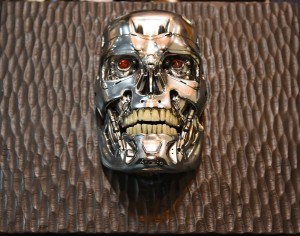 Proceeds from Sale of Rare Limited Edition Humidors to Benefit ASAS Youth Charity
Los Angeles, Calif. (July 21, 2015) – A Special Edition Terminator Genisys Humidor was unveiled at the Daniel Marshall Booth #11907 during the International Premium Cigar and Pipe Retailers Convention (IPCPR), July 17-20 in New Orleans.
This extremely rare and unique humidor was designed in collaboration with Arnold Schwarzenegger to celebrate the release of his latest movie, Terminator Genisys, which launched in theaters July 1, 2015. Schwarzenegger came up with the idea to use the Endoskeleton Skull made by Legacy Studios on the humidor during Marshall's visit to the set on May 15, 2014. Marshall was introduced to the property master who then had Legacy Studios make the Endoskeleton Skull specifically for Schwarzenegger and Marshall to use on the humidor to raise money for charity. Legacy Studios is the famous special effects house that created the first Terminator in 1983.
A total of 10 humidors will be available for sale to the public. Proceeds from the sale of this special edition humidor will benefit After-School All-Stars (ASAS) Charity, founded by Schwarzenegger to provide comprehensive after-school programs that keep children safeand help them succeed in school and life.
Daniel Marshall, a 33-year veteran of the cigar industry is one of the world's leading names in quality humidors and luxury cigars,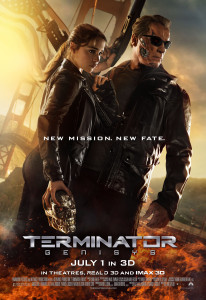 including the highly esteemed Golden Cigar. His humidors have graced the homes of countless Hollywood celebrities, US presidents, dignitaries, and fashion designers among others. Marshall is a cigar and humidor supplier of England's Royal Family. Daniel Marshall has also created and private labeled for the prestigious luxury gift houses Tiffany & Co., S.T. Dupont, Cartier, Fred Joaillier, Harrod's, and Garrard's of London. Daniel Marshall's humidors are historic, with a collection on display at the Smithsonian Museum. Visit Daniel Marshall's site at www.danielmarshall.com. You can also find Daniel Marshall on Facebook at www.facebook.com/danielmarshallhumidorsandcigars or follow Daniel Marshall on Twitter @DMCigarWorld or Instagram @DMCigars for real time updates.
About After-School All-Stars
Founded in 1992, After-School All-Stars (ASAS) is a leading national provider of year-round, school-based, comprehensive afterschool programs. The organization's mission is to keep children safe and help them succeed in school and in life. Every school day, students in low-income communities have access to free programs that offer academic support, enrichment opportunities, and health and fitness activities. Nearly 90,000 children from 13 U.S. regions benefit: ASAS serves Atlanta, Chicago, Hawaii, Las Vegas, Los Angeles, New York, North Texas, Ohio, Orlando, San Antonio, San Diego, South Florida and Washington, D.C., and, beginning in Fall 2014, Newark and Philadelphia. For more information, visit www.as-as.org