Los Angeles, CA (February 8, 2019) – Hahnenkamm-Rennen is the most spectacular downhill ski race in the world and Kitzbuhel, Austria became, once again, the celebrity hot spot for race weekend. With high spirits and the best party conditions, the celebrities mastered their "party slalom" brilliantly while enjoying Daniel Marshall Cigars & Padre Azul Tequila. The "Kitzbuhel Campfire" last weekend burned red hot this year with 150 guests from all over the world attracting Germany and Austria's largest media coverage by RTL and ORF. These main stream TV programs all highlighted the Cigar World we love as moments of connection, celebration and creating the Modern day campfire, demonstrating to viewers that "we don't smoke…we taste."
The high profile 5th annual "Cigar & Tequila Cocktail" night was hosted by Hollywood cigar guru Daniel Marshall and Patrick Knapp Schwarzenegger, Arnold's nephew and one of the "Compadres" co-owners of Padre Azul. This elite event was held at the exclusive membership club, Kitzbuhel Country Club within the Daniel Marshall Cigar Lounge and was one of the major highlights not only for cigar but also tequila lovers. Patrick's Uncle and Daniel's long time friend, Governor Arnold Schwarzenegger, together with his partner Heather Milligan took the opportunity to enjoy a cigar and visit with race experts such as Austrian Film Producer Otto Retzer and legendary skiers, Franz Klammer and Franz Weber. The club served DM Red Label Cigars and Daniel Marshall offered a special gift of his renowned "24 kt Golden Cigar." These worldwide unique cigars covered with 24kt gold lit up the night with golden moments. Patrick Knapp Schwarzenegger served perfectly matching "Padre Azul Cristalino Añejo Tequila" alongside Marshall's cigars. Swarovski individually manufactured for this very exclusive tequila a unique skull made from precious crystal glass with an engraved number for every single bottle.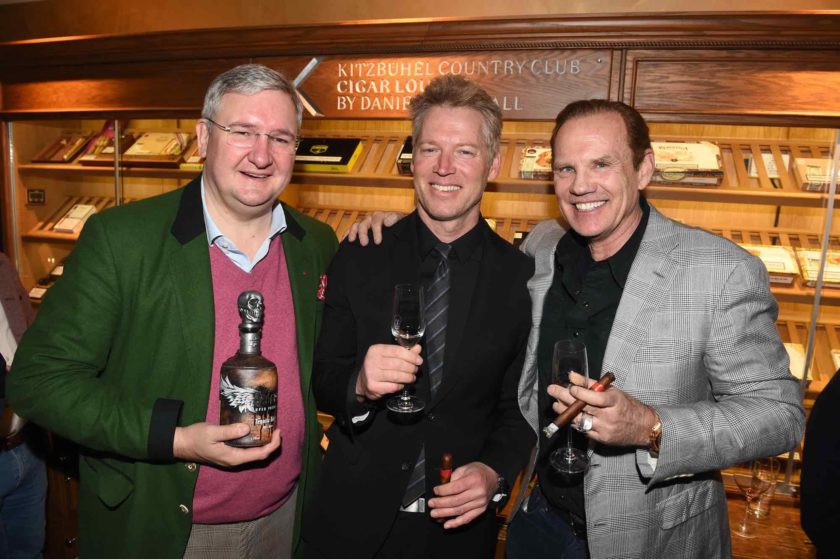 Amongst the famous guests of this very exclusive event were: Klemmens Hallmann, Entrepreneur; Christine Walker, Top Business Coach; Alexander Hoeller, Artist; Wolfgang Anselmino, Art Collector; Michele Malenotti , "Matchless" Fashion Designer; Christian Muhr, Hilton Vice President; Prof. Dr. Eckhard U. Alt, Germanys leading expert in stem cell research with famous singer Anna Maria Kaufmann, Martin Tomczyk and Christina Surer, Race Car Drivers; Jana Julie Kilka, Actress; and Georg Weis, Padre Azul partner from the Swarovski family.
Many of the guests marvelled in wonderment regarding Tequila from Austria and how well it complemented the 92-point rated Daniel Marshall Cigar. Guests discovered that Padre Azul premium tequila is 100% handmade, 100% Blue Weber Agave and 100% Mexican. The original creator of this legendary tequila is an Austrian, Hans Peter Eder. Eder, son of a fruit schnapps manufacturer, fell in love not only with the Adriana Alvarez Maxemin of Mexico, but also with her extended family, Mexican tradition and tequila. From those relationships, Padre Azul Premium Tequila was born.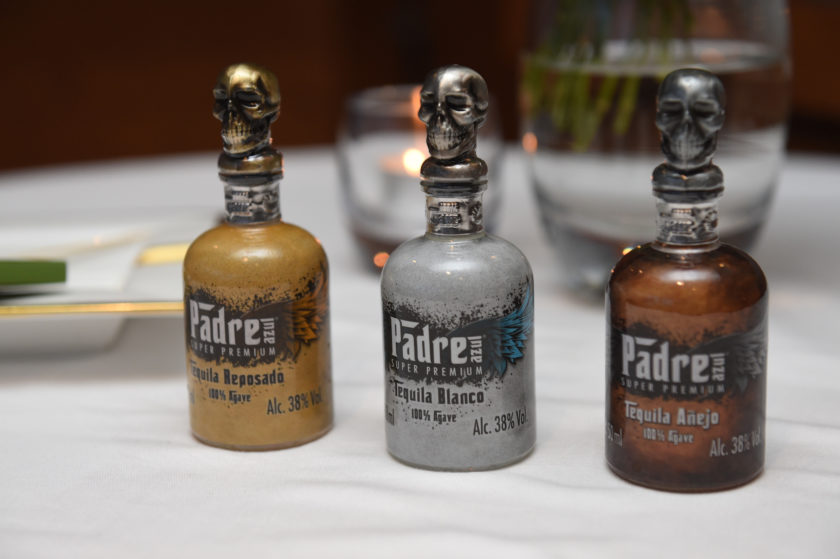 Patrick Knapp Schwarzenegger has joined Padre Azul as one of the partners recently. "By chance I heard of the tequila through my friend Rene Benko and was impressed straightaway. I instantly said I want to be involved," said Schwarzenegger. The Austrian-American living in Los Angeles is known in the States not only because of his famous uncle, but also for working as a successful attorney for celebrities such as his famous uncle, Nicolas Cage, Jason Statham, Jackie Chan, and many more.
This annual event was covered by Germany RTL and Austria's ORF top news channels telling the story of this "Modern Day Campfire." Click here to view the coverage: https://youtu.be/5ub20iUWa0k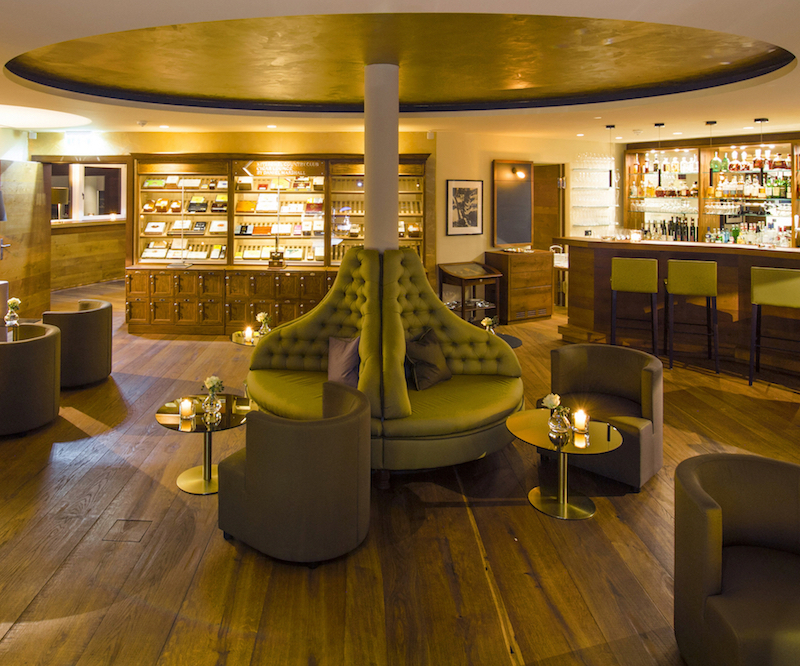 About Daniel Marshall:Daniel Marshall, a 35-year veteran of the cigar industry is one of the leading names in the cigar world. He is top-rated Humidor designer and creator of the coveted 24kt Golden Cigar. DM Humidors & Cigars are enjoyed in the homes and offices of countless Hollywood celebrities, US presidents, dignitaries, titans of industry, fashion designers and the most discriminating cigar lovers worldwide. Marshall is also a cigar and humidor supplier of England's Royal Family. Since 1982, Daniel Marshall has created and designed for the prestigious luxury gift houses Dunhill, Tiffany & Co., S.T. DuPont, Cartier, Hermes, Fred Joaillier, Harrod's, Bally of Switzerland and Garrard's of London. Daniel Marshall's humidors are historic, with a collection on display at the Smithsonian Museum. One of DM's highly collectible Governor Schwarzenegger Humidor's broke sales records in 2016 at Leonardo DiCaprio's Foundation Gala Fundraiser in St. Tropez. This extremely rare humidor topped the charts for highest amount paid for a modern day humidor with new world DM Cigars, raising 750,000 euros. In September 2017, a 1 of 1 humidor DM made for Prince Albert II of Monaco with Daniel Marshall Cigars was put on the block and raised 75,000 Euros to benefit our global oceans.Visit Daniel Marshall's site at www.danielmarshall.com. You can also find Daniel Marshall on Facebook at www.facebook.com/danielmarshallhumidorsandcigars or follow Daniel Marshall on Twitter @DMCigarWorld or Instagram @DMCigars for real-time updates.