Los Angles, CA (May 17, 2018) – Daniel Marshall is determined to find a way to help cigar connoisseurs trade up to a top quality humidor they can trust. Marshall's goal is to demonstrate and prove how much better cigars taste and how valuable the investment in cigars can become when properly cared for with a quality humidor. From his signature "Daniel Marshall Campfires" to his whisky and cigar pairing events, Marshall has become an industry expert on combining cigar community and culture over the past 35 years.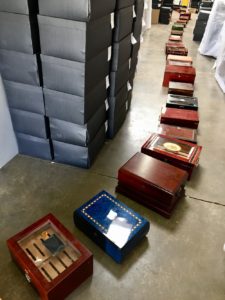 "DM Cash for Clunkers" is the first program of its kind in the cigar world. Daniel and his team were inspired by the very popular "Cash for Clunkers" national automotive program where consumers were able to trade in their used cars in exchange for a cash voucher to apply toward the purchase of a new car. Since the initial launch of the "DM Cash for Clunkers Humidor" program last month, 135 happy customers have cashed in their "clunker" humidors for a beautiful DM Humidor.
"Every year we hear from countless humidor owners about how they 'would love to one day own a Daniel Marshall humidor,'" said Marshall. "They often inquire about ways to trade up from their average humidor to an exquisite Daniel Marshal Humidor, considered to be the 'Rolls Royce' of humidors." Marshall's humidors have received numerous awards and reviews including #1 Humidor in the world rating.
In an effort to bring these humidor dreams to reality for cigar enthusiasts, Marshall is now offering a limited number of customers a rare chance to own a trusted Daniel Marshall humidor that will become a cherished heirloom. The highly coveted humidors are designed to keep precious cigars in optimal aging condition, guaranteed for life.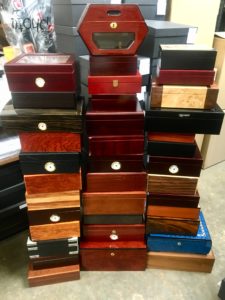 Marshall noted, "It has been our daily mission and purpose since 1982 to tell the story of the humidor and how vital the humidor is to care, protect and enhance the whole cigar experience. Throughout history, the humidor has been the stepchild to the cigar, not acknowledged or value-appreciated in many parts of the world. Now that more and more people enjoy the finest cigars made, they have witnessed that the most highly sought after, collected and top rated cigars in the world are aged for a very long time in a stable, top quality humidor. The finest of humidors can be trusted to replicate the environment of cigar growing regions. With the introduction of the program, it is my hope that more cigar enthusiasts can prove the benefits to themselves."
Customers can trade in any humidor and receive a $100 voucher and complimentary UPS shipping label to mail in their "clunker" to Daniel Marshall. The voucher can be redeemed for one of three Daniel Marshall humidors.
In the words of a few that have taken advantage of the program:
"You make the 'Holy Grail of humidors, I need one."
"I saw the cash for clunker box my dad got. I want one!" 
"Thank you for crafting amazing tasty jewels. I'm turning in my Clunker." 
  "I will be buying this DM humidor as a retiring gift to myself from my wife and sending in my clunker."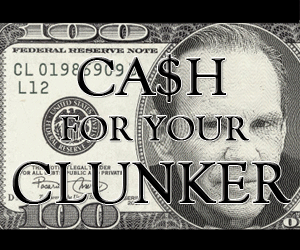 "I received my new DM humidor after turning in my clunker and am impressed by the look and craftsmanship of this box. I've seasoned it already and put it to good use. I'm looking forward to keeping it for a lifetime. Thanks for your help in the process, best regards." 
"I received my humidor this evening, and it is resting/seasoning.  I am totally pleased with the humidor. Not only did you send a tray, but you also included a hygrometer. The smell of the Spanish cedar is just out of this world and quite different than that in the two cheaper humidors I have. I am sure I will enjoy the humidor for many years to come. Thanks for your spectacular customer service."  
 "I have this imported piece of garbage that I received all packed up and ready to ship out. Thank you again for all the prompt correspondence. I apologize if I sound overly eager but I am bubbling like a child on Christmas morning in anticipation."
For additional details regarding the program, please visit the Daniel Marshall website or participating points of sale nationwide: http://danielmarshall.com/cash-for-clunker-discount-cigar-humidors/
About Daniel Marshall:
Daniel Marshall, a 35-year veteran of the cigar industry is one of the leading names in the cigar world. He is Cigar Aficionado's No.1 rated Humidor designer and creator of the coveted 24kt Golden Cigar. DM Humidors & cigars are enjoyed in the homes and offices of countless Hollywood celebrities, US presidents, dignitaries, titans of industry, fashion designers and the most discriminating cigar lovers worldwide. Marshall is also a cigar and humidor supplier of England's Royal Family. Since 1982, Daniel Marshall has created and designed for the prestigious luxury gift houses Dunhill, Tiffany & Co., S.T. Dupont, Cartier, Hermes, Fred Joaillier, Harrod's, Bally of Switzerland and Garrard's of London. Daniel Marshall's humidors are historic, with a collection on display at the Smithsonian Museum. One of DM's highly collectible Governor Schwarzenegger Humidor's broke sales records in 2016 at Leonardo DiCaprio's Foundation Gala Fundraiser in St. Tropez. This extremely rare humidor topped the charts for highest amount paid for a modern day humidor with new world DM Cigars, raising 750,000 euros. In September 2017, a 1 of 1 humidor DM made for Prince Albert II of Monaco with Daniel Marshall Cigars was put on the block and raised 75,000 Euros to benefit our global oceans.
Visit Daniel Marshall's site at www.danielmarshall.com. You can also find Daniel Marshall on Facebook at www.facebook.com/danielmarshallhumidorsandcigars or follow Daniel Marshall on Twitter @DMCigarWorld or Instagram @DMCigars for real-time updates.