Daniel Marshall is one of the cigar industry's most iconic figures and the Daniel Marshall brand has become synonymous with success and celebration across the globe. Today Marshall celebrates 35 years in business with the launch of a commemorative, limited edition cigar humidor designed to mark the special occasion.
The inspiration for the 2017 35th Anniversary Collector's Edition came from the very first cigar humidor Marshall made in 1982. It was constructed of Macassar Ebony from Sri Lanka for men's luxury goods company, Alfred Dunhill of London.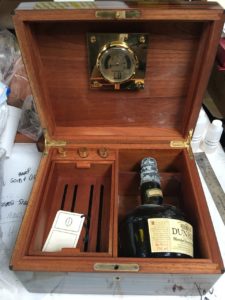 "As this summer marked our 35th anniversary of creating affordable luxury, I thought, 'What could be more appropriate than commemorating this milestone of a life making humidors with a re-creation of that first humidor I made 35 years ago that held a bottle of  Dunhill Whisky,'" said Marshall.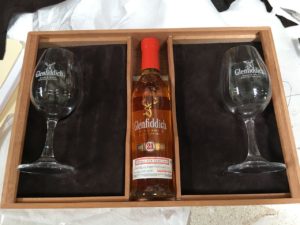 The anniversary collector's piece is also made of the same Macassar Ebony wood as the original and holds 125 cigars. It houses a unique bottle of Glenfiddich 21-year Scotch whisky that is not available in the United States. Each bottle is hand signed in gold by Daniel Marshall and Kristen Grant, the great-great granddaughter of Glenfiddich founder, William Grant. In addition, each humidor will be hand signed and dated by Daniel Marshall with its limited edition number engraved on a golden plate affixed inside the humidor.
"It is extremely rare to be able to collect a bottle of Glenfiddich signed by a direct descendent of the founder, William Grant. Ms. Grant has signed 100 bottles and I am forever grateful," expressed Marshall. "She organized her distillery to provide us with 100 bottles of 21-year Glenfiddich in a special bottle that is not available in the US."
To compliment the whisky, each humidor will be fitted with two Glenfiddich nosing glasses from Scotland and five, never sold before, DM Red Label Tasting cigars alongside 10 92-rated DM Red Label Churchill cigars. The 35th Anniversary Collector's Edition humidor is limited to 100 pieces and retails for $1,995 USD.
The Daniel Marshall brand has celebrated many legendary achievements over its nearly four-decade span; with exciting victories such as last year's record breaker.
"Last year one of the DM humidors broke sales records at the Leonardo DiCaprio Foundation Gala fundraiser in St. Tropez, France," Marshall revealed. "It topped the charts for highest amount paid for a modern day humidor that included New World Daniel Marshall cigars"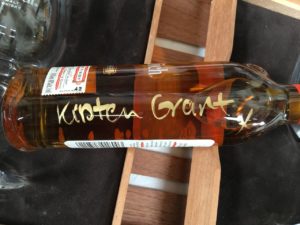 Daniel Marshall will be hosting a 35th anniversary celebration in collaboration with Glenfiddich, Balvenie and Davidoff of Genève at the Daniel Marshall Cigar Lounge, Kitzbuhel Country Club in Austria on January 20, 2018. Expected guests include customers and friends of DM, European cigar merchants, international film stars, champion skiers, and leaders in business and government.
"I have loved our cigar world for most of my life. This year marks a significant milestone that leaves me humbled and grateful. I would like to thank every DM cigar connoisseur and humidor collector for making it possible for me to realize my dreams of going from boy to man, from a California surfer to a designer and manufacturer of fine cigars and luxury humidors for the most discriminating luxury goods houses and collectors in the world, achieving the No. 1 Rating for Humidors and being able to leverage our collections to raise funds for vital causes worldwide" expressed Marshall.
About Daniel Marshall
Daniel Marshall, a 35-year veteran of the cigar industry is one of the leading names in the cigar world. He is Cigar Aficionado's No.1 rated Humidor designer and creator of the coveted 24kt Golden Cigar. DM Humidors & cigars are enjoyed in the homes and offices of countless Hollywood celebrities, US presidents, dignitaries, titans of industry, fashion designers and the most discriminating cigar lovers worldwide. Marshall is also a cigar and humidor supplier of England's Royal Family. Since 1982, Daniel Marshall has created and designed for the prestigious luxury gift houses Dunhill, Tiffany & Co., S.T. Dupont, Cartier, Hermes, Fred Joaillier, Harrod's, Bally of Switzerland and Garrard's of London. Daniel Marshall's humidors are historic, with a collection on display at the Smithsonian Museum. One of DM's highly collectible Governor Schwarzenegger Humidor's broke sales records in 2016 at Leonardo DiCaprio's Foundation Gala Fundraiser in St. Tropez. This extremely rare humidor topped the charts for highest amount paid for a modern day humidor with new world DM Cigars, raising 750,000 euros. This September, a 1 of 1 humidor DM made for Prince Albert II of Monaco with Daniel Marshall Cigars was put on the block and raised 75,000 Euros to benefit our global oceans.
Visit Daniel Marshall's site at www.danielmarshall.com. You can also find Daniel Marshall on Facebook at www.facebook.com/danielmarshallhumidorsandcigars or follow Daniel Marshall on Twitter @DMCigarWorld or Instagram @DMCigars for real-time updates.