Daniel Marshall Cigars and Ranald Macdonald of London's Boisdale Restaurant Group bring some of Nicaragua's best Cigars and Scotland's finest whisky to historic first-time tasting in Cuba
Los Angeles, Calif. (June 7, 2016) – It was a memorable moment to be in the Salon Taganana, Hotel Nacional de Cuba with all the history, enjoying Daniel Marshall Red Label Cigars and rare Glenfiddich Whisky.
The star-studded list of 55 cigar and whisky industry notables from around the globe, Hong Kong to Qatar, included the British Ambassador to Cuba, Tim Cole; Jemma Freeman of Hunters and Frankau; top Cuban cigar importers for India and Qatar; British Count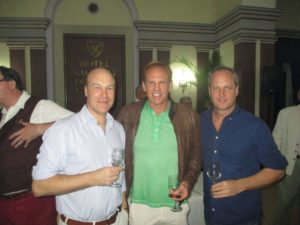 Gelardi, Restaurateur Gerry Stonhill, Mitchell Orchant of C. Gars UK, and Boisdale Group London restaurant mogul, Ranald Macdonald.
Guests were treated to delightful pairings of Daniel Marshall Red Label Corona Cigars alongside rare 18, 21 and 30-year vintage Glenfiddich whisky. There was no shortage of excitement as the special occasion marked perhaps the first non-Cuban, Nicaraguan cigar and whisky-tasting event in the country.
"I am absolutely honored to partner with Ranald Macdonald and offer this special moment around the campfire with our favorite things; good friends, whisky and cigars.
I look forward to the day in the near future when our cigars can be enjoyed in this beautiful country," said Marshall. "My wish is for cigar and whisky lovers around the world to enjoy life, good company, and to build traditions surrounding the modern day campfire."
Daniel Marshall/Glenfiddich Tasting Cigar Events are being scheduled worldwide. Please email info@danielmarshall.com or call (714) 923-2889 for details.
About Daniel Marshall
Daniel Marshall, a 33-year veteran of the cigar industry is one of the world's leading names in No. 1 rated top quality humidors and finest cigars, including the coveted 24kt Red Label Golden Cigar. DM Humidors are enjoyed in the homes and offices of countless Hollywood celebrities, US presidents, dignitaries, titans of industry, and fashion designers among others. Marshall is also a cigar and humidor supplier of England's Royal Family. Since 1982, Daniel Marshall has created and designed for the prestigious luxury gift houses Dunhill, Tiffany& Co., S.T. Dupont, Cartier, Hermes, Fred Joaillier, Harrod's, Bally of Switzerland and Garrard's of London. Daniel Marshall's humidors are historic, with a collection on display at the Smithsonian Museum as well as a Museum in Austria. Visit Daniel Marshall's site at www.danielmarshall.com. You can also find Daniel Marshall on Facebook at www.facebook.com/danielmarshallhumidorsandcigars or follow Daniel Marshall on Twitter @DMCigarWorld or Instagram @DMCigars for real-time updates.