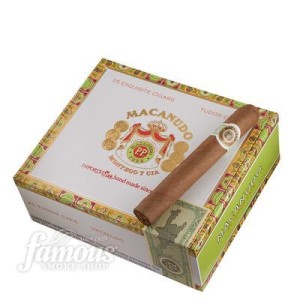 It was a frigid evening in January as the gray of winter finally settled over New Jersey. I had just dug myself out from underneath a snow storm that clobbered most of the Northeast with up to three feet of snow. Luckily, New Jersey was sparred the worst of it. However, I still had an urge to nestle next to my fireplace with a premium cigar and a fine cup of coffee, so I drifted out to my cigar cave with the night's choice of smoke, Macanudo Cafe Tudor.
Macanudo is an old flame that I count on to satisfy me during my times of need, so I reach out to her from time-to-time for her yummy flavors and consistent body.  Tonight was one of those nights.
This Latina is distributed by General Cigars and made on the Dominican Republic. When I took ol' faithful out of my humi she was wearing nothing but her gorgeous golden Connecticut shade-grown wrapper leaf and her signature Macanudo band emblazoned across her bare chest.
Her slightly toothy but succulent wrapper envelopes a unique Mexican San Andres binder and a filler blend of Dominican Piloto Cubano and Mexican tobaccos. This Tudor stands proudly at 6 x 52 with sexy little veins and near invisible seams. Her flawless body was firm with just the right amount of 'give' when given the ol' squeeze test and her wrapper emitted an intoxicating perfume that was sweet, succulent and luring.
After I was finally done groping her, I whipped out my cutter, gently snipped her triple cap and massaged her foot with soft butane. One would have had to be drunk, dense or totally self-absorbed not to notice the magnetism between us. The old flame was rekindled and Macanudo Cafe Tudor was once again in my warm embrace.
Our first kiss opened with a slightly spicy note of white pepper. I love when my Latinas open with a little bite, it lets me know that they are ready to play.  It is the Mexican binder and filler that added the pepper to the otherwise docile Dominican make up. My little beau quickly added cedar to her profile with just the right amount of sweetness to homogenize the spice.  As we continued our embrace, I reveled in a moment of intimacy that was tender and sweet but inside I was a simmering cauldron of fond memories and pent-up desire. I wanted to drink every bit of flavor that my sensual mistress had to offer. As I approached the second third, the cedar was starting to turn up and overpower the spice, which was mellowing out.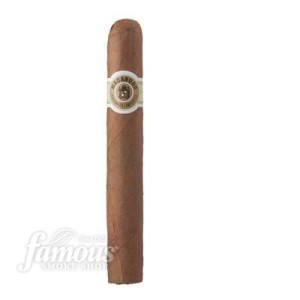 She has a very satisfying finish, albeit short, but memorable. Her sensuality blanketed my lips as the smoke rolled off them forming billowing clouds of her juicy goodness. This little temptress remained mild in strength and relatively consistent in flavor.  The Macanudo Cafe Tudor produced a nice even char line with a long, tight, light charcoal colored ash that was dense and firm. Her smoke output was also impressive as it danced about in my cigar cave like a shameless school girl.
Into the second third we went. I took another long gulp of coffee before I continued to work my way down my little mistress' irresistible body. I now tasted a lot more sweetness on her breath. Her attitude toned down quite a bit here and the white pepper spice from earlier was completely gone. Cedar remained prominent; however, her kisses were now thick and creamy.  Her creamy smoke felt quite satisfying if I may say so.
I think most smokers would find Macanudo Cafe Tudor to be extremely pleasing to the senses while satisfying their most burning desires.  Her mild profile and constant flavors will not dissappoint.
Her construction is as close to perfect as one can get. Her draw is ideal and her creamy smoke slipped from my lips in a passion of communication that reminded me why I often turn to my coy mistress in times of need. Plumes of thick white smoke fill the air with a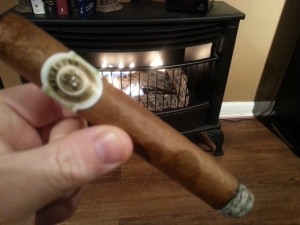 mouthwatering aroma that was thick and palpable, and her slow burn allowed me to exploit her essence that much longer.
Overall, I really enjoyed my intimate evening with Macanudo Cafe Tudor. She never disappoints me and I will, for sure, be reunited with my beau sometime in the not so distant future. The exotic coupling of her Mexican and Dominican blood definitely enhances her appeal. I highly recommend this cigar to beginners because the mild profile is just what you need to get started; however, I also feel that this cigar is perfect for seasoned veterans like myself who enjoy a mild smoke from time to time.
Buy your next Macanudo Cigar Here
Specs:
Country of Origin: Dominican Republic
Wrapper: Connecticut Shade Grown
Wrapper: Color: Natural
Binder : Mexican San Andres
Filler: Dominican & Mexican
Strength: Mild
Price: $7.69    Buy Your Next Macanudo Cigar Here