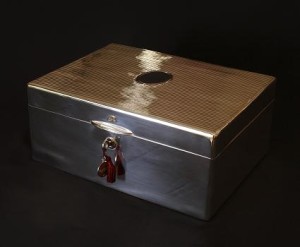 Many guys (I can't be alone on this one) choose their humidor like they choose their women, physical beauty. We all yearn for that polished, shinny piece of eye candy mouthing from across the room, "I'll take care of your Churchill".
Well the old adage, "Don't judge a book by its cover" also fits when choosing a woman, I mean humidor.
There are only two essential qualities to look for when choosing a good humidor:
 A good seal and cedar
 That's right, everything else is just fluff.
After all these years, I guess my mother has been right, It's what is inside that matters, not the outside. OH Well, live and learn.
A quality humidor will cost you anywhere from $50 – $200. Anything more than that is a waste, unless you're trying to impress your friends with the finest trophy case on the block, in that case, the sky is the limit
.·         A tight seal is the most important because you don't want the humidity to run out on you like you did to your last girlfriend. A poor seal could also cause the interior to warp.
·         The interior of your humidor must be made from cedar. You don't want American Cedar unless you want your cigars to smell like your grandmother's closet. American Cedar is much too pungent and is best used to line closets. Brazilian and Lebanese Cedars are the most common, but Spanish Cedar is a third option.
 P.S.  Stay away from humidors with glass tops. They are Noooooooooooooooo Good! They may look nice but the exposure to sun and artificial light can damage the cigars. Remember, don't pick your humidor solely on its looks.
No Glass top, tight seal & cedar interior is all you need.