There were some very sexy Sizzlin' Sunday women featured here on Ultimatecigarparty.com in 2018 so this was a very difficult task. The results are based mostly on page views and reader feedback but ultimately the final tally was my decision. The list starts with number 10 and works its way to THE Sexiest Sizzlin' Sunday Cigar Girl of 2018. As always, reader feedback and comments are welcomed as long as they are tasteful.
#10 Sherri from Maryland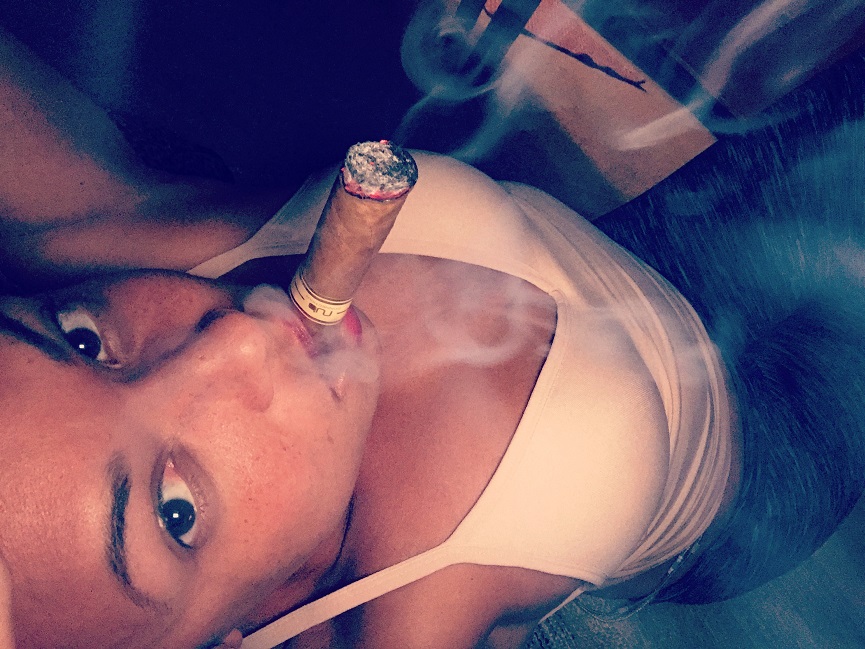 Meet Sherri, a sizzlin' 48-year-old sister-of-the-leaf (#SOTL) from Maryland. Sherri is a gorgeous single mother who works in pediatric oncology healthcare. She is a philanthropist who helps the homeless communities of Washington, DC.
This smokin' beauty has been smoking cigars for the past three years. Today, she smokes once or twice a week.
"I was introduced to cigars by a great friend who bought me my first few cigars along with a cute cutter," she stated. "He taught me how to smoke and I have been hooked ever since."
Sherri enjoys smoking traditional cigars; however, her preferred smoke is a flavored or infused cigar.
#9 Donna from California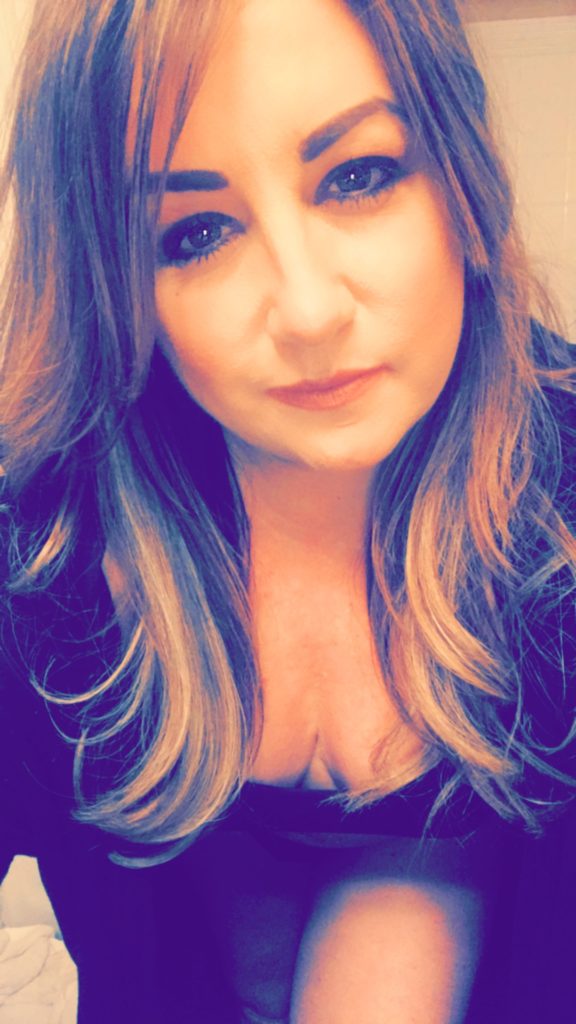 Meet Donna McCracken, a sizzlin' 51-year -old sister-of-the-leaf (#SOTL) from Orange County, California. Donna, who is best known on Instagram as @Cigarprimadonna, is a gorgeous gal who loves cigars, travel, and whiskey. In fact, she has been smoking cigars for more than half her life.
"I tried my first cigar when I was 17 years old," she said.
Today, Donna smokes five to six cigars a week and is a brand ambassador for Traficante Cigar Company, a boutique cigar company that focuses on small batch production.
# 8 Marissa from Connecticut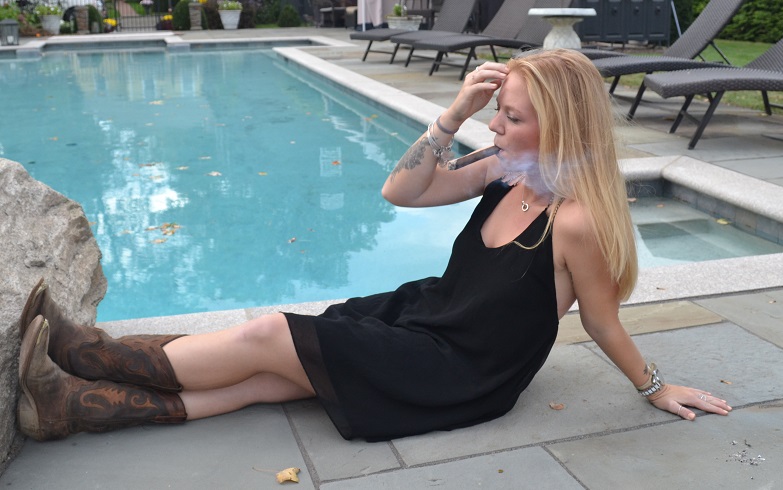 Meet Marissa, a sizzlin' 21-year-old sister-of-the-leaf (#SOTL) from Connecticut. Not only is Marissa a cigar smoker and tobacco enthusiast, but she is also a gorgeous tobacco farmer growing broadleaf and habano tobaccos on her Connecticut tobacco farm, which is also home to Drew Estate's Connecticut Barn Burner event.
"I have worked on a farm since I was 14 and started in the tobacco sector when I got a little older," Marissa explained. "Now I work in the fields growing Connecticut Valley tobacco."
This smokin' hot tobacco farmer started smoking cigars a 'couple of years ago' after becoming curious about what her craft was creating. She tries to smoke as often as she can, but her busy life on the farm sometimes gets in the way.
#7 Sil from California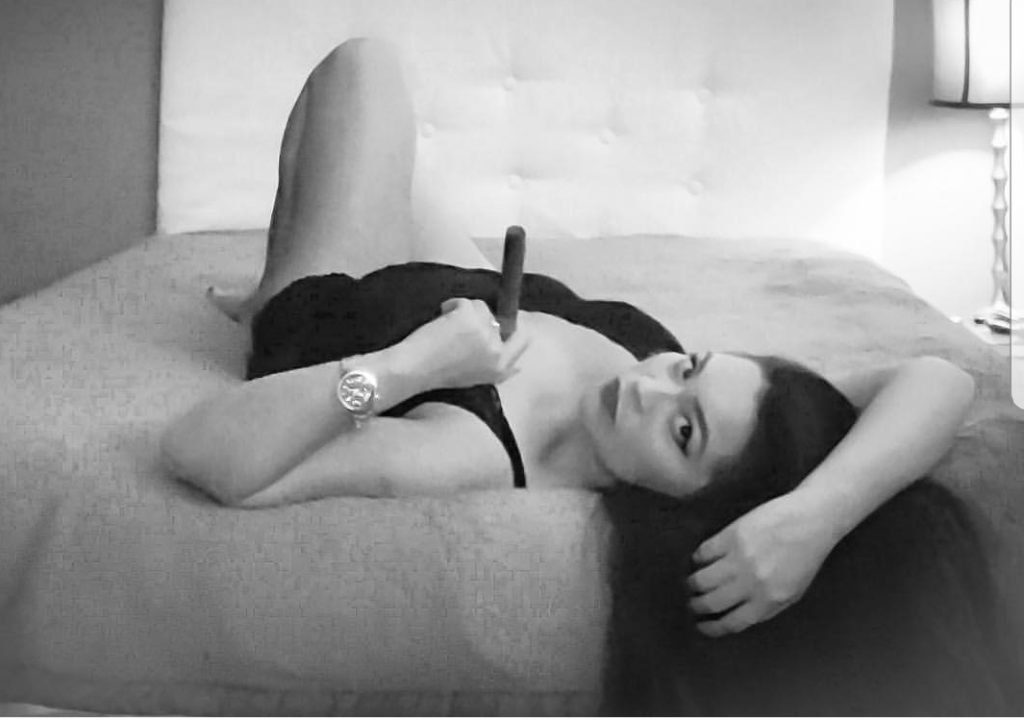 Meet Sil Sanchez, a sizzlin' 37-year-old sister-of-the-leaf (#SOTL) from San Diego, California. Originally from the East Coast, this gorgeous gal moved to California in 2013 to pursue a career in Government Defense. It turns out she also found love…the love of the leaf.
"You can find me enjoying a mild-bodied Cohiba when I'm wining and dining in Downtown San Diego or with a Monte Cristo or Partagas when I want to relax," revealed Sil.
Sil made another exciting revelation when interviewed by ultiamtecigarparty.com: she doesn't like to smoke alone. She seeks out the perfect companion before she begins each smoking experience.
#6 Samantha from California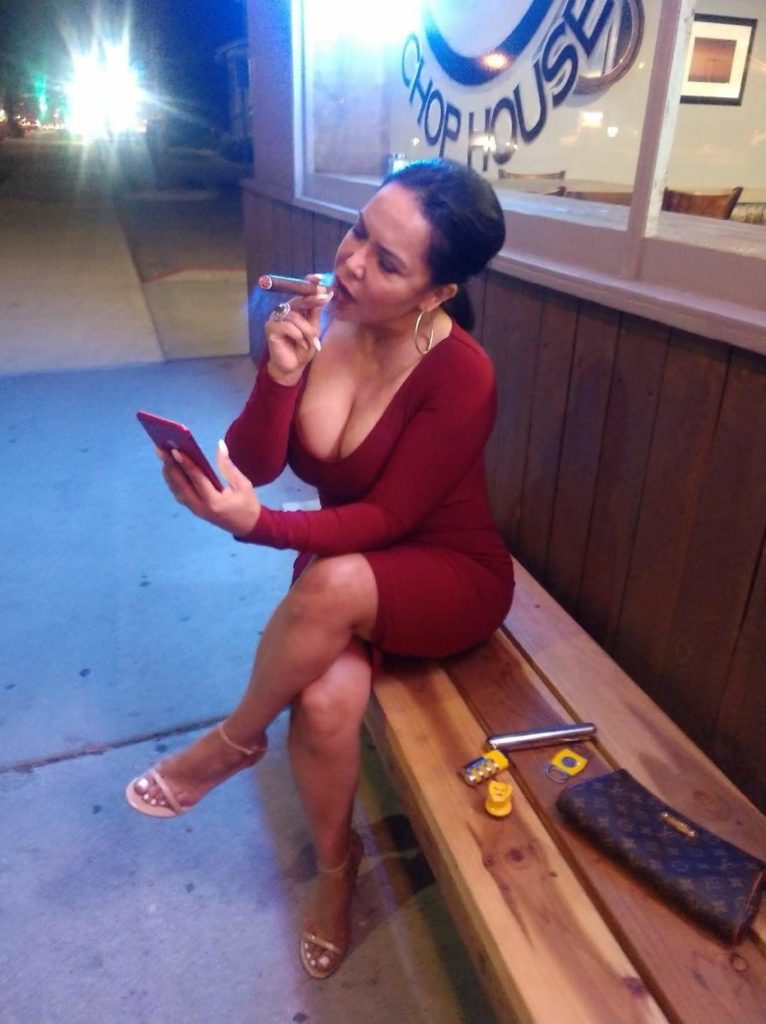 Meet Samantha, a sizzlin' sister-of-the-leaf (#SOTL) from Santa Barbara, California. "Sammie" or "Sam" as she is known in her social circles, was born in Tegucigalpa, Honduras and moved to the United States when she was eight years old. This dazzling dame has been smoking cigars since she was in her late 20's.
"Growing up I had an itch for cigars because my grandmother worked in a cigar factory in Danli, Honduras," explained Sammie. "During my extended visits at her house, she would smoke them around me until I was brought to the USA."
Sammie, who smokes cigars about three times a week, does not have a favorite cigar, but she does have a go-to stick that she enjoys often.
#5 KellyAnn from Alabama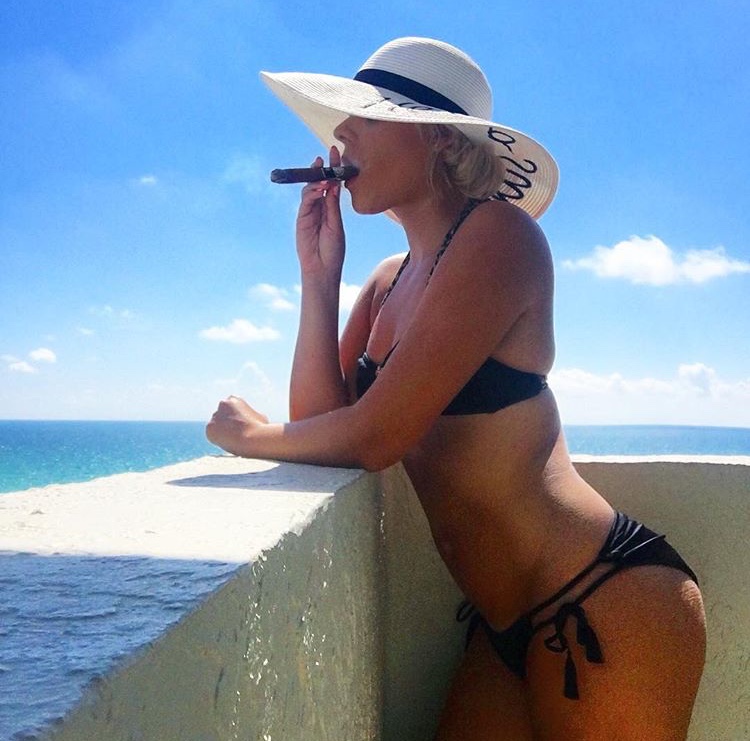 Meet KellyAnn Sparks, a sizzlin' sister-of-the-leaf (#SOTL) from Huntsville, Alabama. KellyAnn is an "Army brat" who has lived in the South her entire life. As the daughter of an Army colonel, Kelly grew up appreciating cigars.
"My father got me interested in cigars as a teenager and I was hooked ever since," said Kelly.
Kelly, who considers herself "all girly" also enjoys cooking, interior design, refinishing furniture, playing the violin and reading non-fiction books. She is currently studying for the LSAT so she can attend law school to become a women's advocacy lawyer.
Cigar enthusiasts may recognize Kelly as a contributor to the popular YouTube show called, "Cigar Noise." It's a weekly segment focusing on cigar reviews.
#4 Juanita from Texas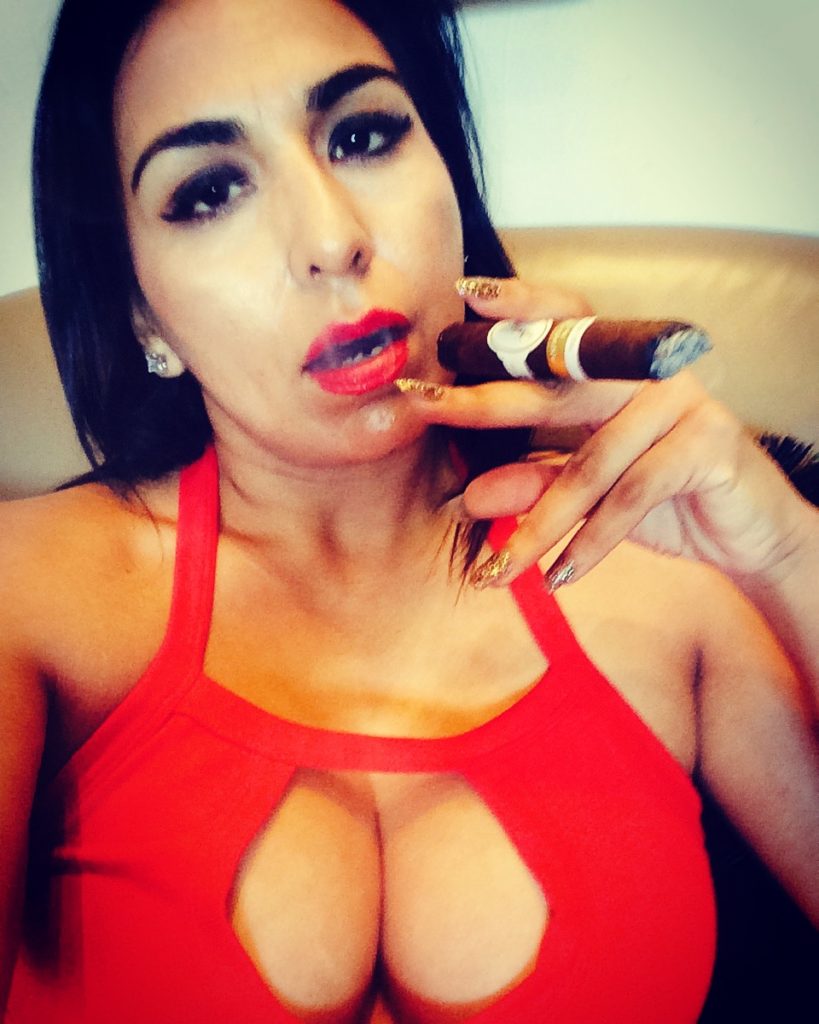 Meet Juanita Rojas, a sizzlin' 41-year-old sister-of-the-leaf (#SOTL) from Dallas, Texas. Juanita is a former pre-school teacher turned tobacconist. She is currently enrolled in Tobacco University's retail accreditation program to earn her official certification.
This smokin' beauty began smoking cigars nearly ten years. Her ex-boyfriend's dental office was above a cigar shop and they would frequent the lounge together during his down time.
"I became a regular at the shop and fell in love with the sense of community. There was a 'oneness' among the customers," said Juanita. "It was beautiful to be part of something so special."
Fast Forward nearly a decade and Juanita has become a connoisseur of the leaf. She works as a retail tobacconist at Up in Smoke (Northpark) cigar lounge in Dallas, Texas smoking one to four cigars per day. She has developed quite the palate appreciating the finer flavors of Davidoff, Padron and Fuente.
#3 Beatriz from Florida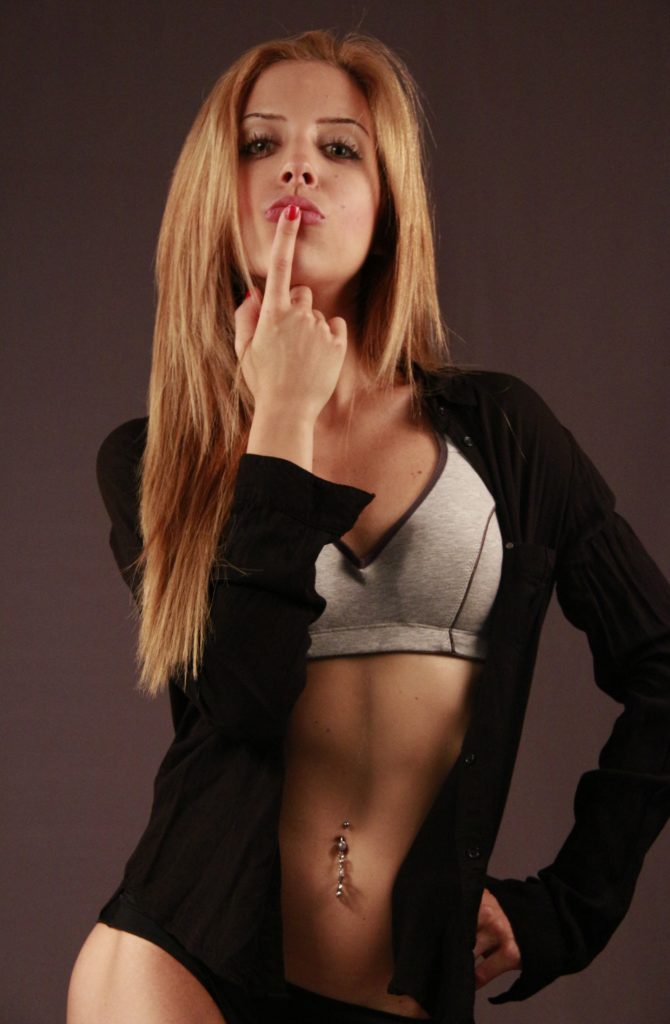 Meet Beatriz Calis, a sizzlin' 26-year-old Cuban-born sister-of-the-leaf (#SOTL) from Miami, Florida. This smokin' beauty, born and raised in La Habana, Miramar, Cuba, is a professional model and dancer who loves smoking cigars. In fact, her modeling career is what enticed her to start smoking cigars.
"In Cuba and Milano, Italy, I worked as a model and I remember that one of my first modeling jobs was at the Habano Festival in Cuba when I was 16 years old," explains Beatriz. "And, there at the Habano Festival, I tried my first cigar at 16 years old."
Beatriz may have a deep, long-standing relationship with cigars today, but it definitely did not begin as love at first sight.
#2 Tabitha from Virginia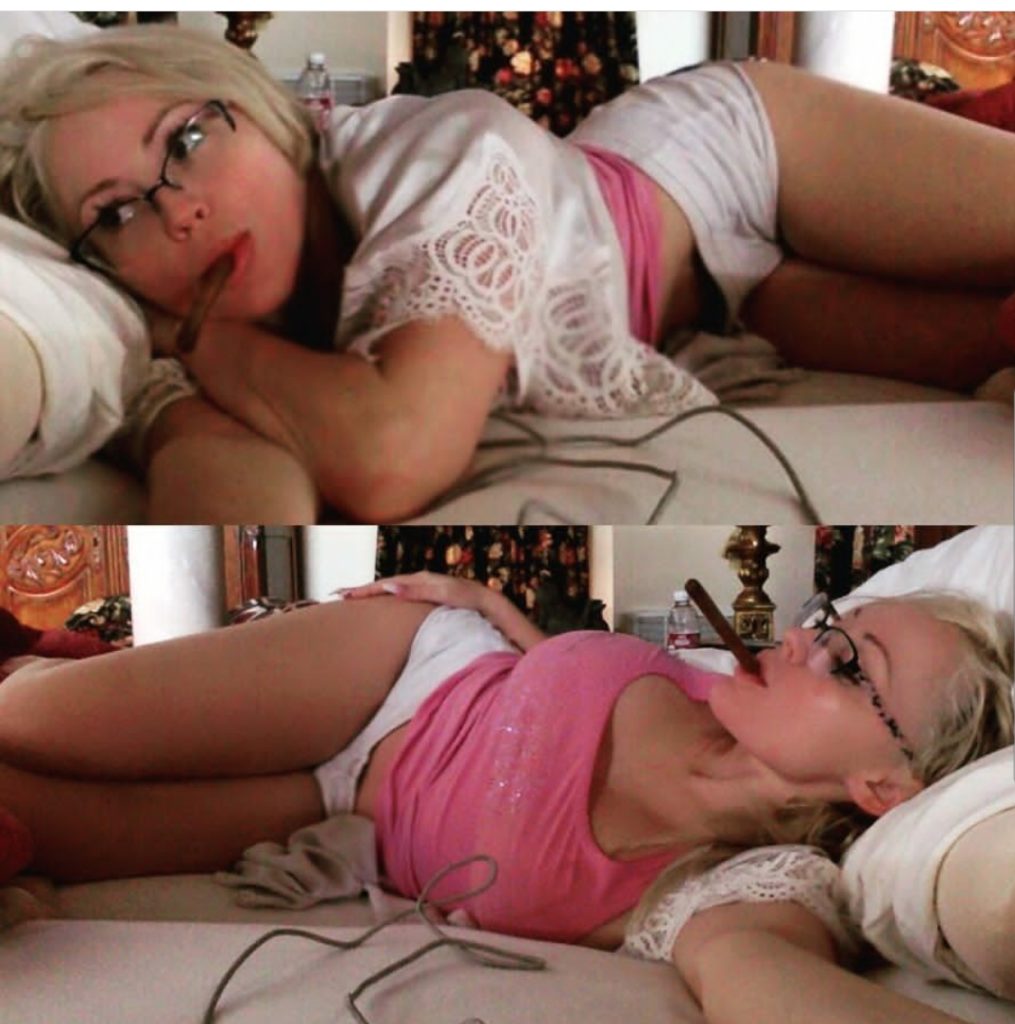 Meet Tabitha, a sizzlin' 30-year-old sister-of-the-leaf (#SOTL) from Virginia. Tabitha loves riding horses, traveling, and of course, smoking cigars.
"I smoke a few times a week," expressed Tabitha. "My daddy is a tobacco farmer so I have been raised around tobacco my whole life."
Despite Tabitha's long-standing relationship with tobacco, she has been only been smoking cigars for a little more than a year.
"I had smoked before but not as frequently as I do now. My favorite cigar is the Cornelius and Anthony Cornelius Lonsdale," she revealed.
Tabitha loves to pair her sticks with coffee.
#1 Daniela from Venezuela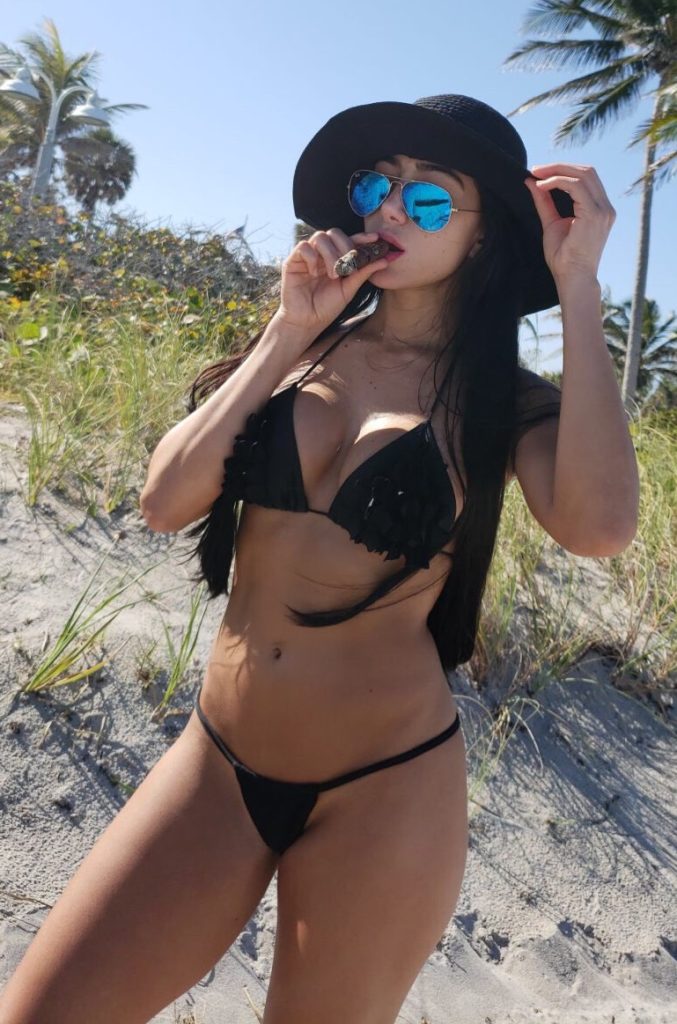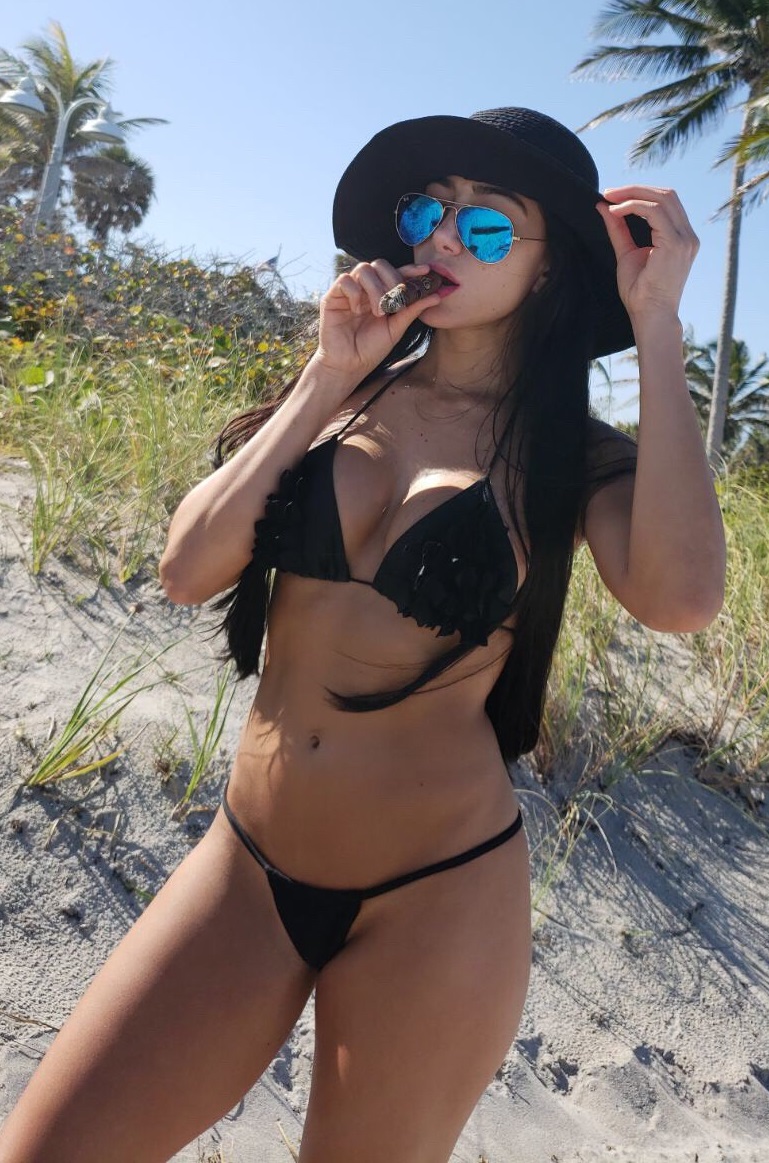 Meet Daniela Fernandez, a sizzlin' 27-year-old sister-of-the-leaf (#SOTL) from Venezuela. Best known as @misscigaraficionada on Instagram, Daniella is a student of interior design and avid cigar smoker.
"It has been six years already since I started smoking great cigars and now the knowledge became a career and an art in my journey of life," stated Daniela.
This smokin' beauty has been working at a cigar lounge for the past three years, saturating herself with knowledge to the point where she has developed a deep affinity for cigars.
"The passion for cigars is now a part of my personal living style," she expressed.
Daniela loves drinking coffee and drinking rum, especially Diplomatico, while smoking her favorite cigars, Epic.
Daniela is also our featured calendar girl for our 2019 calendar