There were some very sexy Sizzlin' Sunday women featured here on Ultimatecigarparty.com in 2017 so this was a very difficult task. The results are based mostly on page views and reader feedback but ultimately the final tally was my decision. The list starts with number 10 and works its way to THE Sexiest Sizzlin' Sunday Cigar Girl of 2017. As always, reader feedback and comments are welcomed as long as they are tasteful.
#10 Rosie from Texas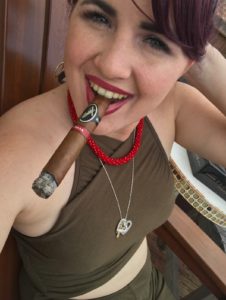 Meet Rosie McKane, a sizzlin' 25-year-old sister-of-the-leaf (#SOTL) from San Antonio, Texas. This mother of two is not just a pretty face pinned to the wall of some testosterone-filled cigar shop. Rosie is the devilish dame nestled in the corner of the lounge, sunken in an over-sized arm chair with her lips locked around a premium cigar.
Rosie has been smoking cigars for the past eight years, but her infatuation for the leaf started long before that.
"I blame it all on my dad who has been an avid cigar smoker for longer than I can remember," explained Rosie. "He definitely influences me in my cigar choices. I was a snob right out of the gate."
Rosie, who is a former sales clerk at Club Humidor in San Antonio, used to smoke three cigars a day. However, free time has eluded her since the birth of her two children, forcing her to cut back to three to five per week.
#9 Agnes from New Jersey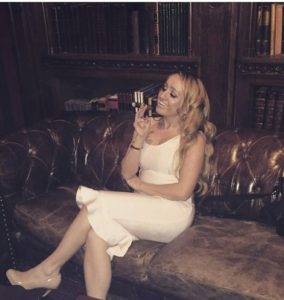 Meet Agnes Januszek, a sizzlin' 34-year-old sister-of-the-leaf (#sotl) from New Jersey. Originally from Queens, New York, Agnes transplanted to North Jersey four years ago, and that is when she began her foray into the enchanted world of cigars.
"My first cigar was four years ago at a La Hoja event at the Cigar Room in Fort Lee," explained Agnes. "I can say that I am hooked."
Agnes loves the cigar lifestyle so much that she is now an event hostess and model at cigar events and parties at the Cigar Room.
"I was approached by the Cigar Room to join them for an event," said Agnes. "Four years later they became my first New Jersey family."
Agnes frequents the Cigar Room often, even when not working events. She enjoys spending time in the lounge and mingling among the lounge's members smoking her favorite cigar, La Hoja Edicion Crema 1962.
#8 Octavia from Atlanta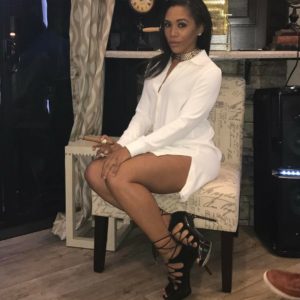 Meet Octavia Toliver, a sizzlin' 34-year-old sister-of-the-leaf (#SOTL) from Atlanta, GA. Octavia is a gorgeous gal who is best known as HERficionado in the cigar world. Octavia curates cigar events in and around Atlanta.
"My most popular event is "She Smokes, Too," which has grown tremendously since a year ago when it started. I invite women (and men) to come out and have a stick or two while mingling, networking, flirting, or whatever," Octavia expressed.
Octavia entered the cigar industry nine years ago when she went on a date with a guy to a local cigar lounge.
"I fell in love with it right away," she revealed. "There was just something about the atmosphere and lifestyle that felt luxurious and I wanted to be a part of it."
#7 Kay Elle from New York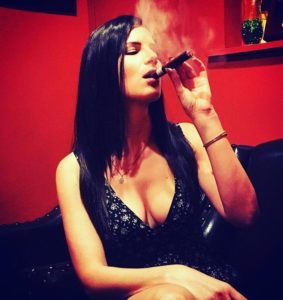 Meet Kay Elle, a sizzlin' 34-year-old sister-of-the-leaf (#SOTL) from Long Island, NY. Kay is a dazzling dame with beautiful, illuminating eyes and an unyielding love affair with cigars. She has fallen head-over-heals in love with cigars ever since her foray into the enchanted world just two years ago.
"I tried my first cigar two years ago, a Papas Fritas by Drew estate. I enjoyed it much more than I thought it would," expressed Kay. "Not just the flavor and smoking in itself, but the relaxation that comes along with it."
Kay has been working as a hostess at a cigar lounge on Long Island, NY for the past two years. Her curiosity began to grow as she started to learn more and more about cigars. Being a hostess with unlimited access to hundreds of blends, Kay began to satisfy her cravings by trying different sticks.
"I enjoyed trying new cigars a few times a week but there are still so many I'm looking forward to trying," revealed Kay. "I love a good full flavored smoke with nutty and earthy notes. A good, easy draw is my favorite. I don't like to fight with the cigar for max smoke volume. I like it to be a relaxing, easy, smooth experience."
#6 Cecile from Texas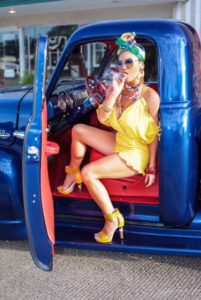 Meet Cecile Maiko, a sizzlin' sister-of-the-leaf (#SOTL) from Houston, Texas. Cecile, most commonly known on social media as @Cigaress, works in the oil/gas/petrochemical industry full-time, but has spent the past 10 years working part-time as a hostess/tobacconista at Smoke Ring cigar lounge in Sugar Land, Texas.
"I've had a passion for the leaf for 10 years, since I started working at the Smoke Ring in March of 2007," said Cecile.
Cecile usually smokes on the weekends but has known to spoil herself on occasion during the week after work. Her favorite cigar depends on her mood; however, her choice in ring gauge very rarely exceeds 50.
"I choose cigars according to my mood," she stated. "If it's Sunday brunch Ill go with something light like an AKA Solice. If I'm celebrating I'll go with something like a Padron 1926. If I'm relaxing at home after work maybe I'll have an H. Upmann."
She went on to say, "Size does matter when it comes to cigars and their flavor. I don't care much for ring gauges larger than 50."
#5 Angela from Colorado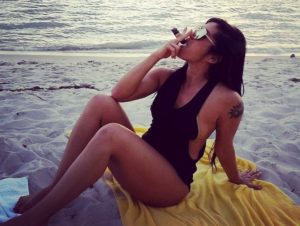 Meet Angela de la Garza, a sizzlin' 39-year-old sister-of-the-leaf (#SOTL) from Littleton, Colorado. Angela is a very beautiful woman who has several interests in life that she is very passionate about, including smoking cigars.
Angela, who has been smoking cigars for more than seven years now, loves weightlifting, running, roller skating, traveling and reading.
"I have been a weightlifter for 26 years, been running since I was 5-years-old and was a semi-professional roller derby skater for the Rocky Mountain Rollergirls in Denver, Colorado," said Angela.
Angela was voted Rookie of the Year after her first year as a Rollergirl and went on to become a two-time National Champion. Unfortunately, her career was cut short due to excessive brain injuries. Today she still skates regularly and runs 4-7 times a day because it makes her "feel free and happy".
#4 Heather from Illinois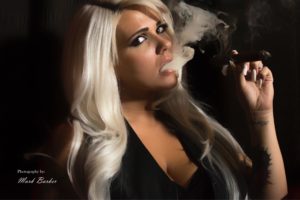 Meet Heather Sadie, a sizzlin' 26-year-old sister-of-the-leaf (#SOTL) from Chicago. Heather first appeared on ultimatecigarparty.com in 2014 as a Sizzlin' Cigar Girl but has since exploded on the cigar scene.
She is not just a pretty face pinned to the wall of some testosterone filled cigar lounge. She is the devilish dame who steals the show with her lips locked around a premium cigar, smoking with the boys.
Heather, who has been smoking cigars since she was 18 years old, may be the quintessential woman of every man's dreams. She loves guns and ink, shoots whiskey, smokes cigars and is drop-dead gorgeous.
This smokin' beauty has developed an intense passion for the leaf in the past eight years. Her palate has been refined and her knowledge has increased immensely. Today, she smokes 4-6 cigars per day, with Tatuaje J21 being her ultimate vice.
#3 Drida from North Carolina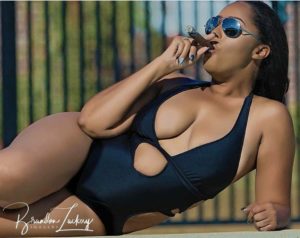 Meet Drida, a 40-year-old sizzlin' sister-of-the-leaf from Charlotte, North Carolina. Originally from Southern California, Drida is a human resources professional who spends her free time traveling, modeling, shooting at the range and smoking cigars.
"I don't smoke daily but I average about five cigars a week," she said.
This smokin' beauty began smoking cigars when a friend, who owns a cigar lounge in Maryland, gave her her first cigar, an Acid Blondie.
"I was not a smoker of any kind prior to this introduction so I was somewhat hesitant," Drida revealed. "I was pleasantly surprised as to how much I enjoyed the cigar. The flavor of the cigar got me and I started smoking independently immediately after that."
Like many cigar smoker, this smokin' beauty doesn't have one favorite cigar, but she does have a few go-to sticks that she adores.
#2 Monica from Dubai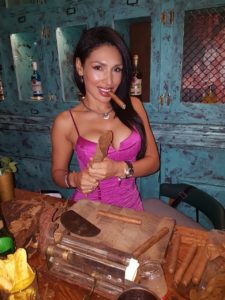 Meet Monica Pulgarin, a sizzlin' Colombian-born sister-of-the-leaf (#SOTL) who has been smoking cigars for the past 10 years. Monica now lives in Dubai where she is a managing partner of an event management company called Edelweiss.
"I have been living in Dubai since 2000 and have been smoking cigars for the past 10 years," explained Monica.
This smokin' beauty credits her sister for introducing her to the leaf.
"My sister is the marketing manager of Habanos in the United Arab Emirates (UAE), so she got me into smoking cigars."
Monica's favorite cigar is the Romeo y Julieta White Churchill. She enjoys smoking her stick paired with a glass of fine red wine.
There is no doubt that Monica Pulgarin adds plenty of sex appeal to the cigar industry. She is undeniably breath taking. Her rockin' body is a flawless piece of art and her facial features are absolutely alluring. One could not help but feel intoxicated after meeting this dynamic dame.
#1 Alexis from Illinois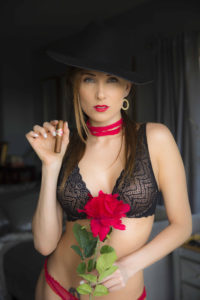 Meet Alexis Kendra, a sizzlin' sister-of-the-leaf (#SOTL) from Chicago, Illinois. Now living in Los Angeles, CA, this smokin' hot screenwriter has been smoking cigars for the past ten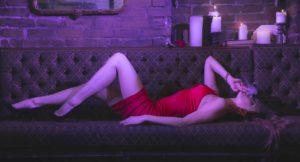 years. Her love affair with the leaf began shortly after moving to "The City of Angels."
"I remember being really busy, running around the city, not having much time to myself," explained Alexis. "I do remember having a cigar and was instantly calmed. It was undeniably beautiful and amazing."
Like most cigar enthusiasts, Alexis doesn't have a favorite cigar or favorite size; however, she does find herself gravitating toward shorter, somewhat thinner ring gauges because she feels "There is more flavor."
"I am also drawn to Cubans, but love all cigars really," Alexis announced. "My favorite cigar of the moment is the Cohiba Esplendidos that has been aged seven years. It is without question a life changing cigar. The hints of vanilla and mocha literally make my mouth water. I also enjoy the El Septimo, Dream Topaz and White Exception"