There were some very sexy Sizzlin' Sunday women featured here on Ultimatecigarparty.com in 2016 so this was a very difficult task. The results are based mostly on page views and reader feedback but ultimately the final tally was my decision. Two Jersey girls made the list this year with a couple of sexy dames from New York and Texas. The list starts with number 10 and works its way down to THE Sexiest Sizzlin' Sunday Cigar Girl of 2016. As always, reader feedback and comments are welcomed as long as they are tasteful.
#10. Attica Jones from Texas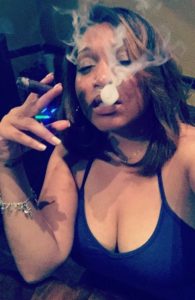 Meet Atticca Jones, a sizzlin' 44-year-old sister-of-the-leaf (#SOTL) from Houston, Texas. This dynamic dame loves to dance and smoke cigars.
 Attica who is the lead tobacconist and store manager for the International House of Stogies in Missouri City, Texas, smokes about five cigars a week. Her inaugural smokes took place back in 2004 but it wasn't until recent years that Attica rekindled her love for cigars.
 "When my daughters went off to college I had to rediscover my love for cigars," Attica revealed. "I found the perfect boutique cigar lounge close to my house and I fell in love all over again."
 Attica's heart melted when she experienced the magic of today's cigar makers. She found the tobacco to be richer and more flavorful than ever before.
Click here for her entire profile/story
#9. Soraya from New Jersey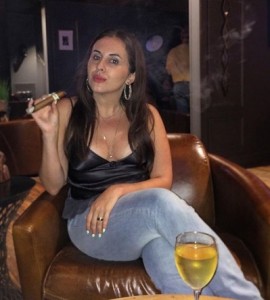 Meet Soraya, a sizzlin' 32-year-old sister-of-the-leaf (#sotl) from New Jersey. Soraya is a classy dame who started smoking cigars about two years ago. She considers herself a "weekend" smoker but occasionally pampers herself with a midweek treat now and again.
This smokin' beauty, who is of Portuguese descent, is a fairly introverted gal who loves to experience life and try new things.  When she is not traveling or working, Soraya spends a lot of her time relaxing with her husband over premium cigars and cocktails. They have an exciting bond where the two of them navigate the world of cigars together.
"Because we are always together on the weekends I started accompanying him (to cigar lounges) and I became enamored by cigars, too," said Soraya.
Click Here for her entire profile/story
#8. Mitzi Jones from Texas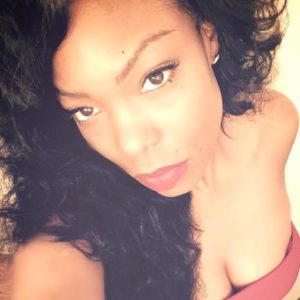 Meet Mitzi Jones, a sizzlin' 35-year-old sister-of-the-leaf (#sotl) from Houston, Texas. 'Jonezi', as she is playfully referred to by her friends, is originally from Harlem, New York. She began smoking cigars last year and has fallen head-over-heals for the lifestyle.
Mitzi, who started smoking after moving to Houston, began her journey into the enchanted world of cigars with an occasional smoke here and there. Today, she enjoys the leaf two to three times per week, if not more.
"I started smoking when a guy I was dating, who owns a cigar lounge,  took me out for the first time and pulled out a stogie to smoke,"
explained Mitzi. "I found it so sexy watching his mouth while he lit it, the aroma and the whole vibe of it all. I asked him for a stick, he handed me one,  took two or three pulls and put it out.  It was a little too strong for me,  and he was a little hurt that I wasted his stick. I was determined to get the hang of it – and look sexy doing it too."
Sexy? Absolutely. Mitzi can make anything look sexy, especially smoking a cigar.
Click here for her entire profile/story
#7. Jeny Rosado from New York City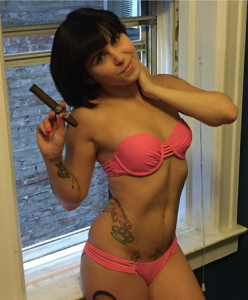 Meet Jeny Rosado, a sizzlin' 28-year-old sister-of-the-leaf from New York City. Jeny is a sexy dame of Puerto Rican heritage who absolutely loves smoking cigars.  Her favorite cigars are the Montecristo and Nat Sherman brands paired with espresso coffee.
"I love to smoke a cigar in the mornings with my coffee and right before I go to sleep," explained Jeny.
Jeny's favorite cigar lounges are Papa Juan's Cigar Club in Harlem and Havana Dreams Lounge in Woodhaven, Queens. When not ensconced in her favorite lounge, this smokin' beauty works as a chef in a Manhattan restaurant.
Click here for her entire profile/story
#6. Jennifer Monge from New Jersey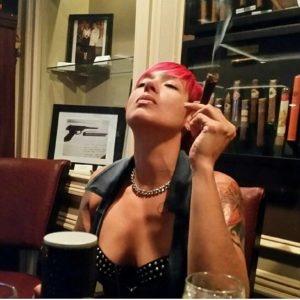 Meet Jennifer Monge, a sizzlin' 40-year-old separated mother of two from Newark, NJ. Jennifer is a stunning sister-of-the-leaf (#stol) who is more than just a beautiful face pinned to the wall of a testosterone filled cigar lounge. Instead, she is the beaming figure attracting attention from behind smoke clouds and conversation. Her audience ogles her confidence and class.
Jennifer, who works for Chanel as a licensed US customs broker, has been smoking cigars for the past five years. It was a fascination that introduced her to the enchanted world. Today, she smokes as her weekend treat to unwind after a grueling week at the office.
"I've been smoking for five years," Jennifer explained. "Being a scotch/whiskey drinker, the thought of pairing my drinks with a good smoke sparked my interest.  And, it helps that I have always been fascinated with the aroma of a lit cigar."
Like many of today's cigar smokers, Jennifer has a few 'go-to' sticks that she enjoys.
Click here for her entire profile/story
#5. Taylor Rothwell from Maryland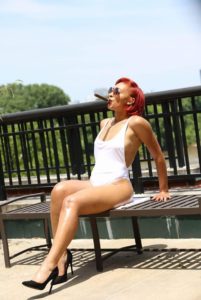 Meet Taylor Rothwell, a gorgeous 23-year-old model from Ridge, Maryland. This sizzlin' sensation is a beautiful sister-of-the-leaf (#sotl) who has been smoking cigars for the past two years.
"A close friend brought me to a cigar shop in Baltimore, MD called "Dan's" and had me try a Java," explained Taylor. "It was different and I loved the atmosphere there."
Taylor spends most of her free time outdoors. Whether it be cheering on her family at the racetrack or helping her grandfather at his
campground, she is always looking for an excuse to get out of the house.
"Just about every man in my family races motorcycles," said Taylor. "I love being outdoors. Anything that will get me out of the house and keep me active, I will definitely take part in."
Cigars were a perfect fit. However, it took Taylor two months before trying her second cigar after her initial foray.
Click here for her entire profile/story
#4. Kim 
Meet Kimberly, a sizzlin' sister-of-the-leaf (#SOTL) from the Carolinas. Kimmy, as she is playful known among her family and friends, has become a social media exibitionist best known for her beer -n- bikini 30 posts on Facebook.
Kim smokes cigars 'pretty regularly'. She started smoking back in 2003 while stationed in the United Kingdom with her husband who was on active duty with the United States Air Force at the time. She was traveling Europe coaching volleyball and teaching art when she tried her first Cuban cigar and flavored cigarillos. Today,  cigar smoke feels like a hug
from heaven.
"My maternal grandfather or papaw passed from pancreatic cancer in 2010, but before he did we sat down and smoked together and shared some stiff drinks and memories," Kim revealed.  "He always smoked while I was growing up and the smell brought back great memories that equated his love for enjoying life with a cigar and a nice bourbon or scotch.  The smell is like a hug from heaven for me."
This smokin' hot lady-of-the-leaf prefers a medium to full-bodied cigar wrapped in a maduro leaf.
#3. Emily from New York City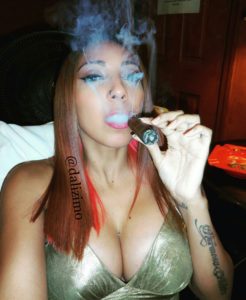 Meet Sonia Emily Daliz, a sizzlin' 32-year-old sister-of-the-leaf (#SOTL) from Bronx, New York. This smokin' hot beauty, more commonly known as "Emily", has been smoking cigars for more than ten years.
"I had my first cigar with my father who loves cigars," explained Emily. "I spent my summers as a child in Puerto Rico with my
grandparents, and my grandfather always had a cigar in his mouth. I guess it runs in the family."
Despite her long-standing love affair with cigars, Emily does not like to play favorites. She loves to play the field and enjoy the satisfaction that different flavors bring her from different sticks. However, she does have one particular beau that she has been obsessing over lately.
"I do not have a favorite as there are so many I haven't tried yet, but I will say that my current obsession is el mejor espresso," Emily revealed.
Many guys love beautiful women who drink whiskey and Emily is one of those gals.
Click here for here entire profile/story
#2. Myo from South Florida
Meet Myo, a s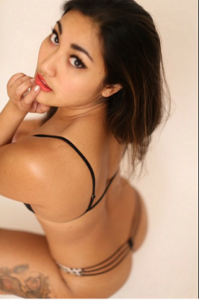 izzlin' 27-year-old sister-of-the-leaf (#sotl) from Fort Lauderdale, Florida. Myo, who is originally from Myanmar,  is an incredibly sexy gal who has been smoking cigars since she was 21 years old. Today, she averages about two or three per week.
"I first tried a cigar when I was 21, but I didn't really like it," Myo confessed. "Maybe th
at was because I didn't have someone teaching me. As I grew older I developed an acquired taste."
Myo, in addition to smoking cigars, loves to cook, drink wine and play pool. She works full-time as an assistant manager for a pizzeria and wine bar called,
Luigi's Coal Oven Pizza. However, it's her part-time job as a bar tender for Habano Cigar Club in Hollywood, Florida that got her hooked on cigars.
"David Villar, one of the owners of Habano Cigar Club, mentioned that he was looking for a bartender and ironically, I was looking for more work," explained Myo. "It was the perfect opportunity and I'm so happy about where I work."
Myo went on to say, "Not only did my new bosses help me, but our customers at the cigar club were just as helpful, and now I really enjoy smoking cigars. Every time I go to work, it's more like hanging out with family and friends."
Click here for her entire profile/story
#1. Vicki Manry from Washington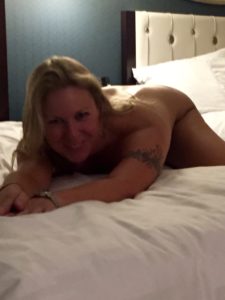 Meet Vicki Manry, a sizzlin' 33-year-old sister-of-the-leaf (#SOTL) from Mount Vernon, Washington. This buxom babe is quite the social butterfly who loves to smoke cigars and ride her 2001 Harley Davidson Dyna Low Rider. Her persona runs from mild to wild and she loves every minute of it.
"I'm definitely a mix of every personality from biker to business, country to city and sexy to mellow, and I enjoy all of it," expressed Vicki.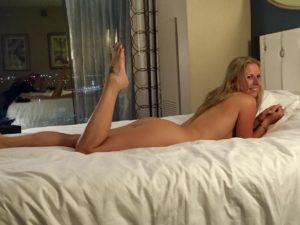 Vicki has been smoking premium cigars for the past two years; however, her maiden voyage into the enchanted world began back when she was a teenager.
"I had a terrible experience with inhaling a premium cigar in my teen years and was scarred.  Gladly not scarred for life because I have always loved the smell of cigars and now I love to smoke them," explained Vicki. "Two years ago, Tim (my husband) taught me for the first time how to smoke a cigar.  He picked out a Connecticut wrapped light blend, showed me how to cut and light it properly, and I was hooked.  One of the best days of my life."
This luscious lady-of-the-leaf has developed such a passion for cigars that she and her husband began working in the industry.