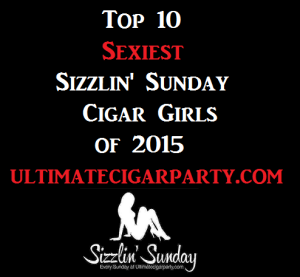 There were some very sexy Sizzlin' Sunday women featured here on Ultimatecigarparty.com in 2015 so this was a very difficult task. The results are based mostly on page views and reader feedback but ultimately the final tally was my decision. The list starts with number 10 and works its way down to THE Sexiest Sizzlin' Sunday Cigar Girl of 2014. As always, reader feedback and comments are welcomed as long as they are tasteful.
#10 Eva from Ireland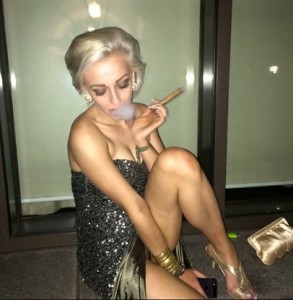 Meet Eva Tatiana Rowan, a 21-year-old sizzlin' sister-of-the-leaf (#sotl) from Dublin, Ireland. She is an international performer who loves the finer things in life, including cigars, art and music.
"I smoke cigars every few weeks," said Eva. "The occasional cigar is beautiful to appreciate. I mainly smoke them on a fancy night out or while I am travelling Europe."
Eva is an adventure seeking globetrotter who travels the world singing, acting and dancing – hula hoop dancing being her specialty for the past five years.
"Currently I am performing between three to five times a week at club nights and circus nights in Dublin and performing on stage with international DJs to huge crowds with my amazing hooping partner Hannah," boasted Eva. "It is the best job and life I could ever imagine. It is my passion."
Click here for her entire story
#9 Danielle from Miami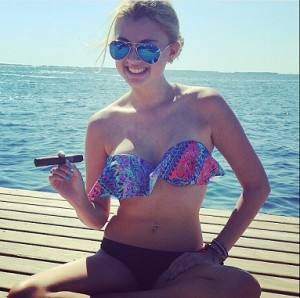 Meet Danielle, a Sizzlin' 20-year-old sister-of-the-leaf (#SOTL) from Miami, Florida.  This smokin' hottie is a part-time model who absolutely loves smoking cigars.
"I am a cigar enthusiast. I love, love, love smoking cigars. I have been smoking since I was 18 years old," boasted Danielle.
When she is not modeling, Danielle spends much of her time at Caribbean Cigars where she works as  south Florida's sexiest tobacconist.
"I was a client of Caribbean Cigars before I became and employee," explained Danielle." They were looking for someone who had a love for the industry and someone who was willing to learn more. Who better for the job than me?"
Click here to read her entire story
#8 Tamra from Kansas City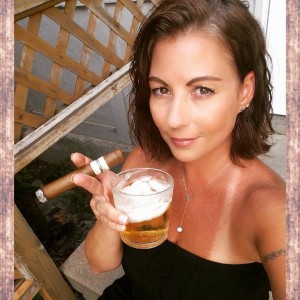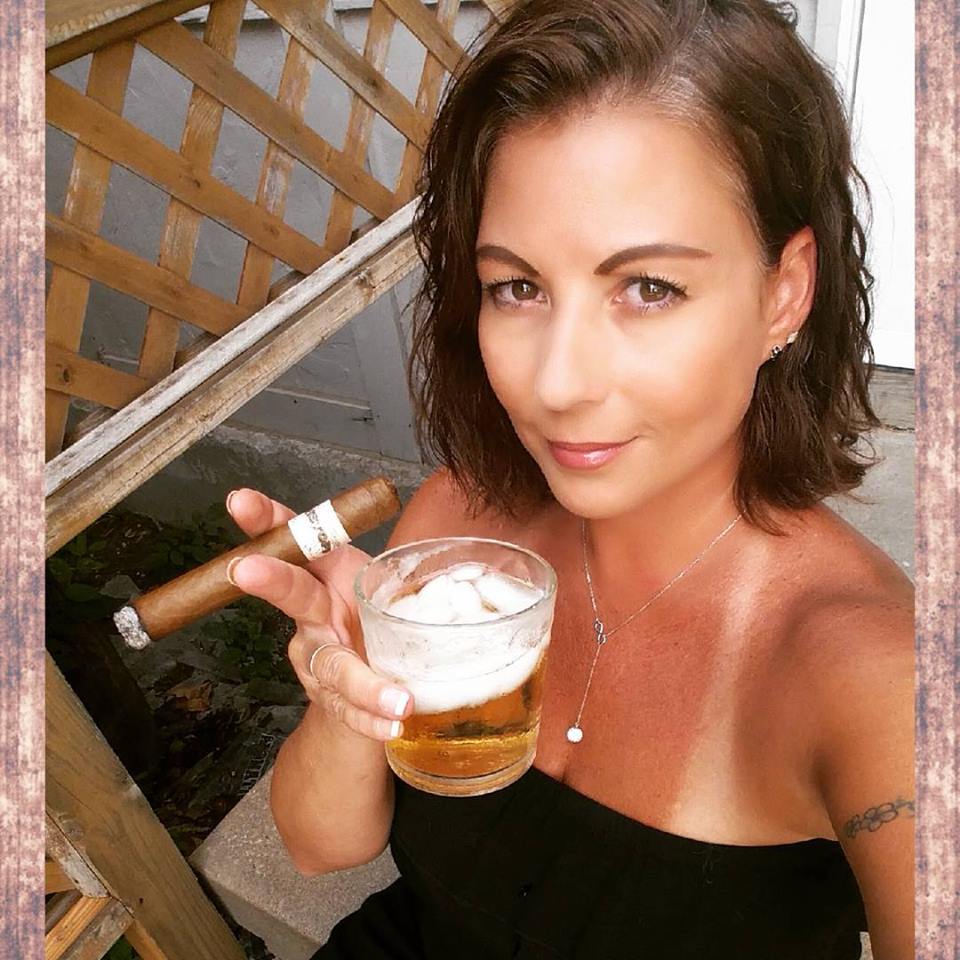 Meet Tamra Reid, a beautiful 43-year-old sister-of-the-leaf (#SOTL) from Kansas City, Kansas.  Tamra tried her first cigar almost ten years ago while on a trip to Dallas, Texas. Today she smokes a couple times a week.
"I was pretty tipsy after having had a bottle of wine with dinner and don't even recall which cigar we were smoking," Tamra shared.
Tamra's great-uncle was an avid cigar smoker. When she was young her family would get together on Saturdays to play Euchre and she always loved the aroma from his cigars. When she began smoking it always made her think of him. However, she credits her nephew, Tim, for being instrumental in her introduction to the leaf. The duo began attending cigar tastings at a local pub, and from there their affinity for cigars grew leaps and bounds.
Click here to read her entire story
#7 April from Texas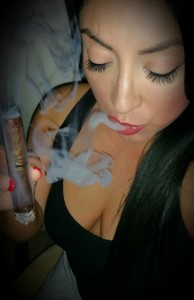 Meet April Garza, a lovely 40-year-old lady of the leaf who was born and raised in San Antonio, Texas. She is a whiskey shooting and cigar smokin' beauty who loves to lift weights and watch sports.
April is a fairly new cigar smoker, starting just about a year ago, but already finds herself fully immersed in the culture. She smokes at least one cigar every day, sometimes as many as three.
"I love lifting weights, watching basketball (San Antonio Spurs) and football (San Francisco 49ers) and I smoke every day, sometimes up to three cigars," April explained. "The cigar lounge and gym are my other homes."
Her husband, who has been smoking cigars for quite some time now, sparked her interest for the leaf. Today she satisfies her sinful desires by patronizing her favorite cigar lounge, Club Humidor, and firing up her favorite cigar, Liga Privada No. 9 by Drew Estate. In fact, April has joined Club Humidor as the shop's newest employee.
Click here for her entire story
#6 Melanie from Arizona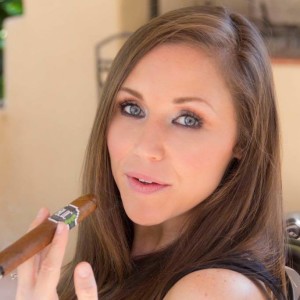 Meet Melanie Cantelmo, a Sizzlin' sister-of-the-leaf (#SOTL) from Arizona who owns a cigar brokerage company in the Southwest, Fear the Beard Cigars, along with her husband Anthony. Melanie has been smoking cigars for about a year and tries to squeeze in three cigars a week amidst an extremely busy lifestyle.
Melanie's busy schedule may rival only that of the President of the United States. She works with special education children during the day, runs her company's social media outlets at night and represents Senor Rio Tequila and Cigars at area tequila tastings, all while raising four beautiful children.
"Since I am so busy, I will usually only smoke two to three cigars per week," said Melanie. "With my husband and I working full time and raising a family, I usually try to smoke whenever I get an opportunity and that is usually at random times."
Click here for her entire story
#5  Sara from New York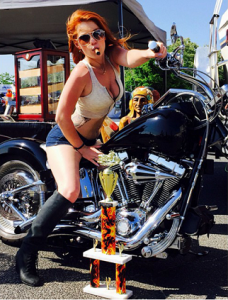 Meet Sara Ford, a sexy 21-year-old Dallas transplant now living on Long Island, NY.  This sensual #SOTL is a youngin' in the industry, popping her cherry just seven months ago.
"I've only been smoking cigars for about seven months," said Sara. "I smoked my first cigar when I started hanging out at Flame Fine Cigars with my best friend, Rob."
Less than a year later, Sara is now a "regular smoker." She feels it is a, "nice, relaxing hobby" where she can pamper herself after a hard day's work.
This dazzlin' dame is a frequent patron at Flame Fine Cigars in Port Jefferson, NY where she smokes, drinks and laughs. She has smoked many different cigars since her foray into the enchanted world of cigars, but tends to lean most toward the Rocky Patel Mexican Prohibition and Camacho Ecuador.
Click here for her entire story
#4 Wanda from Canada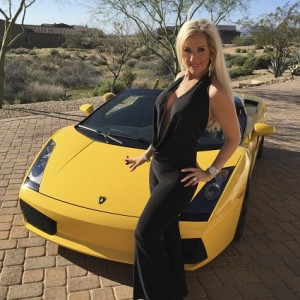 Meet Wanda Ewasiuk, an absolutely stunning sister of the leaf who exemplifies the ideal woman in every facet of the imagination. She is elegant, successful and drop-dead gorgeous.
Wanda, who resides in Alberta, Canada and Scottsdale, Arizona, is a professional matchmaker who is the founder of Tessa Loren Matchmaking Firm and Suregar.com.
"I have a genuine love for people," said Wanda. "I travel between Canada and the USA every two weeks. I live a busy lifestyle so I thoroughly enjoy some R&R."
Wanda prefers strong, robust cigars that are full-flavored and ultra-satisfying. She indulges in a smoke about once a month while bathing in much needed relaxation at a resort, in her back yard with the beautiful view of the mountains or at a gathering among a group of friends.
Click here for her entire story
# 3 Joana from Philippines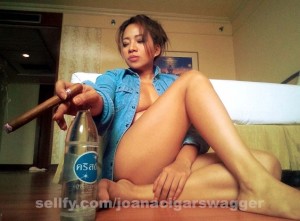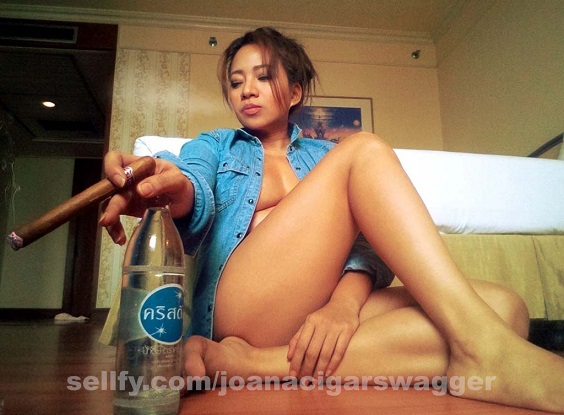 Meet Joana Love, an ultra-sexy sister-of-the-leaf (#SOTL) from Manila, Philippines. She is in her late 30s, has two kids, four cats and absolutely loves smoking cigars and riding Harley-Davidson motorcycles.
"It is such a pleasure for me. I love smoking cigars," Joana confessed to Ultimatecigarparty.com.  "I smoke cigars when I'm going on rides with other bikers on our Harleys on the weekends."
Joanna, who also loves traveling and wind surfing, is a merchandising manager for Harley-Davidson. But, she loves the cigar lifestyle so much that she wants to work in the cigar industry as well.
"I wish I could also work in the cigar industry but the opportunity hasn't materialized yet, but that'd be great if I could both ride and be part of this industry that I find fascinating!" Joanna stated.
Click here for her entire story
#2 Jaxx from Las Vegas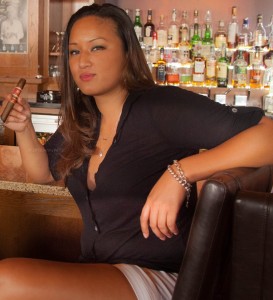 This week's Sizzlin' Sunday gal, Jaxx Guevarra does not need much of an introduction. She is already well known in the cigar industry for being the Director of Special Events for Villiger North America and previously ran the swanky La Casa De La Habana, Las Vegas cigar bar as the General Manager.  Cigar enthusiasts have probably already seen her gorgeous face and rockin' body plastered on social media, event flyers and show booths but now is the time to get to know the person behind the beautiful exterior.
Jaxx is a 30-year-old sister of the leaf who lives in Las Vegas, Nevada. This dazzling dame is a true tobacconist who originally dabbled in interior design before turning her passion for cigars into a career.  She has been smoking cigars since she was 18 years old but her introduction into the enchanted world was less than flattering.
Click here for her entire story
#1 Elaine from Hawaii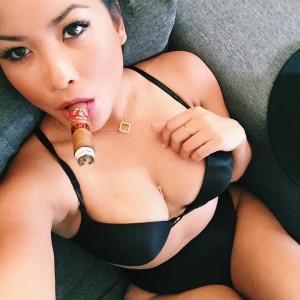 Meet Maria Elaine Dalistan, a 29-year-old 'thrilla from Manila,' Philippines but raised in Hawaii. She is the founder of Cigar Bar Hawaii, a mobile cigar bar that provides cigars for private events such as weddings, golf tournaments, corporate events and more. This dazzling dame also hosts her own cigar events every other month.
Maria smokes cigars three to four times a week. She especially loves to indulge in a smoke while golfing on the breathtaking island of Hawaii. She began smoking cigars about six years ago, but as she describes it, "It was not love at first try."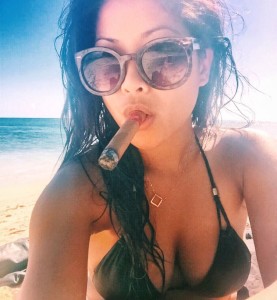 "My first encounter with a cigar was horrible," she explained. "I knew how to smoke it but guess the cigar I smoked was a bad one.  I felt nauseous and vomited."
After such a horrific experience, a friend of Maria's reintroduced to her to the enchanted world of cigars about a year later.
"He gave me a Havana Honey to try. It is a premium hand rolled cigar with vanilla flavor," said Maria. "Then I gradually tried different non-flavored ones, Macanudo Hyde Park Café was once my go-to cigar."
Click here for her entire story