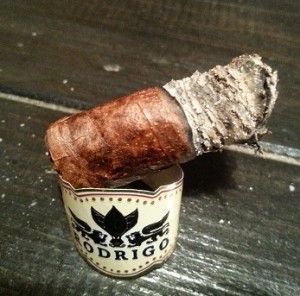 After a frustrating week of work my buddy came over to join me for cigars and scotch in my man cave a couple of nights ago. He surprised me with a guest "newbie". This young fella was new to the art of cigars and wanted to learn from a pro, so my buddy brought him along. The evening started out great, three guys smoking cigars, drinking 12 year old Macallan scotch and talking about sports, gambling and girls – such is life right? Wrong… I nearly threw the guy out of my cave with a swift kick in the ass. Why? Because he wasted nearly half of my $15 Ashton Virgin Sun Grown. I'll tell you later why I gave the rook an Ashton VSG, but for now, let's stick to the facts.
Many of today's younger smokers tend to waste half of their cigar (Don't I know the feeling). I smoke most of my stogies until my fingers catch on fire. I say most stogies because some cigars deserve to be put to rest with about a third left, but the Ashton VSG is definitely not one of them. Why? Because it is an awesome cigar. Let me explain.
A cigar evolves very dramatically during the smoking process and tar begins to build up in the final third of the stick. This buildup can and usually will create a stronger, bitter flavor, but that only happens with shitty cigars that were not constructed from well cured and well fermented leaves.  Good cigars, and in this case, great cigars will have the tar broken down during the stacking process (see my stacking story). When stacking is done properly it reduces the content of these nasty chemical elements (tar and ammonia) in the tobacco.
So unlike third-rate tobacco, a good cigar is easily smoked down to the nub without tasting foul, and that is why all the cigars that I smoke are smoked down to the nub, because they are delicious.
I know you are still waiting for me to explain why I gave the newbie a $15 Ashton Virgin Sun Grown and not some fourth-rate cigar.
Well first of all, I don't have any fourth-rate cigars. And second, I believe a newbie deserves a good quality stick to pop his cherry. We don't want to turn these young guys away from the pleasures we enjoy. I like to welcome newbies into the club, especially my man cave where the door is always open so I like to spoil them by providing them with a great first experience (not like my high school prom night). But I won't be so forgiving next time buddy, so be sure to smoke your pleasure sticks to the nub. It's a sin to waste especially when someone gives you an Ashton VSG.