Meet Xionayda Catala, a sizzlin' 33-year-old sister-of-the-leaf from New York City. Xionayda is a Dominican-born Latina who has been smoking cigars for the past five years. Today she works at Pap Juan Cigar Room in New York City.
"I have developed a passion for cigars," said Xionayda. "I started smoking five years ago when I worked at a different cigar lounge than where I work now."
Xionayda has developed quite a palate in her five years of smoking.  She doesn't have one particular cigar that she calls a favorite; however, she does have a few "go-to" sticks that satisfy her discerning palate.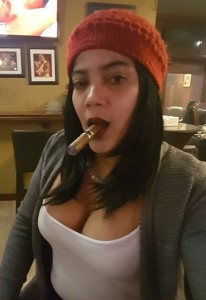 "The best blends for my palate are Underground, Aroma de Cuba, Liga Privada, Papa Juan House Blend, Manolo Estate, DBL and Opus X," revealed Xionayda.
Like most cigar smokers, Xionayda loves to pair her sticks with adult beverages. Her preferred libations are Hennessy and Buchanan because, "I feel they pair perfectly with my favorite blends."
Xionayda's cigar knowledge is not her only riveting characteristic. Her sex appeal is undeniable. Her beautiful face and rockin' body certainly make this smokin' beauty a pleasant attraction at Papa Juan Cigar Room.
"I definitely add sex appeal to the industry," boasted Xionayda. "Women like me, who enjoy smoking, make the cigar industry sexier and classier."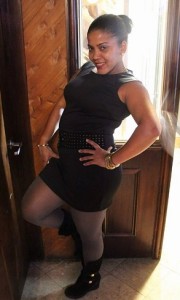 When she is not at Papa Juan Cigar Room, Xionayda likes to frequent different lounges in and around New York City like Maduro Cigars, Moises Cigars, Cigar Inn and Espanola Cigars.
Xionayda definitely deserves to be this week's Sizzlin' Sunday Cigar Girl. She is beautiful, sweet and full of cigar knowledge.
"I recommend that people explore the fancy and classy world of cigars," she noted. "You will enjoy cigars on a whole new level of enjoyment."
Xionayda will be a host at New Jersey Cigar Club's Cigars and Scotch Night at Railroad Cigar Lounge in Newark, NJ April 8 so come out and hang with this week's Sizzlin' Sunday Cigar Girl. Plus you can follow her on Instagram @ms_cigarqueen.