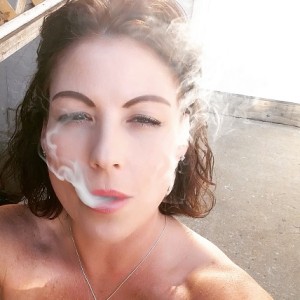 Meet Tamra Reid, a beautiful 43-year-old sister-of-the-leaf (#SOTL) from Kansas City, Kansas.  Tamra tried her first cigar almost ten years ago while on a trip to Dallas, Texas. Today she smokes a couple times a week.
"I was pretty tipsy after having had a bottle of wine with dinner and don't even recall which cigar we were smoking," Tamra shared.
Tamra's great-uncle was an avid cigar smoker. When she was young her family would get together on Saturdays to play Euchre and she always loved the aroma from his cigars. When she began smoking it always made her think of him. However, she credits her nephew, Tim, for being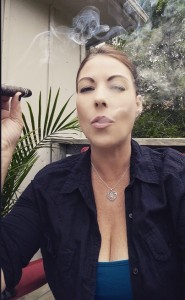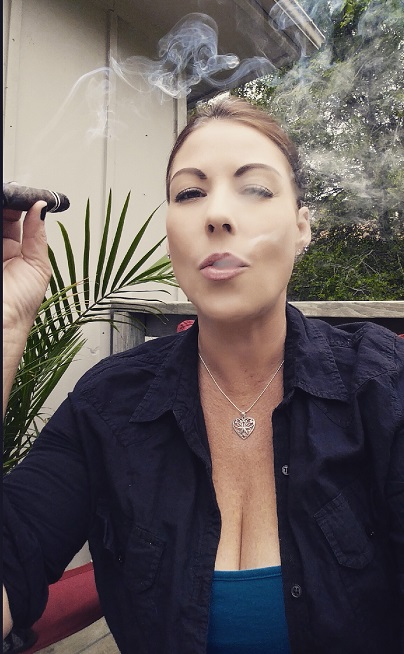 instrumental in her introduction to the leaf. The duo began attending cigar tastings at a local pub, and from there their affinity for cigars grew leaps and bounds.
"We (Tim and Tamra) would go to cigar tastings at a local pub, neither of us knew anything about cigars at the time, but we always had a good time. He definitely became well versed a lot more quickly than I," explained Tamra.
This Sizzlin' lady-of-the-leaf (#LOTL) enjoys smoking many different brands.  Like many connoisseurs, Tamra values the distinct flavors that different cigars and tobaccos offer. She certainly appreciates the passion behind the craftsmanship of the stick and the excitement of exploring different flavor profiles.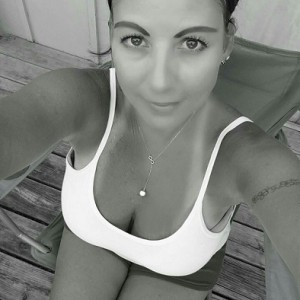 "I have been mostly smoking boutique brands," stated Tamra. "I have had several from the Black Label Trading Co. line and enjoyed them all.  Hermosa Cigars, both blends.  Cremo Cigars, the Clutch City is at the top of my list."
It was not too long ago that Tamra was being schooled in Cigars 101, fast forward some years and the tides have changed. Recently, this smokin' beauty had the opportunity to be the mentor.
"My oldest son recently turned 18 and his birthday request was to smoke a stick with me. I gave him an Acid Blondie, he loved it. His favorite, so far, is the Acid Toast," boasted Tamra.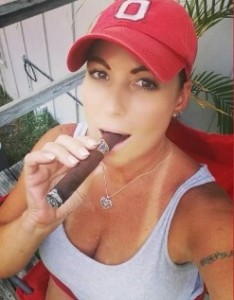 Like most cigar enthusiasts, Tamra loves to pair her smokes with a drink.  She especially loves whiskey.
"As for my favorite drinks, I started pairing with craft beers and have now moved onto whiskeys," said Tamra. "I have been mostly sticking to Chivas Regal but am starting to branch out and try others."
This whiskey girl certainly adds plenty of sex appeal to the cigar industry. She is, without a doubt, a welcomed treat for cigar smokers worldwide. However, she is reluctant to admit it.
"Do I feel I add sex appeal to the industry? I am not sure, I suppose?  I have only been regularly posting photos to a few cigar groups and Instagram for the past few weeks. The response has been a bit overwhelming because I am not used to the attention," expressed Tamra. "It hasn't been terrible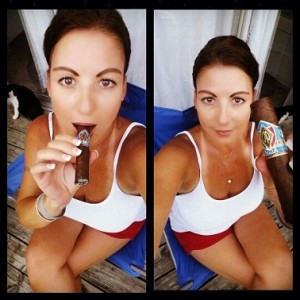 and I am appreciative.  It just wasn't my intention when I began this journey. With that being said, the response has been mostly positive and fun."
Tamra, who is an avid sports and die-hard OSU Buckeyes fan, has recently become a loyal Royal's fan! Not because of their winning season last year and this year, but because of how wonderful the organization and players have been to her nephew who is fighting stage 4 Melanoma at 29 years of age. Tamra and Tim are very close and, together, they are battling this horrific disease.
Tamra Reid certainly deserves to be this week's Sizzlin' Sunday Cigar Babe. She is beautiful, loves  the leaf,  and values the importance of family.
"Although I have smoked for several years I consider myself a beginner because I am just learning all aspects of smoking cigars. Before it was 'hey let's have a cigar' and now it's becoming more of a lifestyle," said Tamra.