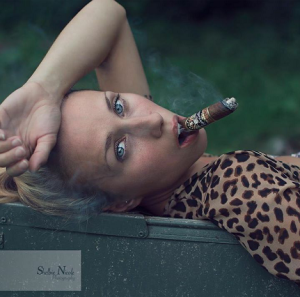 Meet Stacey Ann Stevens, a 29-year-old sister-of-the-leaf (#SOTL) from Upstate New York. Originally from Brooklyn, this sizzlin' #SOTL is an adventure seeking dame who loves to stay fit and live life to the fullest.
"I am interested in so much. I want to see the world and learn about everything," Stacey told Ultimatecigarparty.com. "If it has anything to do with the outdoors I am loving it."
Stacey, who has been smoking cigars for the past 10 years, smokes three to five cigars a week. She prefers the lighter blends by La Gloria Cubana and Nat Sherman.
"I was introduced to smoking cigars 10 years ago," said Stacey. "A great friend and business owner, Rick Roth introduced me to my first, a La Gloria. It was amazing and I was hooked."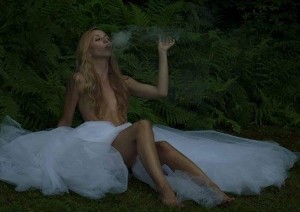 Like most cigar smokers, Stacey loves to pair her sticks with a tasty libation.
"I enjoy pairing my cigars with coffee or bourbon. I have a Honduras coffee blend I drink and Bootlegger 21 Bourbon by Prohibition Distillery that I drink as well. Sooooooo tasty!" Stacey revealed.
Stacey enjoys cigars so much that she has recently bought into a cigar company, Cooperstown Cigar Company.
"I've recently joined forces with an amazing cigar company, Cooperstown Cigar Company. I purchased unit value and am running social media and as well a brand ambassador," Stacey said. "They carry seven different cigars, all Baseball themed. My favorite cigar is the Stinger -a light blended Torpedo."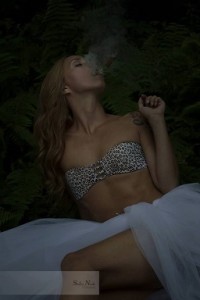 Stacey certainly adds plenty of sex appeal to the cigar industry. She has an unforgettable face, rockin' body and brilliant mind.
"I'm enjoying the modeling opportunities that are being presented to me," remarked Stacey.
However, this smokin' beauty would rather talk about the industry for which she is passionate rather than her.
"I feel sex appeal helps, but wouldn't turn a non-smoker to a smoker. Sex sells, but I don't think it would make that huge of a difference" Stacey confessed. "A good cigar is a good cigar, whether a sexy woman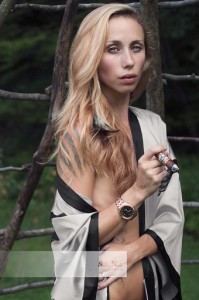 smokes it or not."
In addition to smoking, Stacey loves to work out and help others stay motivated. She also enjoys traveling and experiencing different culinary creations from around the world. She carries two degrees, one in Veterinary Science and another in Restaurant/Bar Business and Management.
"I am excited to meet and get to know everyone! Please feel free to find me on Facebook: Stacey Ann Stevens or on Instagram, @soulmateofedstevens. Lots of love and peace. Namaste"