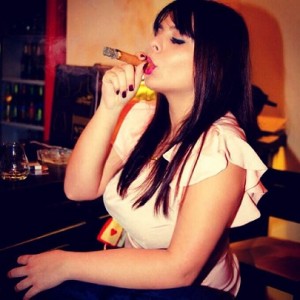 Meet Rebecca Petrea, a 20-year-old Sizzlin' sister-of-the-leaf (#SOTL) from Bucharest, Romania where she is a college student studying international relations and European studies. Rebecca is new to the leaf, for she started smoking only seven months ago.
"I have four things that I love to do, ride horses, swim, travel all over the world and, of course, smoke a good cigar with friends," said Rebecca. "I smoke three cigars maximum per month. It is a pleasure so whenever I have time to do it, I am doing it perfectly."
Rebecca's former female colleague introduced her to cigars when Rebecca used to work in politics. This former colleague used to arrange meetings with other cigar smokers at the beginning of every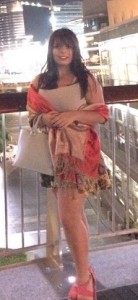 month at the Veni Vedi Victum Cigar Club in Bucharest.  This past September, Rebecca decided to join the herf, and the rest is history.
"The first cigar that I smoked was a Nicaraguan cigar and I drank a red wine, Kendall-Jackson, with it," explained Rebecca. "After that I started to like them more and more and learn about them, every occasion that I had I was trying to find out more and more things."
Rebecca has smoked quite a few different brands since her inaugural puff, but none can compare to her beloved Romeo y Julietta petite churchill. She often pairs her favorite stick with coffee or a cognac like Hennessy or Camus.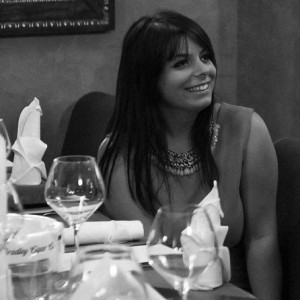 "It was very funny at the start when I did not know how to light up a cigar, but people were nice to me and they taught me lot of things," she said.  "After all the cigars that I have tried like Montecristo, Romeo y Julietta, Partagas, Cohiba, Camacho, el Rey del Mundo, Hoyo de Monterrey and so on, the one that I like the most is Romeo y Julietta petite churchill because it is balanced and leaves a woody/ leathery aroma."
There is no doubt that Rebecca is a gorgeous young lady who brings plenty of sex appeal to the leaf, but her humility prevents her from agreeing.
"I think being a lady and smoking cigars gives some sex appeal but not because I am se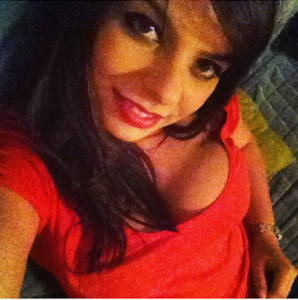 xy or a
woman, but because I enjoy the cigars," Rebecca noted. "I love the taste and smell and I like to know everything about cigars."
However, she did go on to say, "I think smoking a cigar and wearing high heels is a good pairing. I enjoy this every single time when I smoke and I appreciate every cigar."
You can follow Rebecca on Instagram @rreby