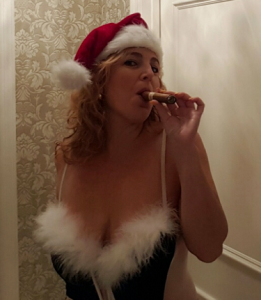 Meet Ramona Brown, a  51-year-old sizzlin' sister-of-the-leaf (#sotl) who absolutely loves smoking cigars. She started smoking three years ago and has since developed such a passion for the leaf that her cigar experiences  now "touch" all of her senses. This passion has evolved so deeply that she has created her own blog, www.thecigarlady.com.
"The man that I was dating smoked cigars and we used to hang out at a smoke shop," explained Ramona. "Money was tight and my boyfriend smoked 'factory throwouts' so that is what I smoked for about a year. Thinking back on that now, I can't believe I ever smoked them."
Ramona's portal into the enchanted world of cigars began when a female tobacconist at a local cigar lounge encouraged her to try a stick. She eventually gave in to temptation and the rest, as they say, is history. Today, she kicks back with a premium cigar to free her mind from stress and immerse herself in the 'experience.'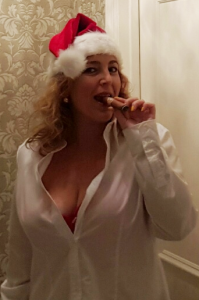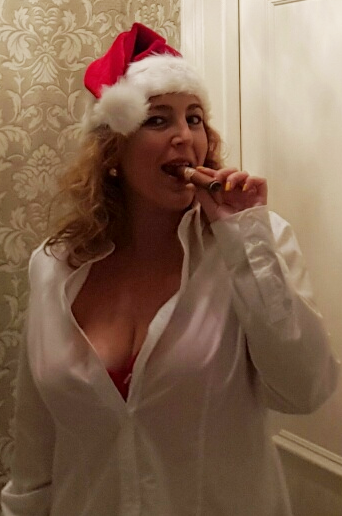 "A beautiful cigar touches all of my senses," Ramona revealed. "I love the experience. I feel that smoking a cigar is a slow, intimate, sensual process, not something to be rushed."
Like many cigar enthusiasts, Ramona does not have one favorite cigar but she does know what she likes.
"I do not have a favorite cigar, but I like full-bodied cigars, nothing mild or flavored," Ramona stated. "And, I do not drink, so I pair my cigars with chocolate.  Put a small piece of chocolate in your mouth (a Hershey kiss will suffice) and let it slowly melt in your mouth as you smoke. Yummy."
This smokin' beauty usually smokes her cigars at one of two places, on her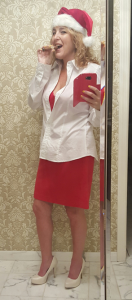 apartment's 'tiny' balcony or at her local cigar lounge. Now that the weather is getting cooler, she tends to hibernate more in the lounge.
"There is a cigar shop down the street from my house where I can be found a few times per week, daily in the winter," said Ramona.
Ramona is a sexy woman who is not reticent when it comes to expressing her sensuality. Her blog, www.thecigarlady.com, features cigar reviews written with an erotic tongue. Her words are as eloquent as her undying beauty.
"How does it feel as I put my lips on the end and slowly draw the smoke into my mouth?"

expressed Ramona.  How does the smoke taste as it lingers on my palate? Am I enjoying the experience? Does the sensual aroma of fine tobacco permeating the smoke-filled room evoke a feeling of satisfaction?"
Her blog also features an education category and a "Chat with Ramona" section where men can ask her questions about their relationship problems. Click here for an example.

Ramona told ultimatecigarparty.com that she is "not trying to compete with all of the young things out there, just being myself." If that is true, then being 'herself' is quite sexy. This humble heartthrob certainly has plenty of sex appeal.
"I am not sure if I add sex appeal to the industry, but I am 'real', meaning that I truly love smoking cigars. I am not being fake posing for photos to look interesting. My reviews are my genuine opinions, not just a bunch of bull."
The truth is…this devilish dame drips with sex appeal. From her illuminating smile to her rockin' body, it is her sultry lips wrapped around a churchill that exude a magnetism of epic proportions.
There is no doubt that Ramona Brown, AKA The Cigar Lady, deserves to be this week's Sizzlin' Sunday Cigar Babe. She is sexy, sultry and seductive – A titillating trio for sure.
"A beautiful cigar touches all of my senses." – Ramona Brown
Check out Ramona's blog www.thecigarlady.com