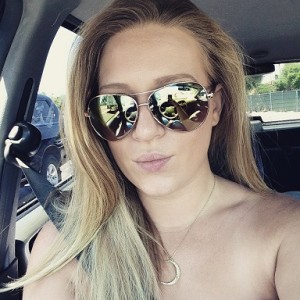 Meet Rachel Pliess, a sizzlin' 26-year-old sister-of-the-leaf (#SOTL) from Phoenix, Arizona. Rachel is a world traveler who smokes cigars almost every day.
"When I am not at work I am doing my best to travel the world," expressed Rachel. "I refuse to go a whole year without a big trip somewhere new."
When this gorgeous globetrotter is grounded, she works at Churchills Fine Cigars in Arcadia, Arizona as the lounge's bar manager.  She has been working there for almost a year and credits the establishment for refining her love for cigars.
"Before I started working at Churchills I had been a smoker, but only about one cigar every few months or so. Working at a lounge affords me the ability to try something new every day, so I try to do that," said Rachel.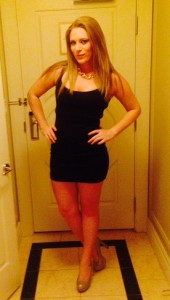 Rachel began her foray into the enchanted world of cigars about three years ago. Her introduction to the leaf is unique and quite amusing.
"This is embarrassing," admitted Rachel. "I watched an episode of 'How I Met Your Mother' where Robin and Barney hung out together in a cigar lounge. I thought to myself, I want to be that cool chick smoking cigars with the guys. So I started."
That television sitcom may be off the air now, but this sexy cigar aficionada reminds television junkies that boob tube does offer eye-opening moments that can improve one's life. Rachel's favorite cigar is the Oliva Serie V Melanio, and as far as vitola's go, she is not a 'size queen'.
"I am not picky when it comes to size," Rachel revealed. "That really depends on how long I have to smoke."
When this smokin' beauty finally gets a chance to nestle in lounger and relax for a bit, she usually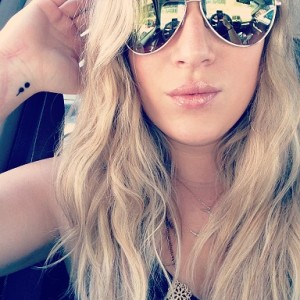 pairs her smokes with a California red wine or single malt Scotch.
"Right now I'm a little obsessed with the Balvenie 17 year Double Wood," boasted Rachel. "I drink my Scotch neat with a few drops of ice cold water. My love of Scotch only came about last year when I had the privilege of touring a distillery in Scotland. It was truly and amazing experience. "
Because Rachel works at a cigar lounge and loves the clientele that patronizes it, she doesn't feel the need to stray. She spends most of her time smoking with the regulars, but admits there is one other milieu that she prefers.
"My favorite way to enjoy my cigars is alone. Here in Arizona summer is also Monsoon season. I love sitting on my back patio with a great cigar and a drink and watching the storms," Rachel confessed.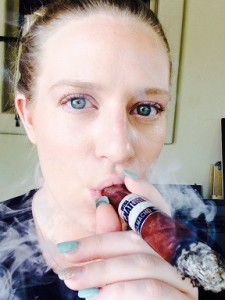 There is no doubt that this devilish dame adds plenty of sex appeal to a deprived industry. The fellas of Churchills are certainly blessed to have this sexy #SOTL grazing the humidors of Phoenix. However, Rachel's modest persona speaks differently.
"I'm not sure about sex appeal but I do like the idea of doing something that not many women do," said Rachel. "Working in a lounge I hear guys all the time that are surprised that I smoke.  And I know they find it attractive when a woman comes in, sits down, and lights up a cigar, especially if it isn't something flavored."
Outside of cigars, this Sizzlin' Cigar Babe enjoys hiking, mountain biking and crafting. If interested in supporting the creativity of this self-proclaimed 'crafting addict', visit her online at Etsy where she sells her creations: https://www.etsy.com/shop/DesignsbyStudioR
You can follow Rachel on Instagram" @pliess