Meet Myo, a sizzlin' 27-year-old sister-of-the-leaf (#sotl) from Fort Lauderdale, Florida. Myo, who is originally from Myanmar,  is an incredibly sexy gal who has been smoking cigars since she was 21 years old. Today, she averages about two or three per week.
"I first tried a cigar when I was 21, but I didn't really like it," Myo confessed. "Maybe that was because I didn't have someone teaching me. As I grew older I developed an acquired taste."
Myo, in addition to smoking cigars, loves to cook, drink wine and play pool. She works full-time as an assistant manager for a pizzeria and wine bar called,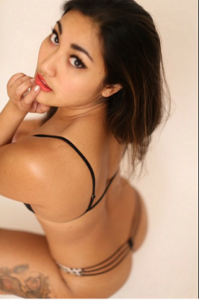 Luigi's Coal Oven Pizza. However, it's her part-time job as a bar tender for Habano Cigar Club in Hollywood, Florida that got her hooked on cigars.
"David Villar, one of the owners of Habano Cigar Club, mentioned that he was looking for a bartender and ironically, I was looking for more work," explained Myo. "It was the perfect opportunity and I'm so happy about where I work."
Myo went on to say, "Not only did my new bosses help me, but our customers at the cigar club were just as helpful, and now I really enjoy smoking cigars. Every time I go to work, it's more like hanging out with family and friends."
This devilish dame continues to expand her palate by trying new cigars; however, there is one stick that really tickles her fancy.
"From all the ones of tried so far I really enjoy the Gurkha Makers Mark," revealed Myo.  "I'm open minded and I really love to learn, so every time I go to work I try a new cigar."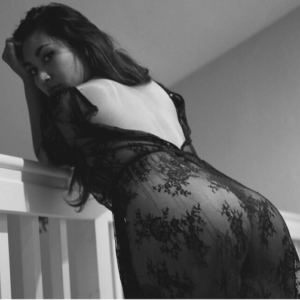 Like most cigar smokers, Myo enjoys pairing her smokes with a libation. She doesn't have one particular go-to drink because she loves beer, wine and liquor.
"If I'm drinking with a cigar I switch between beer, wine and liquor," expressed Myo. "I love Yuengling beer, and as for wines. I like Malbec or Merlots. My liquor of choice is Crown and ginger."
There is no denying the fact that Myo adds plenty of sex appeal to an otherwise male-dominated industry. Her beautiful face and rockin' body are irresistible while her playful poses on camera scream seduction. Nevertheless, she is too humble to admit just how SIZZLIN' she really is.
"I'd like to think that I add more than just sex appeal to the industry," said Myo. "I mentioned before I love to learn, which means working in the industry helps because I learn from people's experiences and share great conversation here and there and connect with customers on a human level."
She went on to say, "It makes me happy to make people happy."
If you want to grab a smoke and drink with Myo, head down to South Florida's premier cigar bar, Habano Cigar Bar in Hollywood, Florida and have this tantalizing temptress mix you a cocktail.