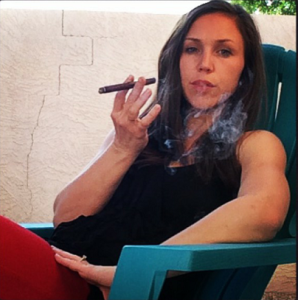 Meet Melanie Cantelmo, a Sizzlin' sister-of-the-leaf (#SOTL) from Arizona who owns a cigar brokerage company in the Southwest, Fear the Beard Cigars, along with her husband Anthony. Melanie has been smoking cigars for about a year and tries to squeeze in three cigars a week amidst an extremely busy lifestyle.
Melanie's busy schedule may rival only that of the President of the United States. She works with special education children during the day, runs her company's social media outlets at night and represents Senor Rio Tequila and Cigars at area tequila tastings, all while raising four beautiful children.
"Since I am so busy, I will usually only smoke two to three cigars per week," said Melanie. "With my husband and I working full time and raising a family, I usually try to smoke whenever I get an opportunity and that is usually at random times."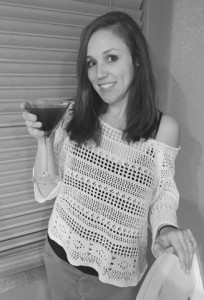 So what got this busy mom of four interested in cigars? – A desire to bond with her husband.
"When my husband started working  for La Flor Dominicana I started feeling jealous of all the time he was on the road working and then when he would return home he would often go to a local cigar shop and enjoy a cigar with a friend, which would make me feel even more alone," Melanie confessed. ". A wise friend of mine encouraged me to take interest in the things that interested my husband as a way to connect with him on a deeper level."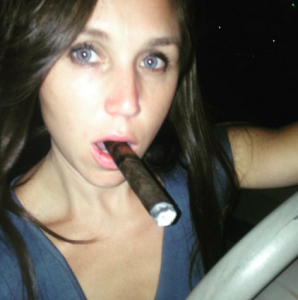 This yearning to spend more quality time with her husband turned into something more than she bargained for – her own adoration for the leaf.
"I ended up developing an interest in cigars and the industry my husband loves to be a part of," explained Melanie.
Melanie tends to smoke medium-strength cigars in small vitolas that are full of flavor.  Because she has a low tolerance for alcohol, she doesn't pair her cigars with booze very often, but when she does Tequila is usually her drink of choice.
"I am partial to Senor Rio Tequila and will usually drink just a little bit at night. My favorite is the Reposado over the Anejo or the Blanco. My favorite wine is a Moscato or Resiling," Melanie mentioned.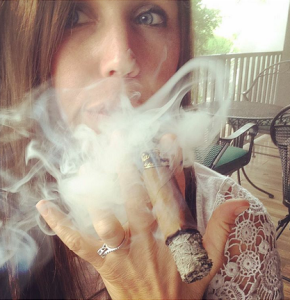 Because of her busy schedule, Melanie doesn't get many opportunities to hang out and smoke at area cigar shops; however, she does find her way into a few every now and then.
"If I am going to hang out anywhere, I usually hang out at Fox Cigar Shop in Gilbert. My husband used to work there and we are close to many of the people there, so if we go anywhere, it's usually there, explained Melanie. "I have to say, Arizona offers some amazing cigar shops and the community atmosphere is just wonderful. I also love Big Sticks in Mesa and really enjoy spending time with Paul the owner there. Fine Ash, Baxters, Cigar King, 21 Degrees and Church Hills are also great local shops as well."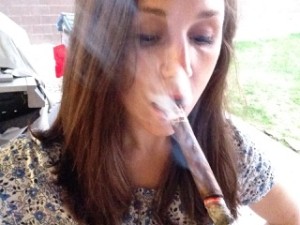 Melanie certainly adds plenty of sex appeal to the cigar industry, but if you were to ask this humble mom of four, she may be hard pressed to answer or may even disagree.
"I really don't feel like I add sex appeal to the industry," said Melanie. "Although, I do believe that any woman smoking a cigar automatically becomes sexy. My main goal is to be sexy and attractive to my husband and he says I'm beautiful even at nine months pregnant and that's all that matters."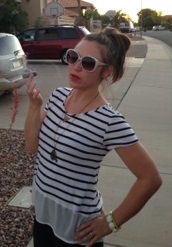 Melanie added, "I am just your average wife and mom who enjoys cigars and will snap a picture of myself smoking a cigar. I'm not perfect or born with natural beauty (like some women) but I enjoy allowing myself to feel sexy or beautiful while smoking a cigar with my husband and I don't think there is anything wrong with that."
To learn more about Melanie and/or her husband and Fear the Beard Cigars, follow them on Instagram: FTB.Melanie or FTB.Anthony and on Twitter:   FTBMelanie or FTB_Anthony