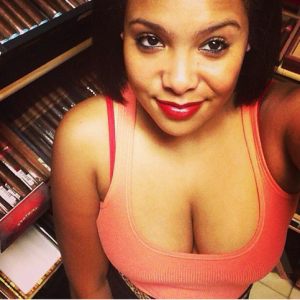 Meet Kyara Vargas, a sizzlin' 23-year-old sister-of-the-leaf (#sotl) from New York City. Kyara is a gorgeous Dominican dame who has been working in the cigar industry for the past four years. Today she works at Papa Juan Cigar Room in Bronx, New York and freelances as a hostess for private parties.
Originally from Rhode Island, this Dominican heartthrob has been smoking cigars since 2011. She started back in Rhode Island when she took a job as a sales woman for a local cigar shop.
"The way I got involved with them (cigars) was in Rhode Island. My friend needed help at a cigar shop," explained Kyara.  "As soon as I got involved I found them very interesting and continued to learn more about them. I started smoking cigars to compare them and different leafs to be a better sales woman."
Kyara prefers to smoke medium-bodied cigars, but has been known to dabble with a milder Connecticut wrapped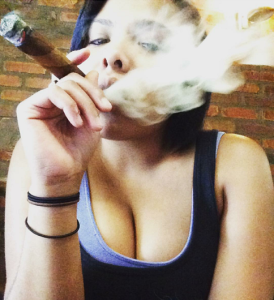 stick as well. She likes to experiment with different cigars brands but is not reticent to admit that she does have a few favorites.
"My favorite smokes are Liga Privada and Oliva Series V Melanio. My favorite house blend is the Papa Juan double wrapped torpedo," Kyara confessed. "It is a smooth smoke with enough kick."
Like most cigar smokers, Kyara enjoys pairing her sticks with alcohol. Her favorite pairing is a Connecticut blend with a Cabernet or Shiraz wine.
Kyara is a smokin' beauty who adds plenty of sex appeal to the cigar industry. She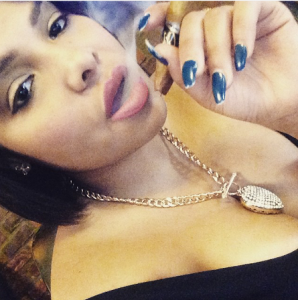 has a gorgeous face, rockin' body and killer smile. One cannot deny the seductiveness of her sultry lips wrapped around a premium stick. Plus, the allure of her bedroom eyes is intoxicating.
"I feel like I do bring sex appeal to the industry," boasted Kyara. "I love the way the smoke slowly rolls off my red lipstick."
She went on to say, "I think it very sexy when a woman knows how to cut, light and smoke her own cigar. A woman who can hang with the guys, drink scotch and smoke cigars is the type of chick I want to hang with."
Even when Kyara is not working she likes to hang out at Papa Juan Cigar Room.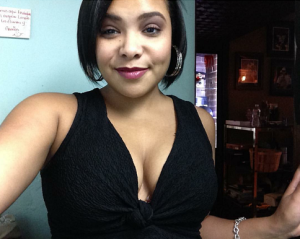 "I hang out a lot at work. Papa Juan is more of a home to me. Not only do I work there but my friends hang here with me and I enjoy the selection," she said.
She also likes to frequent Merchants NY Cigar Bar in Manhattan.
I enjoy Merchants on Thursday night because one of my friends is a DJ there and he makes a smoking experience even better, plus the girls are hot there., revealed Kyara.
There is no doubt that Kyara deserves to be this week's Sizzlin' Sunday Cigar Babe. She is smokin' hot and her passion for the leaf far exceeds that of most women in the industry.
"Working at a cigar lounge started off as just a job but now I have a passion and interest for cigars and enjoy learning more and more about them. I love trying different ones and experiencing different pairings. In the future I would love to have my own cigar brand," said Kyara.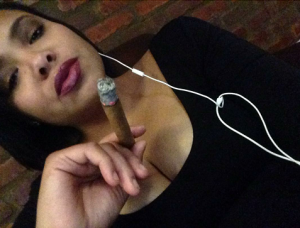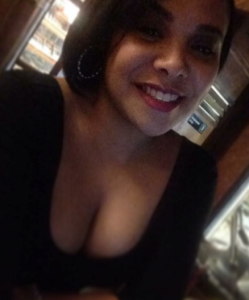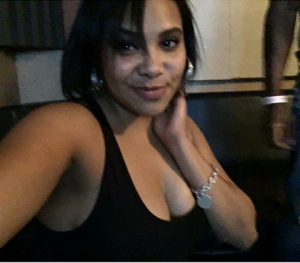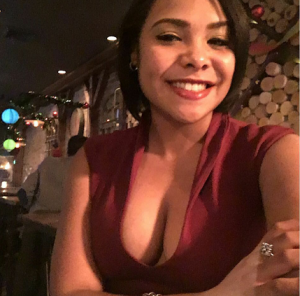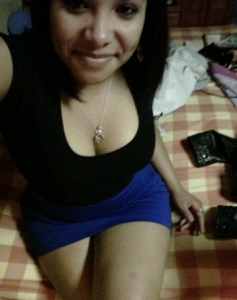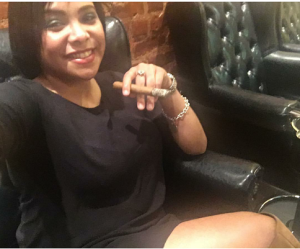 "I love the way the smoke slowly rolls off my red lipstick."