Meet Kimberly Cravens, a sizzlin' sister-of-the-leaf (#SOTL) from the Carolinas. Kimmy, as she is playful known among her family and friends, has become a social media exibitionist best known for her beer -n- bikini 30 posts on Facebook.
Kim is a Post Secondary Fine Arts Educator who smokes cigars 'pretty regularly'. She started smoking back in 2003 while stationed in the United Kingdom with her husband who was on active duty with the United States Air Force at the time. She was traveling Europe coaching volleyball and teaching art when she tried her first Cuban cigar and flavored cigarillos. Today,  cigar smoke feels like a hug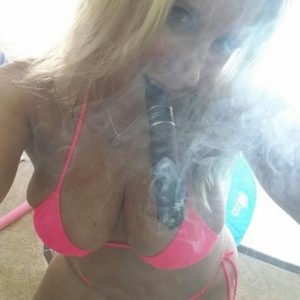 from heaven.
"My maternal grandfather or papaw passed from pancreatic cancer in 2010, but before he did we sat down and smoked together and shared some stiff drinks and memories," Kim revealed.  "He always smoked while I was growing up and the smell brought back great memories that equated his love for enjoying life with a cigar and a nice bourbon or scotch.  The smell is like a hug from heaven for me."
This smokin' hot lady-of-the-leaf prefers a medium to full-bodied cigar wrapped in a maduro leaf. She feels the cigar should 'look and taste good while feeling good in my hand.' Some of her favorite cigars are the Gurkha Special Ops, My Father Cigars and various blends by Jamie Garcia. Plus, Padron, Olivia, Asylum and Rocky Patel are on her list of 'go-to' sticks.
"I like a little pepper or leather, nothing fruity," explained Kim. "As far as ring gauge, because I burn through them, the bigger the better as long as it has a good draw and not a harsh bite. If I'm out with my twisted brigade of military brothers I like the bigger ones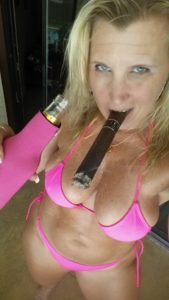 because they last longer."
Like most cigar smokers, this smokin' beauty loves to pair her smokes with a tasty adult beverage and occasionally, a touch of dark chocolate..
"I like to pair my cigars with a nice Cab or Merlot maybe even some good dark chocolate with a bold stick," said Kim. "I also like to indulge with Grey Goose, Belvedere or Crystal Skull vodkas with a splash of cranberry on occasion. Some craft beers pair nicely too."
To Kim, the cigar experience involves conversation. Of course conversation involves sharing thoughts and opinions but with Kim it also means sharing something else, too.
"I don't mind sharing sticks when the person can appreciate a good cigar," expressed Kim. "I hate people who pretend to like to smoke because it gives them cool points.  To me smoking is about camaraderie thus the reason you will find me smoking with people who love to laugh more than bitch or complain."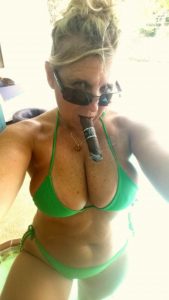 Sometimes her conversations get a little racy.
"I am a shameless flirt and have a good time trying to pull chicks for my single smoking brothers at times when I'm feeling froggy by offering cigars and some good entertainment with our crazy stories," Kim disclosed.
There is no doubt that Kim provides plenty of eye candy to the cigar industry. Her rockin' hot body drips with sex appeal, especially when she wears those skimpy bikinis during Beer -n- Bikini 30.
"Like any hot blooded woman trying not to let the years dictate how she should look or feel, I like to feel sexy and yeah I guess I am a somewhat shameless attention whore when I bring a stick to my lips, blow smoke and take yet another narcissistic looking selfie," Kim boasted.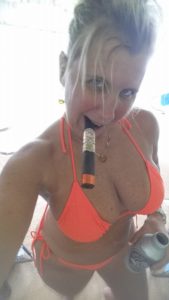 She went on to say, "I try to capture hints of an alluring, flirtatious hunger to bring a smile and twinge of excitement here or there to both sexes.  Truth be told, I think women try to impress and out sex appeal each other and the fellas are just all too happy to enjoy being voyeurs of our warfare."
Kim certainly deserves to be this week's Sizzlin' Sunday Cigar Babe. She is a gorgeous gal with a rockin' body and alluring sex appeal. Plus, her passion for cigars is adds to her drawing power.