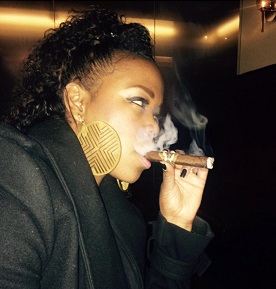 Meet Katrina, a sizzlin' sister-of-the-leaf from Washington, DC. Katrina has been smoking cigars for the past five years and credits her sister for introducing her to the lifestyle.
"My sister was the first person who introduced me to cigars," said Katrina. "I have been smoking since 2010."
Katina is an adventure-seeking dame who loves to dance and travel. Smoking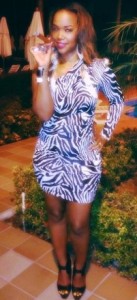 cigars on vacation is a top priority for this smokin' beauty and she never misses an opportunity to cash in. Her favorite cigars are "medium but bold blends." She likes the Grand Marnier cigar and Punch Champion.
Katrina is not much of a drinker, but when she does, she likes to pair her smokes with Jameson Irish whiskey.
When she finds time to relax in a cigar lounge, you can usually find Katrina ensconced in an oversized armchair at Civil Lounge in Washington, DC.
"The atmosphere is always relaxing, well ventilated, has good food, great choice of cigars and filled with a mature crowd," said Katrina.