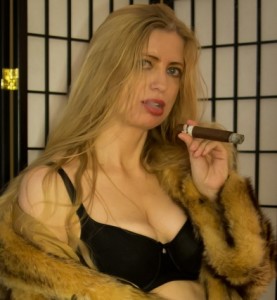 Meet Kaitlin, a sizzlin' hot sister-of-the-leaf (#sotl) from the Midwest with a relentless passion for cigars and fur coats. Combine that with her rockin' body, and bam, you have one desirable dame sure to leave you drooling.
Kaitlin is a bit of an exhibitionist on social media under the pseudonym @FetishModelKaitlin; she loves showcasing her sexy body enveloped in one of her 30 fur coats while puffing on a stogie. The images are breathtaking to say the least.
"I post my cigar smoking exclusively as FetishModelKaitlin, because that way I can be sexy and sensual," revealed Kaitlin.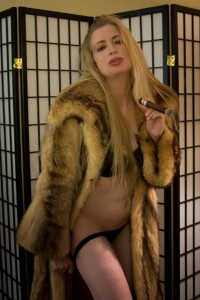 Kaitlin usually smokes cigars twice a month, more if the weather cooperates, however, she is known to sneak a few extra when her boyfriend is out of town on business trips (he is supportive but very sensitive to her smoking cigars). She began smoking cigars during her college years when she was 20 years old after a prospective flame introduced her.
"I grew up in a tiny town and the nicest restaurant/bar was a cigar and martini lounge. I went there on ONE date with a guy who introduced me to cigars and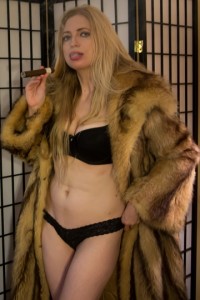 martinis, and decided to ditch cheap beer forever," Kaitlin explained.
After college Kaitlin moved from a tiny town in the Midwest to New York City where she took an eight-year hiatus from smoking cigars.
"New York is probably one of the most restrictive and expensive places for cigars!" said Kaitlin. "I didn't smoke cigars for probably eight years. If I did, it was very occasional and not the type of awesomely good smoke as I remembered from my college years."
Her courtship with cigars rekindled when she returned to the Midwest.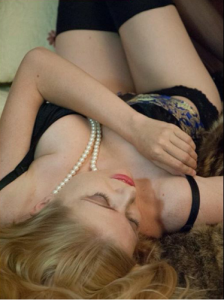 "When I moved back to the Midwest, a guy I briefly dated, trying to win me over on Valentine's Day, bought me some Cuban Romeo y Julettas," Kaitlin said. "Then My current boyfriend and I took a trip to Mexico, and I brought back some Cuban Romeo y Juliettas."
However, it was a post on Instagram a bit later on that truly reunited Kaitlin and her love for the leaf.
"When I got home, I posted a few pics on my professional/mainstream Instagram. A guy in Amsterdam saw it, and we got into a conversation about cigars. He sent a sampler pack of Vegas De Santiagos. I was back into cigar love," announced Kaitlin.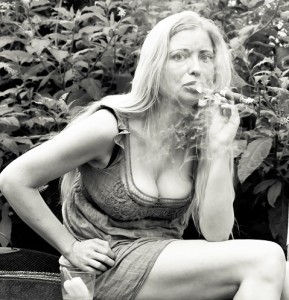 This smokin' beauty prefers Vegas De Santiago and Romeo y Julietta over most other cigar brands, however she is "still exploring cigars and learning about them." Her favorite blend from VDS is the Chaman.
"I know a good cigar when I taste it because it doesn't leave the back of my throat burning, and I know I prefer mild cigars," Kaitlin told Ultimatecigarparty.com.
Like many cigar smokers, Kaitlin loves to pair her cigars with bourbon, whiskey or Scotch, always on the rocks.
"Cigars make it taste better, and I really like the way the flavors interact and how the hard liquor cleans my throat."
There is no doubt that this gorgeous gal brings plenty of sex appeal to the cigar industry. Her erotic images, sultry body and irresistible expressions are tantalizing. Couple that with her adoration for cigars and there is nothing more desirable.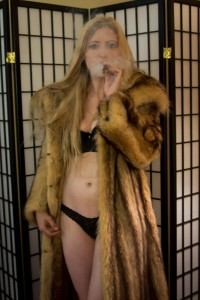 "I can be sexy and still respected. To me, it's the lifestyle and the escape into an envelope of sensuality," expressed Kaitlin. "I might be struggling and stressed as a freelancer, but I'll put on makeup and sexy lingerie to smoke a cigar, alone, and escape into a perfect cigar buzz! If I can communicate any of that to get people to snap out of their stress and get back in touch with their sensuality, then it's been worth my time.
Outside of cigars and furs, this sensual lady-of-the-leaf (#lotl) is a freelance web designer who occasionally dabbles in the dealing of antiques and anything vintage.
Follow Kaitlin on Twitter @FetishKaitlin or on Instagram as @FetishModelKaitlin