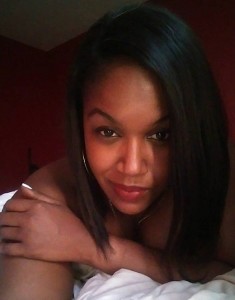 Meet Joy Caldwell, a sizzlin' 37-year-old mother of one from Los Angeles, CA. This dazzling dame has been smoking cigars for only two years, but her passion for the leaf rivals that of most seasoned veterans.
"I always get asked what I like most about smoking cigars, and I have to say, I truly enjoy the culture, the brother and sisterhood, and the fellowship.  I love that you can put a group of people in a room from all different walks of life, but when we are in that room, we all share ONE thing in common, and that is our love for cigars," Joy expressed.
Joy's venture into the enchanted world of cigars began when a guy friend of hers convinced her to try a stick late one starry evening after the liquor ran dry.
"After running out of liquor I said, 'Now what?' So, after several previous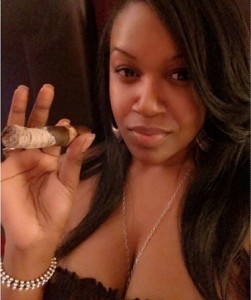 attempts, he finally convinced me to give it a try, and I loved it," Joy admitted. "I was devirginized by a Partagas 1845 Black Label."
Smoking cigars has become more than just a way to fill the void left from empty Kettle One bottles for this sexy lady-of-the-leaf (#lotl). It has become a passion and a way of sharing memories and stories.
"I love indulging in a nice cigar and meeting and networking with such an array of wonderful people," said Joy.
Joy doesn't have a favorite cigar, for her palate continues to grow as she experiments with different blends and vitolas. However, like many cigar smokers, she does have a few 'go-to' sticks that tickle her fancy.
"I cannot say that I have a favorite stick, blend, or size….it all depends on my current mood and palate.  However, I do have my 'go-to' sticks that are consistent and never disappoint," Joy admitted. "In no particular order, Partagas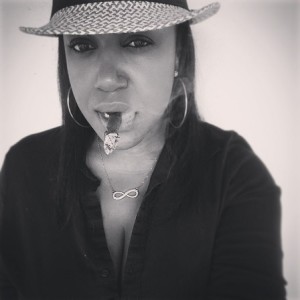 1845 Black Label, Hermosa Habano, Padron Anniversary 1964 Series, Brotherhood Pure White Comrade, Oliva Serie V, Amor Negro Habano, NUB Cameroon, and most Davidoff blends to name a few."
Joy's appreciation for cigars has grown so genuinely that she has become a volunteer event coordinator for Operation Cigars for Warriors. She is the lifeline between U.S. soldiers and their life outside the combat zone by arranging events, collecting donations and shipping cigars overseas.
This beautiful beau's favorite drink to pair with her smokes is usually Ketel One vodka and tonic with lime, but she does stray from time to time.
"As weird as it may seem to the cigar aficionado, my favorite drink is to sip on a delicious Ketel One and tonic with lime while I'm smoking," stated Joy. "If vodka isn't accessible, my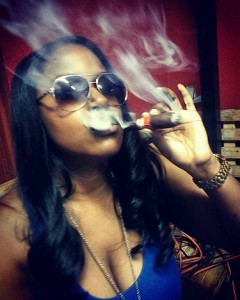 alternative is a nice dry Riesling or a savory Cabernet. I can still appreciate a nice rum or scotch pairing if suggested to me, but I'm truly a vodka girl!"
Joy is an amorous flame who brings plenty of sex appeal to the cigar industry. Her confident nature and alluring physique create a vibe that is irresistible and magnetic. But, this heartthrob sparks more than just jaw-dropping moments in cigar lounges.
"I must say, even though many may find me sexy, or think women in general who smoke cigars are sexy, most men in the cigar circuit don't treat me as just a sexy chick. They respect me. I'm a true alpha female, so my natural aura demands a certain level respect without having to come across as a 'bitch', Joy boasted.
She went on to say, "I'm very friendly, playful, sarcastic, flirty, yet very confident, intelligent, and dominant, so I usually get nothing but respect as early as our initial introduction. They welcome me into 'their world', and they truly appreciate that an attractive woman has a genuine appreciation and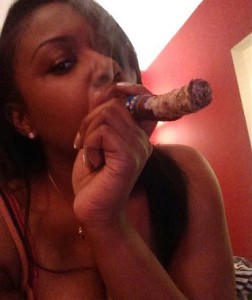 love for the leaf."
When this smokin' beauty strolls into a cigar lounge, she is there to kick back and relax. She appreciates a 'nice' lounge so much that she would rather travel 20 miles out of her way to land the perfect spot.
"When I say nice, I'm referring to the atmosphere, the people, the cigar selection, the customer service, the overall experience.  I won't just run down to my local neighborhood lounge for convenience, I'd rather drive over 20 miles out if necessary, passing 10 lounges to get to the one that offers the most overall comfort and experience," said Joy.
She has three lounges in her rotation that she patronizes often, but which one she hits up on a particular day all depends on her mood because each one offers a little something different.
"You will find me at Havana Lounge Cigar Club, in San Pedro, CA most of the time. After a long day or week of work,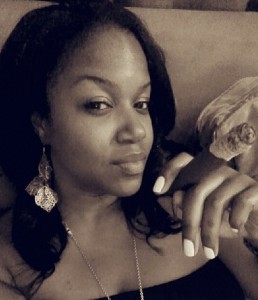 there is nothing better than getting away from the hustle and bustle and enjoying a nice stick at a lounge that is spacious, perfect temperature with an excellent ventilation system, has comfy lounge chairs with ottomans, food, nice music, sports or a movie, and chill people," explained Joy.
There is no doubt that Joy Caldwell deserves to be this week's Sizzlin' Sunday Cigar Babe. She has a dynamic coupling of confidence and flirtation that accentuates her smokin' hot body perfectly.
"That "one love" (cigars) has a dynamic way to bring us all together and have fun times. When I'm at a lounge or a cigar event, I oftentimes find myself and everyone else talking to people that we would NEVER normally spark conversations with at the market or even in the office.  But once we light our sticks….we've found a commonality, and as a result, great relationships are formed. It's a lifestyle," Joy narrated.