Meet Jen Gayagoy, a sizzlin' 27- year-old sister-of-the-leaf (#sotl) from Chicago, Illinois. Originally from the Philippines, this smokin' beauty has been smoking cigars for the past six years and has been working in the cigar industry for the past five years.
When it comes to smoking, Jen has an expensive palate.
"A couple of my favorite blends and cigars are Padron, Davidoff and Curivari," revealed Jen. "I am more of medium to full bodied cigar person."
Like most cigar smokers, Jen enjoys a fine smoke and refreshing beverage to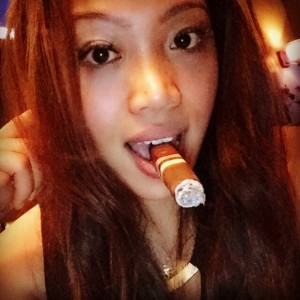 ward off the stress life puts on us.
"For me cigars and whiskey are a way of relieving stress," Jen explained. "It is a relaxing way to get away from everything."
There is no doubt that Jen adds plenty of sexy appeal to the cigar industry. Her beautiful face, illuminating smile and lusty legs make for some delicious eye candy.