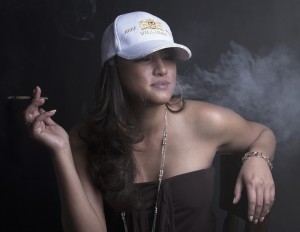 This week's Sizzlin' Sunday gal, Jaxx Guevarra does not need much of an introduction. She is already well known in the cigar industry for being the Director of Special Events for Villiger North America and previously ran the swanky La Casa De La Habana, Las Vegas cigar bar as the General Manager.  Cigar enthusiasts have probably already seen her gorgeous face and rockin' body plastered on social media, event flyers and show booths but now is the time to get to know the person behind the beautiful exterior.
Jaxx is a 30-year-old sister of the leaf who lives in Las Vegas, Nevada. This dazzling dame is a true tobacconist who originally dabbled in interior design before turning her passion for cigars into a career.  She has been smoking cigars since she was 18 years old but her introduction into the enchanted world was less than flattering.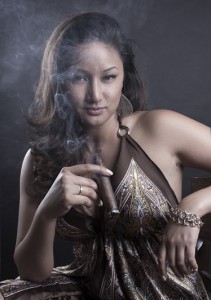 "It was not the most graceful introduction, I almost threw up," explained Jaxx. "When I moved back to California I began to frequent cigar lounges and found it appealing to kill an hour or two while waiting for traffic to die down. Casa Belicoso in the Bay Area was my favorite lounge."
Her frequent haunt turned into her first job in the cigar industry.
"I couldn't afford to be a member there (Casa Belicoso) so I decided to work there," Jaxx stated. "I learned a lot about cigars working there. I got really involved in the culture and it soon became an obsession."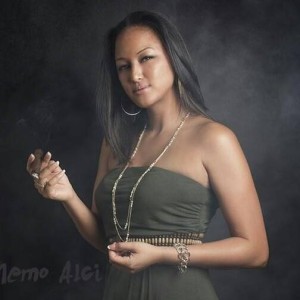 Today she considers herself a bit of a "cigar fiend."  She is a huntress of cigar lounges and spends hours and hours indulging in the various lounges around the country.
"Everywhere I go I am in hunt for a cigar lounge to spend hours in, preferably one with a bar," she said.
Some of her favorite Las Vegas lounges are La Casa, En Fuego, Tobacco Leaf, Rhumbar at the Mirage and Casa Fuente at Caesars Palace. When traveling, Jaxx likes to patronize Civil in DC and Corona Cigar Co. in Orlando.
Like most cigar smokers, Jaxx loves to pair her smokes with a fine adult beverage. She has different tastes of drinks for different shades of cigars, but typically, she drinks rum. She also likes to pair cigars with non-alcoholic beverages like coffee or root beer.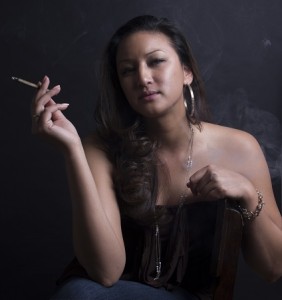 "Zaya 12yr Trinidad Rum is one of my favorites but my newest discovery of Diplomatico Venezuelan Rum is top on my list," boasted Jaxx. "I love a great Maduro shade to pair with this."
As far as her favorite cigar, well, it is hard for her to spotlight just one particular stick, but a couple "oldies but goodies" that she will never turn down are the Padron Anniversary Series or La Palina Family Series.
"The richness in body gets me every time," said Jaxx.
There is no doubt that Jaxx is a heartthrob who adds plenty of sex appeal to the cigar industry. Her adorable face, killer body and adoration for cigars can certainly drive a man wild with desire.
"I absolutely feel that I add sex appeal to the cigar industry while smoking a cigar. Not only is it considered to be a male dominated leisure, but it is still somewhat taboo for a woman to smoke," Jaxx said. "It creates a light 'rebel' or 'bad girl' image that some men find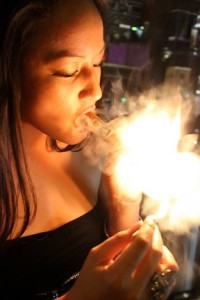 attractive. Also, the act of smoking a cigar is somewhat suggestive, if you know what I mean."
In contrary, she does have a bit of a gripe against women who "over do it."
"I do have to admit, I roll my eyes at sexy women who pose while puffing on a cigar. I find it quite lame. But, when a legitimate female smoker can hang with the fellas, now THAT is sexy."
There is no doubt that Jaxx Gueverra deserves to be this week's Sizzlin' Sunday Cigar Babe of the Week and all you guys looking for your chance to win over Jaxx' heart, here is her advice to you:
"Forget the flowers or chocolate, if you want to butter me up and sweep me off my feet, present a box of one of these."
Side Note:
Villiger Cigars North America sells and markets an extinctive line of premium Swiss-Made cigars and cigarillos.Villiger carries a portfolio of hand-rolled cigars such as Villiger 1888, Tobajara, La Capitana, La Libertad, Cuellar and Cabarete, as well as Newminster pipe tobacco.  Its Swiss parent company, Villiger Söhne AG, was founded in 1888, and is in the third generation of family ownership.
Jaxx' position focuses on assisting with cigar events and promoting brand recognition.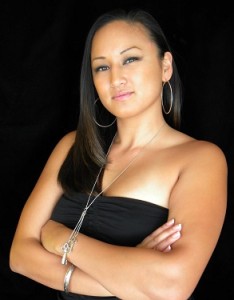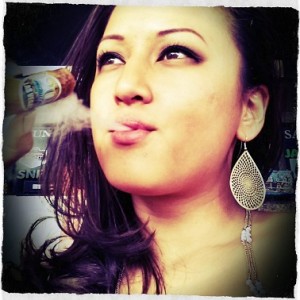 "The act of smoking a cigar is somewhat suggestive, if you know what I mean."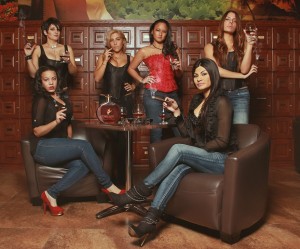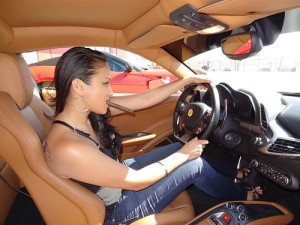 "Smoking a cigar creates a light 'rebel' or 'bad girl' image that some men find attractive."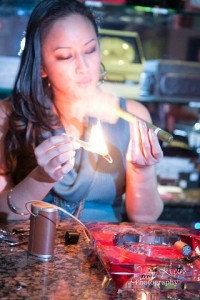 "I do have to admit, I roll my eyes at sexy women who pose while puffing on a cigar. I find it quite lame. But, when a legitimate female smoker can hang with the fellas, now THAT is sexy."