Meet Jara Murphy, a sizzlin' sister-of-the-leaf (#sotl) from Houston, Texas. Known as @HtownCigarBabe on social media, this damsel manages Houston's oldest cigar shop, The Briar Shoppe, a purveyor specializing in rare and aged cigars. Plus, they have the largest selection of pipes in the South.
Jara was already working in the cigar industry before she took her first puff of smoke in 2012. She didn't grow up around cigar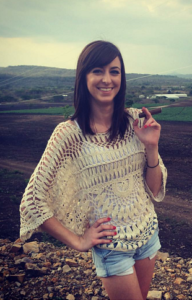 smokers; therefore, she never had an urge to try. That all changed when she buckled under peer pressure.
"I guess in a way, peer pressure is what got me into cigars," Jara confessed.  "We had a shop visit from Jorge Padron and that was when I smoked my first cigar. I mean, after all, it is Jorge Padron! If the man hands you a cigar- you smoke it! I was completely spoiled, starting with one of the best."
Jara had a general understanding of how to smoke (cutting, lighting, tasting) when Padron handed her the cigar but at the time, she wasn't a smoker of any kind. From that moment the rich earth and coffee notes hit her palette, she was hooked.
In addition to The Briar Shoppe, this smokin' beauty was the National Brand Ambassador for AJ Fernandez Cigar Company. And, she is one of the industry's youngest certified tobacconist.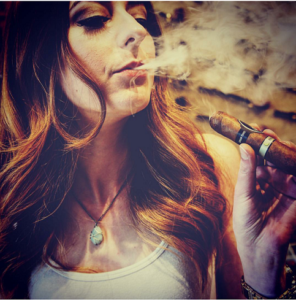 "While working for AJ Fernandez I was sent down to Nicaragua to learn the cigar rolling process and can proudly say that I have mastered the skill; however, I think I'll stick to the sales side. Rolling cigars isn't as easy as they make it seem," Jara noted.
Since the infamous Padron visit, Jara smokes two to three cigars a week, sometimes more. She doesn't have a favorite cigar but does prefer medium to full bodied sticks, especially those from NIcaragua. Her favorite drink to pair her smokes with is coffee.
"As far as sizes go, I stick to small ring gauges. Lanceros and coronas are my favorite sizes," she said.
There is no doubt that this gorgeous gal adds plenty of sex appeal to the cigar industry. She has striking facial features, a stunning body and an inviting smile. Her knowledge of the leaf certainly adds to her allure and her appreciation for the culture is riveting.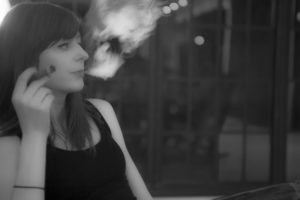 "I've never thought of myself as adding "sex appeal" to the industry; rather, I (hopefully) bring a wealth of knowledge to my customers and fellow industry workers," Jara said.  "I, myself, find being a "cigar nerd" an incredibly attractive quality- so, maybe it is "sexy".
This sexy lady-of-the-leaf (#lotl) enjoys exploring new cigar lounges around the country. There is a location in Florida that she absolutely loves.
"When I'm traveling I love to visit other lounges," revealed Jara. "Smoke on the Water in Weston, FL is one of my favorites. It has a fantastic atmosphere, overlooking a small lake with plenty of outdoor seating, a full bar and a fairly large walk-in humidor."
Outside of cigars, Jara's Interests include architecture (her college major), art, fashion and exotic cars.
Side Note:
The Briar Shoppe has a rich history surrounding women. It was founded by a woman in the early 1960s and has been continuously run by women ever since. – Sizzlin'
Jara Murphy undoubtedly deserves to be this week's Sizzlin' Sunday Cigar Babe of the Week. Her striking beauty and vast knowledge of the leaf certainly awards her this week's top honor.