Meet Veronica Murray, a sizzlin' 43-year-old sister-of-the-leaf (#SOTL) fom Atlanta, Georgia. Veronica, originally from Bronx, New York, is a customer relations specialist who enjoys fashion, art, comics Sci-Fi movies and, of course, cigars.

"I smoke cigars on average four to five times during the week and I smoke my pipe about two to three times a month," expressed Veronica.
This lovely lady-of-the-leaf (#LOTL) began smoking cigars in New York when she was 22 years old. She took a 15-year hiatus from the leaf but returned to her beloved pastime about two years ago.
"I've always loved the smell of pipe tobacco," she revealed. "My grandfather would bring me to Harlem where he bought tobacco for his pipe. There were Cuban rollers in the city to buy fresh rolled cigars."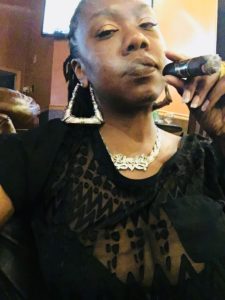 This smokin' beauty enjoys puffing on cigars of various strengths from mild to wild; however, she is almost never without an accompaniment.
"When I smoke my medium to full=bodied cigars, I find myself drinking a good stout like Dragon's milk or a red wine," she revealed. "If I am smoking a flavored or light-bodied cigar, I will have a Long Island Iced Tea without coke."
There is no doubt that Veronica adds plenty of sex appeal to the cigar industry. Her rockin' body, luscious lips and inviting eyes are quite a turn on. Couple those features with a cigar and, bam!, Veronica is explosive.
"Sometimes I feel like I add a little sex appeal, but it is not my main objective when I smoke and take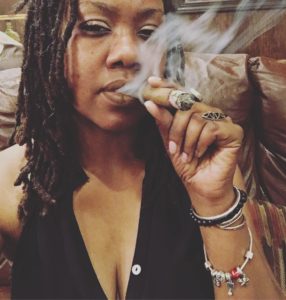 my pictures that I post," she said. "I truly enjoy smoking and am very conscious of how I carry myself when I am at a bar and or taking pictures."
Veronica usually smokes wither her "crew", Smoking Skulls Cigar Society, twice a week at Cigaros of Georgia.
"I love the atmosphere," she boasted. "The place is the perfect size, the humidor is great and the drinks are amazing. Also, the owners, staff and regulars are friendly and fun to hang out with."
There is no doubt that Veronica Murray deserves to be this week's Sizzlin' Sunday Cigar Girl.  She is beautiful, loves cigars and appreciates the essence of the culture.