Meet Tracy Barnett, a sizzlin' 37-year-old sister-of-the-leaf (#SOTL) from Alpharetta, Georgia. Originally from North Carolina, this southern belle works at a local cigar bar in Georgia, Wine Me Down, and has fallen head-over-heals in love with cigars.
Tracy was first introduced to the leaf by a girl friend of hers who took her to the cigar bar one fateful evening.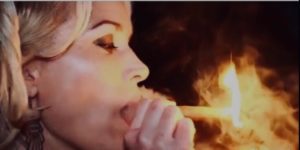 "I started coming as a patron and I spent so much time there that they finally offered me a job," explained Tracy. "I had never smoked a cigar before and soon realized that I needed to educate myself, at least on the cigars that we had."
It didn't take long before her curiosity turned into an all-out love affair with the leaf. She has gotten so involved in her new profession that she has been looking into becoming a certified tobacconist by Tobacconist University.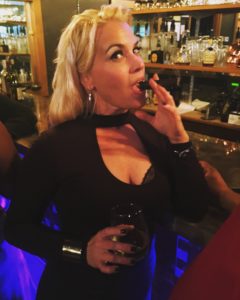 "I began to educate myself in the locations, wrapper material, etc.," she proclaimed. "I started with a Drew Estate Acid Blue and Tatianna flavored cigars. I then started smoking GTO Hypnotic, Java Red, Isla Del Sol."
Today her palate has expanded much further.
"Now I'm a big fan of Caldwell cigars, especially the Blind Man's Bluff," she announced. "I also like Oliva G, H. Upmann the Banker, My Father cigars and Punch Gran Puro."
This Georgia peach is not a size queen when it comes to choosing her favorite vitola. She is satisfied with the smaller sizes.
"I prefer the robusto or belicoso sized sticks," she said.
When it comes to cigar pairings, this smokin' beauty is becoming quite the aficionado. She has had years of bartending experience that she has since coupled with her new cigar knowledge.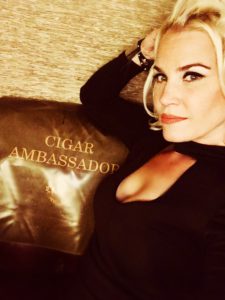 "I have bartended for many years so my alcohol knowledge was already there and the more I smoke, the better I am at drink and cigar pairings," she stated. "I like to suggest alternatives to the usual bourbons like dark rums, some wines and craft beers."
Does Tracy exude sex appeal? YES. She certainly does. Tracy is a beautiful lady-of-the-leaf who is dripping with sex appeal. Her gorgeous face, rockin' body and zest for cigars has tantalized the buds of many men.
"I've had men tell me how sexy they think it is for a woman to smoke a cigar," she boasted. "My Instagram since I started working here (Wine Me Down) is mostly of me smoking a cigar and I get a lot of nice compliments."
Tracy Barnett definitely deserves to be this week's Sizzlin' Sunday Cigar Girl. She is a gorgeous gal who has fallen in love with cigars and adores the cultures that surrounds the industry. You can follow Tracy on Instagram @cigarbarbieatl