Meet Sophia Coningsby, a sizzlin' sister-of-the-leaf (#SOTL) from Devon in the Southwest of England, UK.   Sophia is a very interesting woman with many talents. She is a very beautiful country gal who enjoys her town's rural pursuits while enjoying a fine cigar.
"I've smoked cigars since 2000.  It's funny because I used to smoke cigarettes and then gave up," she explained.  "And, even though I'd never smoked a cigar before, I bought some and that was that, love at first puff!"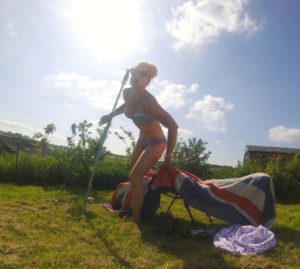 Sophia doesn't consider herself a "cigar snob", but she does adore her collection of Cuban cigars.
"We are lucky in England that we have Cuban cigars and I must admit I love Montecristos and Cohibas, but I also love your Alec Bradley Black Market cigars, they're really quite adorable," she revealed.
Sophia prefers "big cigars, big and fat, otherwise it feels as if I'm smoking air!  I smoke too much most probably, but two or three cigars a day.  It is a luxurious addiction I'm afraid."
Despite her love for cigars, her interests expand much farther. She spends her autumn and winters hunting with a sparrow hawk and her springs and summers fly fishing for salmon and trout on our Devon rivers.  She also shoots for food.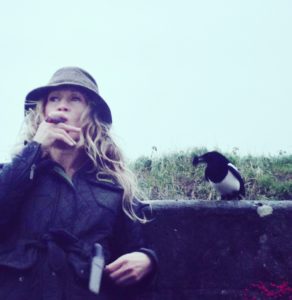 "One of my very favorite things to do is creeping about at night time with a night vision scope just looking at the wildlife," she said. "It's incredibly exciting what you see with one of those.  I rescue birds of prey for wildlife police and rescue anything at all that needs it."
Sophia is not the only creature in her home who loves cigars. She has a pet magpie who loves them, too.
"My magpie loves cigars. He collects all the nub ends and hides them under a shrub outside, and when I'm having a cigar outside, he pops off and collects a cigar nub end." Sophia said. "Then he stands on the wall next to me, holding it in his beak as if he's smoking, too.  He also has a dreadful fascination with lighters!  So, he's always stealing them which is incredibly annoying."
This smokin' beauty also paints portraits of people and wildlife and sells prints of her paintings through the National Trust.  She writes and sings, too.
"I have a novel on amazon kindle called 'Come Not When I Am Dead' (by S Coningsby).  I used to write for music magazines, but don't anymore.  I sing professionally and oddly enough was with a record company in NYC!  I occasionally write songs for film and television."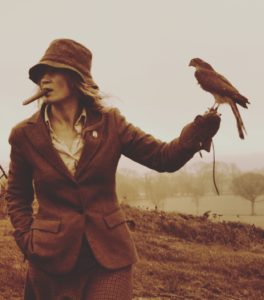 Sophia is beautiful, fascinating woman who exudes plenty of sex appeal; however, she is too humble to admit it.
"No, I shouldn't say that (have sex appeal) at all. I am just a person smoking a cigar, usually on my own.  None of my friends smoke and most people I know think it's a dreadful habit, but, being a bloody minded bugger, I pay no heed to what anyone says! Smoking cigars is most definitely seen as a gentleman's habit over here."
You can check out our more of Sophia Coningsby by following her YouTube channel – Coningsby's Jaunts.
Sophia definitely deserves to be this week's Sizzlin' Sunday Cigar Girl. She is an extraordinary, beautiful woman with many talents and interests. Plus, she is head-over-heals in love with cigars.
"A cigar is a relaxing delight to me.  I love to try cigars new to me and lots of yours over there (U.S.A) are very fine indeed, there seems to be a never ending supply of temptation out there!"