Meet Ruth Inestroza D'Gonzalez, a sizzlin' 31-year-old sister-of-the-leaf (#SOTL) from Nicaragua. Ruth is a passionate cigar smoker who has worked at the Rocky Patel Cigars Factory in Estelí, Nicaragua for the past six years.
"I am interested in learning everything about the cigar industry," stated Ruth. "Starting from its cultivation to the production at the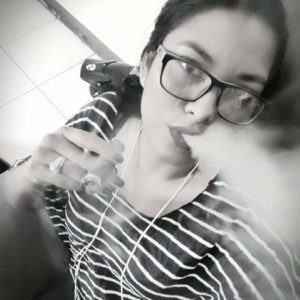 cigar factory, I learn something new every day."
This dazzling dame has been smoking premium cigars for the past five years; today, she smokes two to three cigars a day. Because her home city of Esteli doesn't have any cigar lounges she smokes at work and at home; however, she is in search of a good lounge in Managua.
"When I started working at TAVICUSA in Esteli I got interested in cigars because I wanted to know about what we offer to our customers," said Ruth.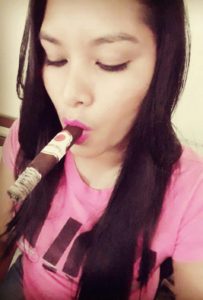 Ruth doesn't have one favorite cigar because she feels, "each cigar has a specific blend and each blend has specific tobacco that make each cigar different than the other."  However, she does have a favorite vitola.
"My favorite cigar size is the toro, but when I try a cigar for the first time I prefer a 5×50 robusto size," she noted.
Ruth is a smokin' beauty who loves to pair her smokes with Flor de Caña Nicaraguan rum.
There is no doubt that Ruth brings plenty of sex appeal to the cigar industry. She is a very sexy woman who is very passionate about cigars. Her exotic face, sultry lips and dazzling body are hard to resist. However, she is too humble to recognize just how beautiful she is.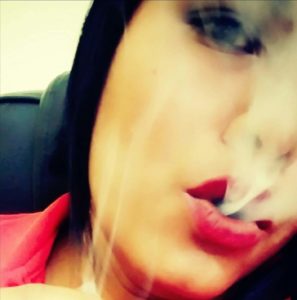 "I am just a woman who loves cigars," she declared.
Ruth definitely deserves to be this week's Sizzlin' Sunday Cigar Girl. She is a passionate and knowledgeable sister-of-the-leaf who is absolutely gorgeous.  Her love for cigars stretches far beyond that of most cigar enthusiasts.
"The cigar world is amazing because, for us the cigar lovers, it's a lifestyle that makes us comfortable in any situation and any chance or place that we have to enjoy a good stick."