Meet Octavia Toliver, a sizzlin' 34-year-old sister-of-the-leaf (#SOTL) from Atlanta, GA. Octavia is a gorgeous gal who is best known as HERficionado in the cigar world. Octavia curates cigar events in and around Atlanta.
"My most popular event is "She Smokes, Too," which has grown tremendously since a year ago when it started. I invite women (and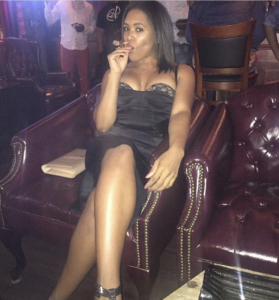 men) to come out and have a stick or two while mingling, networking, flirting, or whatever," Octavia expressed.
Octavia entered the cigar industry nine years ago when she went on a date with a guy to a local cigar lounge.
"I fell in love with it right away," she revealed. "There was just something about the atmosphere and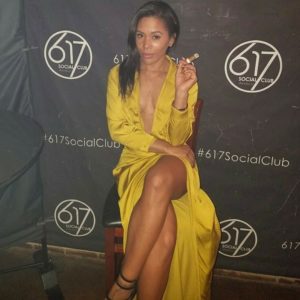 lifestyle that felt luxurious and I wanted to be a part of it."
Today she smokes once or twice a week. For years, her cigar of choice used to be Perdomo 10th Anniversary Champagne. Octavia told ultimatecigarparty.com that that was the only cigar she smoked for "many years." However today that has changed.
"There are so many great cigars out there that it's difficult to choose just one," she said. "I love pretty much anything from Drew Estate. The L40 would probably be my favorite from them, although the Feral Flying Pig is a close second."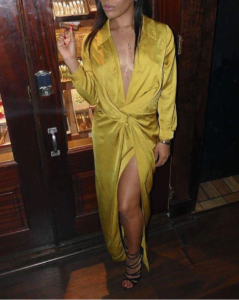 Lately, when Octavia reaches for that Drew Estate flavor bomb she pours herself a fine cocktail shortly thereafter. A cognac or Blue Swift by Martell is usually her poison of choice; however, like many cigar smokers her drink pairing changes from day-to-day according to her mood.
There is no doubt that Octavia adds plenty of sex appeal to the cigar industry. She is a smokin' hot dame with luring eyes, sultry lips and a rockin' body that doesn't quit.
"Honestly, I definitely think I add sex appeal to the industry," she boasted. "I make sure that anytime I attend an event or walk into a cigar lounge, I am dressed to the 9's and looking amazing! For me, style and fashion are just as important as the cigars. I want people to look at me and say 'Wow!! I can't believe a woman who looks like that and dresses like that actually smokes cigars!'"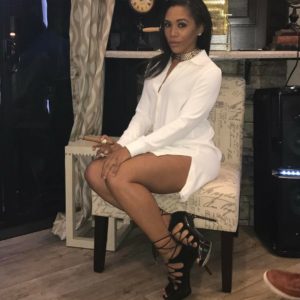 It is hard for HERficionado to sneak away to cigar lounges because she has a young child at home to care for; however, when she does get the opportunity to ensconce herself in an oversized chair with the boys, Trilogy Cigar Lounge, Scottish Tobacco, and 617 are her spots.
Octavia Toliver undoubtedly deserves to be this week's Sizzlin' Sunday Cigar Girl. She is drop-dead gorgeous, loves the leaf and appreciates the sophistication that surrounds the culture.
"I want to be able to smoke with the boys without being ONE OF the boys. That's actually something that I promote. Embrace your femininity, don't hide it."