Meet Monica Pulgarin, a sizzlin' Colombian-born sister-of-the-leaf (#SOTL) who has been smoking cigars for the past 10 years. Monica now lives in Dubai where she is a managing partner of an event management company called Edelweiss.
"I have been living in Dubai since 2000 and have been smoking cigars for the past 10 years," explained Monica.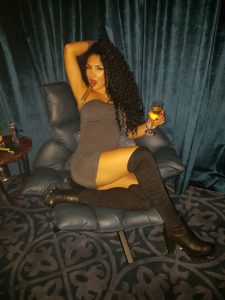 This smokin' beauty credits her sister for introducing her to the leaf.
"My sister is the marketing manager of Habanos in the United Arab Emirates (UAE), so she got me into smoking cigars."
Monica's favorite cigar is the Romeo y Julieta White Churchill. She enjoys smoking her stick paired with a glass of fine red wine.
There is no doubt that Monica Pulgarin adds plenty of sex appeal to the cigar industry. She is undeniably breath taking. Her rockin' body is a flawless piece of art and her facial features are absolutely alluring. One could not help but feel intoxicated after meeting this dynamic dame.
"Yes, but I think it is not just adding sex appeal, but also proving that the taboo of cigars being only for men is in the past," Monica revealed. "Women can also enjoy a cigar publicly and look elegant and classy doing it."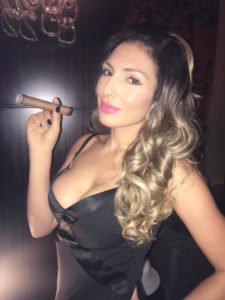 Monica doesn't frequent cigar lounges often; for, she would rather ensconce herself in the comfort of her home garden. In truth, location is just a backdrop to Monica. It is more about good company and good vibes.
"I don't really go to cigar lounges," confessed Monica. "I can enjoy a cigar in the comfort of my home garden or at a club or just by the beach. As long as I am in a good company, the place doesn't matter."
Despite her love affair with cigars, Monica lives a very healthy lifestyle. She teaches Zumba, eats clean, and loves to dance.
"Even though I am into a healthy lifestyle, I train, teach Zumba, eat well, clean, I think enjoying a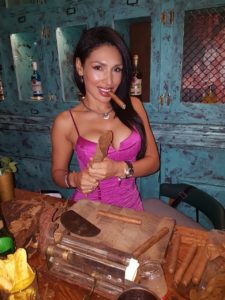 cigar and a glass of wine from time to time is not bad at all," Monica exposed. "To be happy you need to learn to balance your life and to allow yourself to enjoy the privileges that come with a good lifestyle."
There is no doubt that Monica Pulgarin deserves to be this week's Sizzlin' Sunday Cigar Girl. She is a stunning woman whose fondness for the leaf makes her that much more intriguing.
"I smoke cigars whenever I am enjoying a good time with my friends."