Meet Mitzi Jones, a sizzlin' 35-year-old sister-of-the-leaf (#sotl) from Houston, Texas. 'Jonezi', as she is playfully referred to by her friends, is originally from Harlem, New York. She began smoking cigars last year and has fallen head-over-heals for the lifestyle.
Mitzi, who started smoking after moving to Houston, began her journey into the enchanted world of cigars with an occasional smoke here and there. Today, she enjoys the leaf two to three times per week, if not more.
"I started smoking when a guy I was dating, who owns a cigar lounge,  took me out for the first time and pulled out a stogie to smoke,"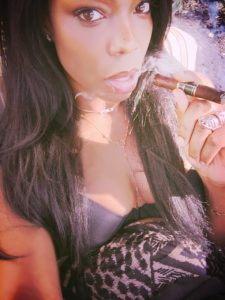 explained Mitzi. "I found it so sexy watching  his mouth while he lit it, the aroma and the whole vibe of it all. I asked him for a stick, he handed me one,  took two or three pulls and put it out.  It was a little too strong for me  and  he was a little hurt that I wasted his stick. I was determined to get the hang of it – and look sexy doing it too."
Sexy? Absolutely. Mitzi can make anything look sexy, especially smoking a cigar.
The cigar that is most frequently exploited by Mitzi is the mint flavored stick by Delicisoso. However, she has been known to lock her lips around a Nat Sherman Timeless or Drew Estate Natural on occasion.
"I am absolutely obsessed with the mint cigar," Mitzi confessed. "But I also enjoy Drew Estates Natural, and when I want to transition into a medium – full bodied cigar, I enjoy the Nat Sherman Timeless."
Mitzi is a sexy lady-of-the-leaf who doesn't like to smoke alone. She loves to pair her sticks with bourbon and savor the company of a tasty drink and flavorful leaf.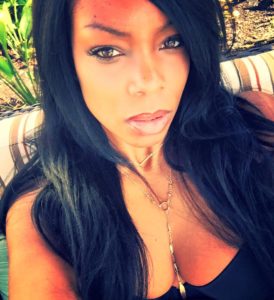 "I love bourbon with anything; however, with The Drew Estates Natural I love a more complex  bourbon so I go for the 1792 Ridgemont Reserve," explained Mitzi. "And. with  my Nat Sherman I love the sweetness of Makers Mark."
Mitzi certainly brings plenty of sex appeal to the cigar industry. Her smokin' hot body, luring eyes and succulent lips are hard to deny. She is certainly a welcomed treat at Houston area cigar lounges.
"I definitely think I bring my own unique sex appeal to the industry," boasted Mitzi. "Yes, men find me attractive when I walk into a lounge to smoke initially, but once they sit down and talk to me, they know I'm not there to get picked up,"
She went on to say, "Today there are so many beautiful women who smoke that what used to be something I saw my grandad and his friends sit around and  do for hours, has become sexy… and sexy attracts sexy."
If you are in the Houston area, you may be graced by the presence of this smokin' hot dame at your local cigar haunt. She frequents cigar lounges and loves what the atmosphere adds to the experience.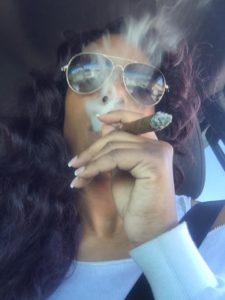 "I initially did not hang out at cigar lounges, it was a bit intimidating," admitted MItzi. "Now I know a ton of people in the industry and they keep me in the know. The more I am out and about visiting different lounges, the more intrigued I have become by the whole lifestyle."
Mitzi went on to explain, "I am really trying to learn about cigars. I want to be taken seriously. I see women come to cigar shops just to flirt with the men and don't know a thing about cigars. I'm not one of those women."
Mitzi Jones undoubtedly deserves to be this week's Sizzlin' Sunday Cigar Babe of the Week. She is an absolutely stunning woman who has a deep passion for the leaf. Her smokin' hot body and luring facial features drip with sex appeal.
"People usually, at first glance, think I am stuck up or serious and maybe even mean or standoffish, but truth is, I am super duper goofy," noted Mitzi. "I like to joke around and have fun. More often than not that automatically takes me from that sexy chick in the cigar shop and puts me right in the friend zone. I'm not sure that's a good thing though."