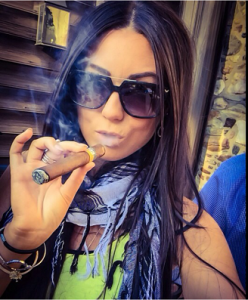 Meet Megan, a gorgeous gal from Pennsylvania who loves to celebrate special occasions with a cigar. She is a web designer by trade but fashion designer at heart. In her free time she loves to dance with friends and travel.
"I only smoke cigars on special occasions or when the time sees right," said Megan. "They're always enjoyable and add to an already good time."
Megan tried her first cigar when she was just 17 years old and loved it.
"I loved it ever since," she explained. "I enjoy the smell, even when other people smoke them around me and I am not."
Megan usually pairs her sticks with wine, either red or white.
"I'm typically a daytime cigar smoker so usually I pair my cigars with Pinot Grigio or some other type of wine," said Megan.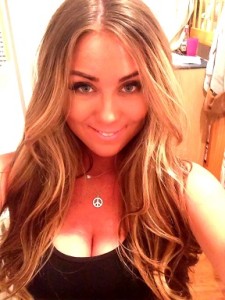 Megan is absolutely stunning and there is no doubt that she adds plenty of sex appeal to the cigar industry.
"I honestly didn't think you guys thought it was that cool until I posted a couple pictures on Instagram," Megan said. "I never got more followers all at once from any other picture! Ha. So yes, I guess I do."
As you would expect, Megan is a welcomed treat when she visits her favorite cigar lounge.
"There's an awesome cigar and hookah lounge on Main Street in Manayunk that I go to often, called SMOKE. It is an awesome place, nice atmosphere and cool people," she explained.
For those who would like to know more about Megan, you can follow her on Instagram @nutmeg2000