Meet Maria, a sizzlin' 42-year-old sister-of-the-leaf (#SOTL) from Toronto, Canada. Maria, better known as @ladicigar on social media, is a hardworking mother who owns a gym and works for Havana Castle Cigars. She absolutely loves cigars and smokes almost every day.
This smokin' beauty's fairy tale entrance into the enchanted world of cigars is a memorable account of a loving father-daughter bond.
"As a little girl I remember gathering at the home of family to spend time together. The men playing poker, the moms chatting it up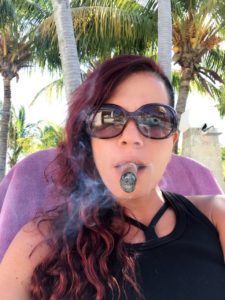 and all the kids would be running around playing, except me," explained Maria. "I would be sitting beside my father watching him and the other men play poker. One of the men would always smoke a cigar…I used to love that smell…mmmmm. Many years ago I was up at a friends cottage and her husband is an avid cigar smoker…one day he lit a cigar and I commented and told him the story how I loved the smell as a little girl. He turned to me and said 'why don't you smoke a cigar'…I did, and here I am today smoking cigars and working in the industry."  
This Canadian cutie has smoked so many cigars over the years that it is hard for her to pick one favorite stick; however, being from Canada and having full access to Cubans, her go-to sticks are usually Havanos.
"Some of my favorites include Montecristo No. 2, Hoyo de Monterrey Epicure No. 2, and Partagas Serie E No. 2," said she. "My list of non-cubans can go on forever but one is the  Havana Castle Cigars House Blend Maduro Torpedo."
Like most cigar smokers, Maria enjoys pairing her smokes with a fine adult beverage; however, her drink of choice usually changes with her mood.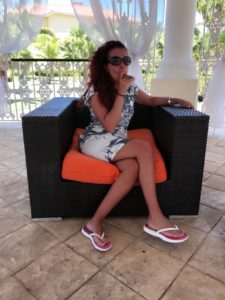 "I love red wine, Remy Martin XO, Glenmorangie Scotch, Craft Vintage Port, mojito, rum and coke and coffee," she revealed. "I am also a 'foodie' and with delicious foods comes delicious drinks."
There is no doubt that Maria adds plenty of sex appeal to the cigar industry. She is a smokin' hot gal with a rockin' body and a gorgeous face. Her mesmerizing beauty is a welcomed treat; however, she is too humble to gloat.
"I am who I am…and smoking cigars does not change who I am as a lady," expressed Maria.
Canada has some of the strictest smoking laws in the world, and as a result, lounges are forbidden.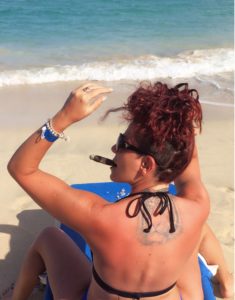 But, that doesn't stop this rebellious one from enjoying a smoke with friends.
"We do have 'special herf gatherings' across the Greater Toronto Area (GTA)," she exposed.
There is no doubt that Maria deserves to be this week's Sizzlin' Sunday Cigar Girl. Her beauty is stunning, her passion for the leaf is intense and her work in the industry relentless.  
"Smoking a cigar is my time. As a very busy woman, when I finally sit to enjoy a smoke, it forces me for that half hour to an hour or more to sit, relax, reflect and appreciate life. When I'm in company then it's about great conversations, good laughs, and memorable moments."