Meet Kay Elle, a sizzlin' 34-year-old sister-of-the-leaf (#SOTL) from Long Island, NY. Kay is a dazzling dame with beautiful, illuminating eyes and an unyielding love affair with cigars. She has fallen head-over-heals in love with cigars ever since her foray into the enchanted world just two years ago.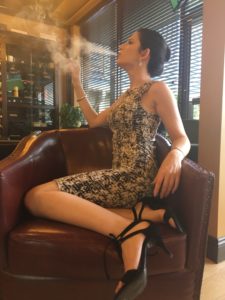 "I tried my first cigar two years ago, a Papas Fritas by Drew estate. I enjoyed it much more than I thought it would," expressed Kay. "Not just the flavor and smoking in itself, but the relaxation that comes along with it."
Kay has been working as a hostess at a cigar lounge on Long Island, NY for the past two years. Her curiosity began to grow as she started to learn more and more about cigars. Being a hostess with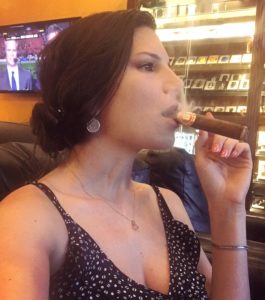 unlimited access to hundreds of blends, Kay began to satisfy her cravings by trying different sticks.
"I enjoyed trying new cigars a few times a week but there are still so many I'm looking forward to trying," revealed Kay. "I love a good full flavored smoke with nutty and earthy notes. A good, easy draw is my favorite. I don't like to fight with the cigar for max smoke volume. I like it to be a relaxing, easy, smooth experience."
This smokin' beauty loves to sip on a fine cup of coffee with a splash of amaretto liqueur in it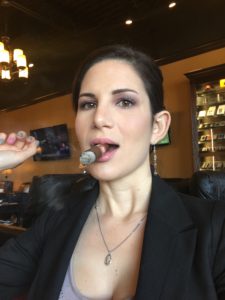 when she sits down to relax with her favorite smoke. Among her favorite smokes are the Avo South America Ritmo, Drew Estate Papas Fritas, and the Illusione brand.
It is no secret that Kay Elle brings plenty of sex appeal to the leaf. Her gorgeous face, rockin' body and inviting eyes are a welcomed treat in the testosterone-filled cigar lounges. However, she is too humble to realize just how beautiful she is.
"I don't know that I've thought about it in that sense, but I will say I enjoy being a woman in what most would expect to be a 'man's world,'" Kay confessed. "I've been pleasantly surprised to see how many other women are proud to be a part of that as well."
Kay Elle definitely deserves to be this week's Sizzlin' Sunday Cigar Girl. She is beautiful, loves the leaf and respects the cigar culture that surrounds her.